Tie-ups with private, foreign businesses to lift FDI inflows
Share - WeChat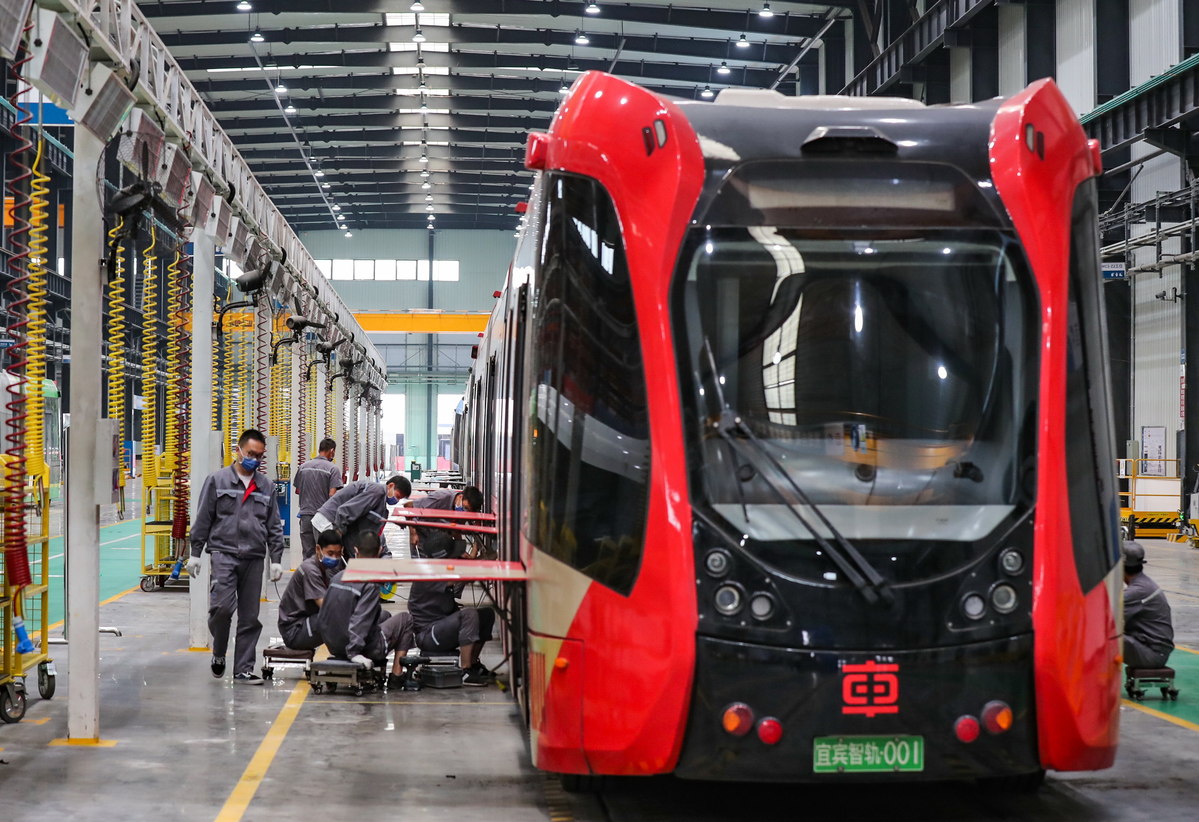 More foreign direct investment will flow into China following the country's call to State-owned enterprises to work with both private and foreign companies in order to deepen the reform and opening-up policy, global business leaders and experts said.
They attributed their prediction to the country's complete industrial chain and global market presence.
China has accelerated a new strategy-the dual-circulation development pattern-in which the domestic and international-focused economic engines complement each other.
This is expected to create more opportunities and space for foreign companies to develop in China, and cooperate with Chinese counterparts, especially SOEs, said Joseph Han, managing director and board member of Knorr-Bremse Rail Vehicle Systems (China).
To put the country's economic growth on a firmer footing, the State Council, China's Cabinet, released a guideline in August to roll out more measures to better protect foreign trade entities, support the local growth of foreign companies, and keep supply chains stable.
The guideline urged more support for high-tech industries and stressed the need to encourage foreign investors to invest in China.
Welcoming China's new thinking, Knorr-Bremse said it is eager to stay closer to its clients such as China Railway Rolling Stock Corp.
The German brake specialist and supplier of rail and commercial vehicle systems said it will set up a research and development center in Beijing in 2021, and continue to showcase its latest solutions and products in China's major trade events such as the China International Import Expo.
The majority of China's 98 centrally-administered SOEs, including China National Petroleum Corp, COFCO Corp and China National Pharmaceutical Group Co, had all signed purchase and cooperation deals with foreign companies such as Saudi Arabian Oil Co, Mitsubishi Electric, Cargill Inc, SAP AG and Microsoft Corp during the third CIIE held in Shanghai early this month, said the State-owned Assets Supervision and Administration Commission of the State Council.
Han of Knorr-Bremse said opportunities abound in China thanks to well-developed high-speed railway networks, and a fast-growing metro market, so the company will enhance its partnership with CRRC and China State Railway Group Co, the country's largest rolling stock manufacturer and railroad operator, during the 14th Five-Year Plan period (2021-25).
"With the new innovation facility in Beijing, we will focus on connected systems, next-generation eco-friendly products and life-cycle cost reduction solutions in the Chinese market over the long run," he said.
Knorr-Bremse currently runs manufacturing, testing and innovation facilities in 13 Chinese cities, including Wuxi, Jiangsu province, and Qingdao, Shandong province, employing around 4,600 employees.
It will promote vocational education in China's railway service and manufacturing sectors by working with these two Chinese companies and also universities across the country in the coming years.
Supported by global partners and its mature technologies for building high-speed trains, Wang Feng, vice-president of CRRC Changchun Railway Vehicles Co, a subsidiary of CRRC, said his company is ready to take orders for customized high-speed trains, in line with the technical standards and operational requirements of different parts of the world.
In addition to CRRC Changchun's export-oriented efforts to build a new type of train with a top speed of 400 kilometers per hour, with Russia as the target market, the group's other operations in Qingdao, Shandong province, and Tangshan, Hebei province, have been carrying out research and development of the new train, targeting the needs of European and Southeast Asian markets, Wang said.
Apart from signing a number of business contracts with China's SOEs such as China National Chemical Corp and China Eastern Airlines during the third CIIE, Honeywell International Inc, a US-based industrial conglomerate, is planning to either expand production lines or better optimize resources of its 21 plants in China, in order to enhance productivity and serve customers in a more efficient manner, said Scott Zhang, president of Honeywell China.
As China sealed a big-ticket free trade deal with partner countries this year, Liang Jun, president of the Guangdong Association of State-owned Capital which is based in Guangzhou, said Chinese companies must not only be aligned with the country's goals for the development of the domestic economy, but also pay close attention to global commercial trends.
To better adapt themselves to the new environment, it is necessary for SOEs to strategically develop entire value chains surrounding their products and services, while promoting lean management, innovation and reform, as well as building partnerships with more private and overseas companies to remain competitive and gain more sales access at both home and overseas markets, said Chen Bin, executive vice-president of the Beijing-based China Machinery Industry Federation.
"We expect SOEs to build more scientific and assessable cost and performance management systems centered on institutional innovation, management transformation and cost optimization," he said.
"It will be fairly practical for SOEs to improve cost and performance management, enhance the comprehensive effect of reforms and boost technological innovation."