Karaoke stages a comeback among tech-savvy consumers, but with a twist
Share - WeChat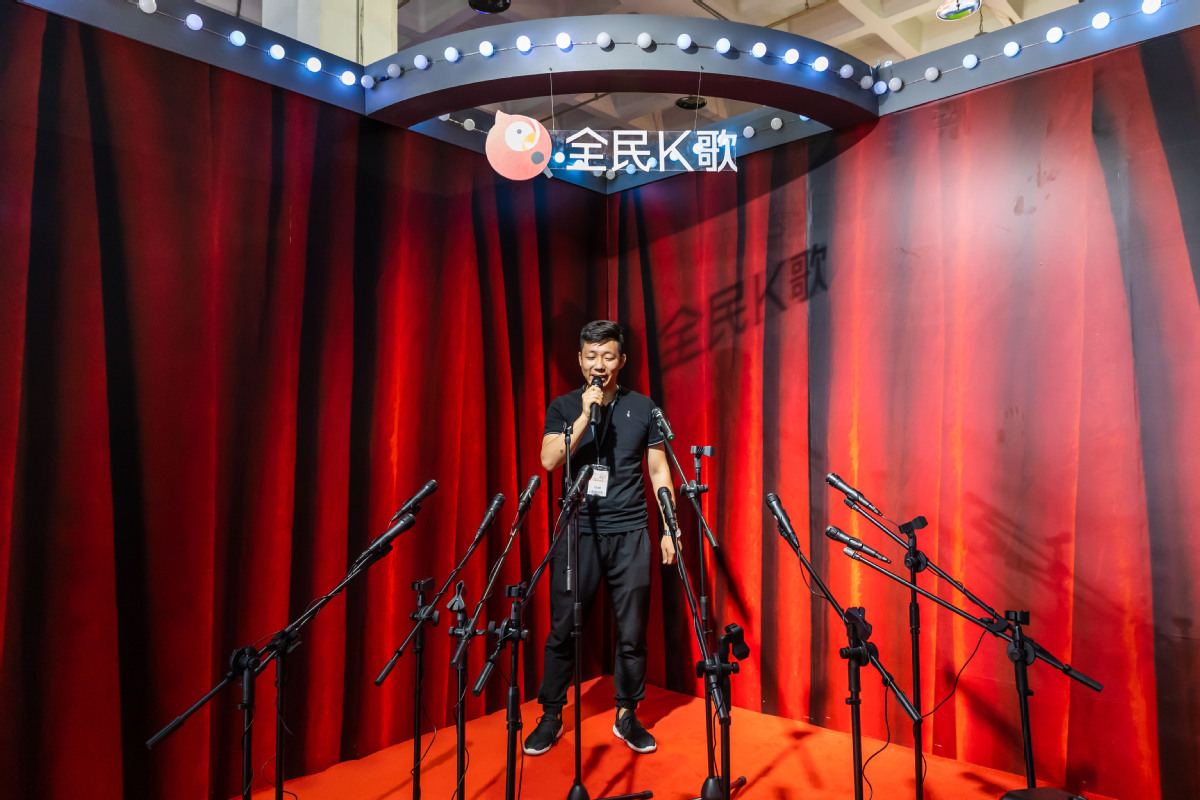 Thanks to the internet and other technologies, karaoke-which originated in Japan and literally means "empty orchestra" in Japanese-is no longer restricted to karaoke bars or booths. Music lovers can now sing to their heart's content anywhere and anytime by just using mobile karaoke apps.
Statistics from market consultancy iResearch showed that mobile karaoke apps are gaining traction among young tech-savvy Chinese millennials in first and second-tier cities, with the penetration rate of netizens using mobile karaoke apps rising from 13.6 percent in 2013 to 53.6 percent in 2019.
About 72 percent of users said they have some social interaction via karaoke apps, such as making comments, sending virtual gifts to their favorite singers, sharing music links with friends or social networking platforms as well as watching livestreamed concerts, the consultancy said.
Changba, which literally translates into Singing Bar, provides an online platform for music fans and allows users to share their performances with friends.
"People are more willing to use mobile karaoke apps during the COVID-19 pandemic period, and our user growth rates, retention rates and activity levels surged dramatically," said Chen Hua, founder and CEO of Changba, adding that the internet has become the pivot of people's life, work and entertainment.
Changba Live House has provided online performance opportunities for 100,000 musicians. "We cooperated with Modern Sky, one of China's largest indie record companies, with 200,000 users watching the online concert on the first day of livestreaming," Chen said.
Chen added that the main users of Changba are music lovers aged between 20 years and 30 years. "We found that youth under the age of 20 swarmed into our app amid the outbreak, and older users have come back. In addition, they tend to spend more time on mobile karaoke apps, and their frequency of use each day is also rising."
Chen said the pandemic had an effect on the company's offline business operating over 700 Maisong KTVs across the nation. "Our competitiveness lies in low operating costs. I believe this business will witness explosive growth when the outbreak ends because users still have strong demand for an offline entertainment experience."
Zhang Xue, a 31-year-old teacher from a financial magazine in Beijing, loves singing alone with Changba in her spare time. She can record her singing, upload it to the platform or share it on social media. Other users can browse her songs, comment and send virtual flowers if they enjoyed the way she belted out a ditty.
Mobile karaoke is becoming increasingly popular with young people in China. According to Beijing-based BigData-Research, the number of mobile karaoke app users exceeded 300 million last year and will continue to maintain steady growth. The post-1995 generation has become the major driving force.
Quanmin K Ge, or WeSing, is a dominant karaoke app backed by Tencent Holdings Ltd. With about 225 million daily active users in 2019, the app has the ability to enhance users' voices to make them sound better or funnier.
NetEase Cloud Music, one of the country's major music streaming services, has launched a karaoke app to allow music lovers to sing at home with their smartphones amid the pandemic.
Named Yinjie, or Music Street, the app targets younger users and combines multiple functions including singing, scoring and producing. Users can connect through songs and common music interest and share their moods when recording.
"The superfast 5G technology, with the advantages of large bandwidth, low latency and large-scale connectivity, has bolstered the in-depth integration of video content with various forms of entertainment," said Wang Liying, an analyst from iResearch.
For instance, mobile karaoke users have been keen on watching music videos while listening to songs, as well as shooting and uploading their own short videos to the platforms, Wang added.
Smart technologies have been applied to mobile karaoke apps, which are capable of modifying and optimizing songs uploaded by users through intelligent voice recognition systems, Wang said. "In addition, with the help of deep machine learning and big data analysis, the apps could automatically recommend and send out high-quality content to different user accurately, so as to effectively enhance user stickiness."