KOLs cooking up success via livestreaming in Shanghai
Share - WeChat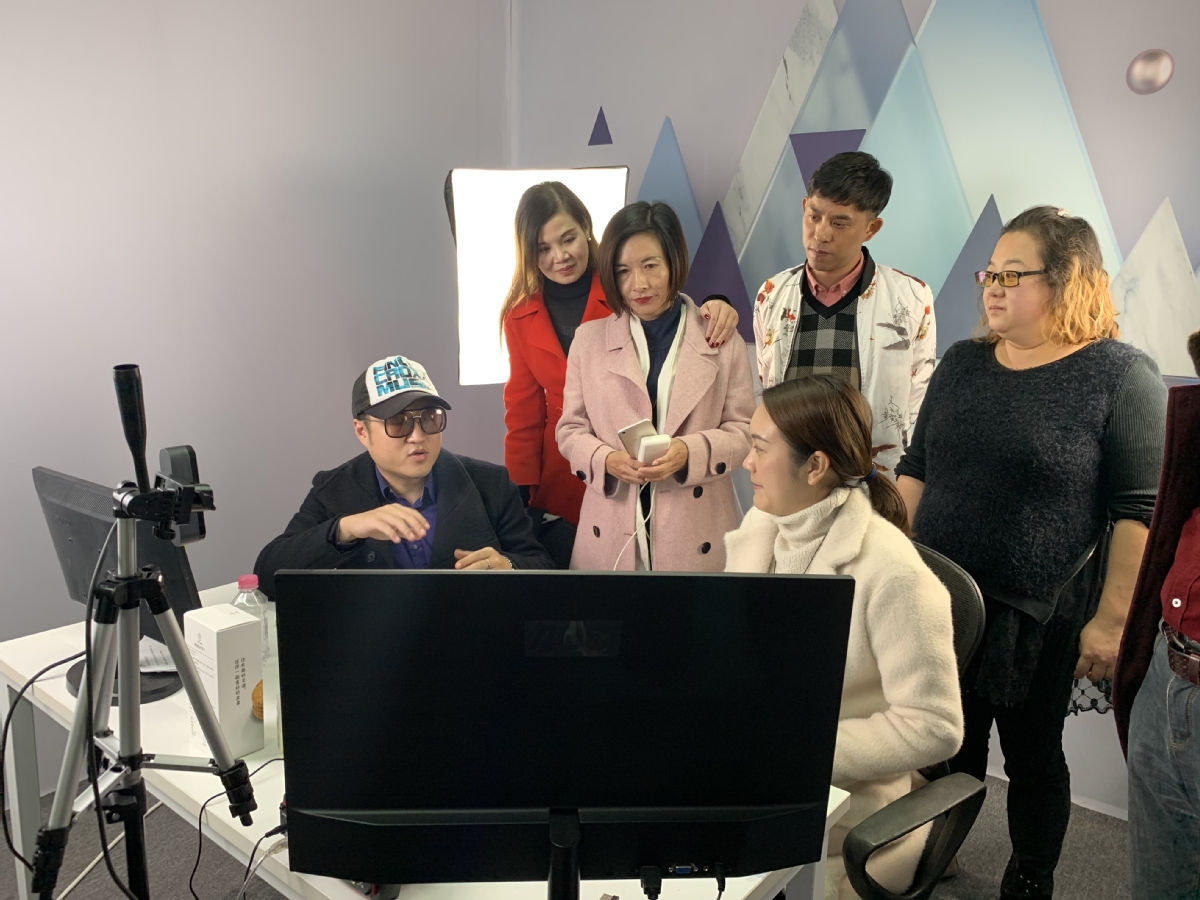 Vast number of commercial brands provide foundation for industry in city
It was early afternoon on June 16 and Gao Mama, whose real name is Gao Xizhi, was assiduously making dumplings filled with a mixture of shrimp and pork.
As she finished three trays in a row, the 67-year-old wiped her brow, cleared her throat, looked into a camera and asked: "Wouldn't you like to try one?"
Through the lenses of mobile phones, tens of thousands of people on Taobao Live were watching, participating and conversing in what would normally be a private dialogue between a supermarket attendant and a customer scouting for dinner options.
"I usually make dumplings for fun," Gao said. "But there's truly a bunch of techniques at play, like 'what to say and when to say it' if you are filming yourself live."
Behind the success of Gao's sales pitch is the Shanghai Baijia Taoke Internet Celebrity Training Base, which was established in June, when it officially began recruiting candidates who long for a serious career in livestreaming.
Spanning 26,680 square meters in the suburban Songjiang district, the base encompasses everything from training classrooms, themed livestreaming studios and a basketball court-sized auditorium hall with flashy lighting and catchy music on demand-all in an effort to teach candidates how to properly present themselves in an authentic stage setting.
The decision to found a dedicated academy fostering influencers was inspired by the fact that livestreaming functions were essentially multiplying across all online platforms earlier this year as people hunkered down in their homes to avoid the COVID-19 virus, said Cao Yu, the base's chairman.
"Chinese shoppers have long used their phones to buy almost everything they need. And many retailers were struggling to stay afloat given the pandemic," Cao said. "There's clearly demand from both sides, and we just need to create a bit of a catalyst. That's when KOLs (key opinion leaders) kick in."
While livestreaming initially kicked into gear back in 2016-a year when the content economy dominated headlines-it's fair to say the novel coronavirus has supercharged the trend, turning online retail into showrooms that appeal to hundreds of millions of people self-quarantined indoors.
Livestreaming-empowered transactions accounted for 4.5 percent of the $2 trillion in e-commerce sales in China in 2019. Now the sector is doubling in size from just a year ago and is increasingly attracting advertisers' collective attention.
At the same time, cities are flocking to roll out favorable policies to give the profession a further leg up. Shanghai, for instance, has eased residential permission policies to attract the most influential online hosts to settle in the metropolis.
"The May 5 Shopping Festival has helped consolidate Shanghai's position as the top city for quality livestreaming," said Hu Jing, associate professor at Tongji University's School of Economics and Management.
"With its leapfrogging advancement, livestreaming has presented an ever-growing demand for big data, online traffic and even smart application scenarios. Shanghai has long prepared itself with solid new infrastructure, such as 5G network deployment," he said.
According to data from Taobao, Shanghai has ranked top in terms of viewer numbers and brand participation on Taobao Live among China's first-tier cities.
Leveraging its favorable conditions, Shanghai is also actively fostering and promoting the livestreaming ecosystem. As the first city to establish a Multichannel Network special committee, Shanghai has constructed a concentrated area featuring an "internet celebrity economy" to promote exchanges and cooperation across the entire online influencer industrial chain.
Profound commercial and brand heritages are also among Shanghai's advantages, Hu added. "Based on the city's commercial history, Shanghai has a vast number of commercial brands that provide foundations for the livestreaming economy to move from offline to online. At the end of the day, livestreaming should serve to promote sales."
"KOLs are definitely fueling retail growth, and their roles have become particularly noticeable when merchandise is similar," said Pei Pei, an analyst at Sinolink Securities, who has been following the emerging sector since last year. "They need to exhibit both professionalism and a fun persona, acting as living embodiments of the product."
But experts also warned of the potential for livestreaming to overheat, saying merely being in the game does not necessarily guarantee success and the platform itself could fail to endure without better operations.
"Because it's a new customer contact point, merchants should manage it properly and comprehensively just as they do with other channels," said Derek Deng, a partner at consultancy Bain& Co.
"As brands digitize their business, they should also design, decide and deliver accordingly," Deng said.
"Apparently you need to be outspoken, react fast, know the latest fads and tell jokes whenever necessary," said Yi Chao, a former TV host in Shanghai and currently a trainer imparting livestreaming skills at Baijia Taoke.
"The familiarity of products and the delicate design of a script could really make a difference on the eventual sales figures," Yi said.
But at the end of the day, livestreaming is a combination of techniques and improvisation.
"Even if people amp up their capabilities in selling skills to become top influencers, you might still need a fitting temperament and the kind of charisma that is usually naturally born," he said.