Short clips increasingly becoming powerhouse in growing retail space
Share - WeChat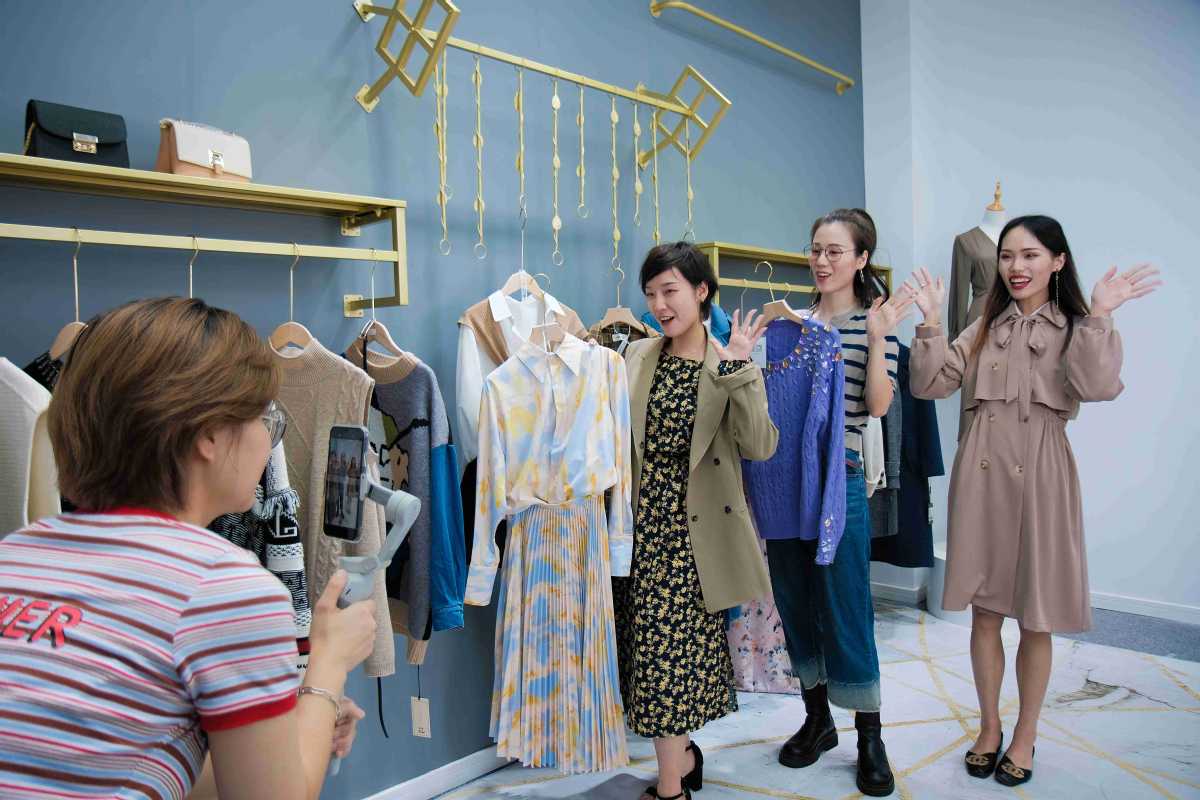 Walking and posing while sporting the season's latest fashions, three young women looked into a camera and said: "Don' forget to pay attention to our new clothes next week."
The presentation on Douyin, a popular Chinese short-video platform, was watched by a multitude of viewers.
"The three girls, in their 20s, are livestreaming hosts of our company," said Xiao Shenghui, manager of Hangzhou Dato Sri Tech Co Ltd, a livestreaming e-commerce company engaged in the design and sales of women's clothes.
The trio, who were laid off from a foreign trade clothing corporation that went bankrupt earlier this year due to the COVID-19 pandemic, now choose to sell clothes through their own livestreaming platforms.
"We can know very quickly if our products are embraced or not since all orders are made online simultaneously with hosts offering items for sale," said Xiao, adding that this kind of sales platform can quickly clean up inventories overstocked due to the epidemic this year.
"As an early adopter and leader in the internet celebrity economy and livestreaming industry, Hangzhou has a complete industrial chain and strong industrial base," said Xiao, when asked why he chose to engage in livestreaming e-commerce in the city.
Yearning to become as popular as Viya Huang, arguably the country's top-ranked internet celebrity by transaction volume, a growing number of hosts are flocking to Hangzhou.
Well-developed in e-commerce, Hangzhou stands out for its first mover advantage, since the city's merchants have a good nose for the market and are already tuned into and turned onto livestreaming, said Cui Lili, director of the Institute of E-commerce at Shanghai University of Finance and Economics, in a report issued by 21st Century Business Herald in July.
The city took top spot nationwide on Taobao Live, the livestreaming arm of Alibaba, according to a report issued by the Hangzhou-based conglomerate on March 30. It is already home to a string of livestreaming platform giants such as Taobao Live, Mogujie and Youzan, and has attracted nearly 400,000 hosts, most of them gathered in Hangzhou's Jiubao subdistrict.
Jiubao has enjoyed certain advantages in the livestreaming economy in the clothing industry for many years and is home to numerous social media influencers such as Zhang Dayi, who was among China's first online celebrities engaged in selling women's clothes on Taobao.
"The mature e-commerce operation mechanism and rich atmosphere of livestreaming in Hangzhou were major appeals for me to start up a business here," Wang Xin, manager of Guangdong Xiepinhui Co Ltd, told China Daily.
As a livestreaming e-commerce company engaged in selling shoes, Xiepinhui relocated its livestreaming studio from Guangzhou to MG 19 Qizhang Park in August-an e-commerce livestreaming industrial park in Hangzhou-and has recently seen soaring sales revenue.
Located in the core part of Hangzhou Qiantang Smart Town, the hub of the online celebrity economy, the eight-storey park has attracted more than 130 enterprises, among them product suppliers, livestreaming e-commerce operators and multichannel network institutions.
"Most of the enterprises and institutions settled here were attracted by the complete livestreaming industrial chain in Hangzhou Qiantang Smart Town," said a manager of the park, adding that its occupancy rate had reached more than 90 percent by the end of September.
Cai Jingwen contributed to this story.