Healthcare products to take spotlight at CIIE
Share - WeChat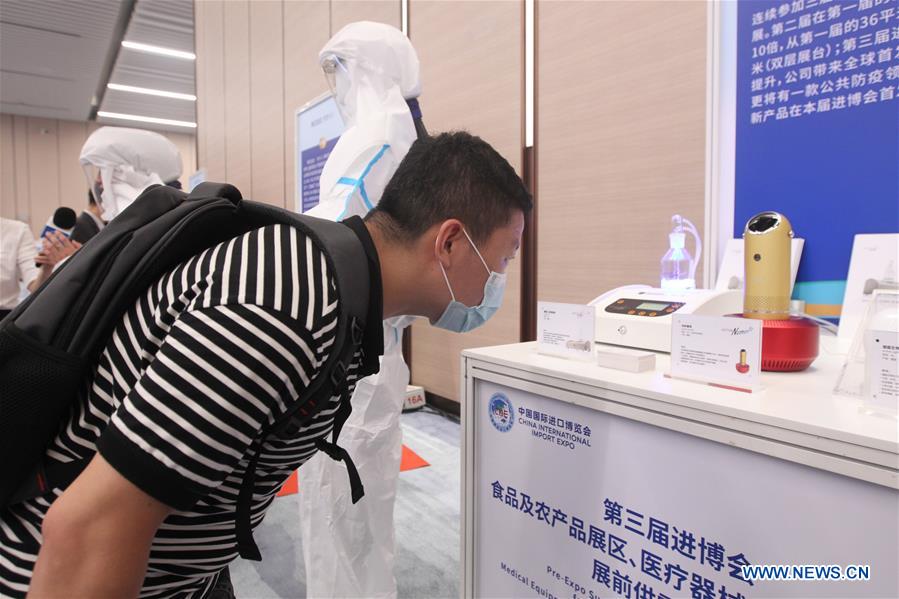 Major international pharmaceutical companies will showcase new products and public health solutions at the third China International Import Expo in Shanghai from Nov 5 to 10.
Measuring 60,000 square meters, the exhibition area for the healthcare and medical equipment hall has drawn nearly 340 exhibitors, among which 70 are Fortune 500 and industry leading companies, said Wang Binjie, assistant to the general manager of the exhibition department of the expo, during a news conference Wednesday.
As the COVID-19 pandemic remains a global challenge, the organizers have set up a special zone focused on public health and epidemic prevention which will display products such as testing devices, ventilators and personal preventative equipment, Wang said.
To date, 48 exhibitors have signed up for the special sector, which covers 2,000 square meters, he added.
Third time exhibitor GE Healthcare will launch a virtual care solution "Mural" that integrates data from multiple monitoring systems and devices to provide a real time, comprehensive view of patients' status in a single display, among other products.
"This will be Mural's debut in China," said Zhong Luyin, the company's China communications leader, adding that the system is now being used in 64 hospitals in Oregon, the United States.
American company AbbVie will participate in the expo for the first time. The company's booth will feature an AbbVie Innovation Lab that showcases its latest portfolio in areas such as immunology, oncology and neuroscience.
Tony Au, general manager of AbbVie China, said, "We are excited about this opportunity and hope to show our commitment to making a remarkable impact on the lives of patients in China."
Boehringer Ingelheim, a German pharmaceutical company, said that its attendance at the expo has been fruitful, with purchase agreements totaling 200 million yuan being made in last year's expo. The company's medicine "Jardiance", which is used to treat diabetes, was also included in the national reimbursement drug list.
Felix Gutsche, president of Boehringer Ingelheim China, said, "The CIIE shows the Chinese government will continue to reform and open up, and this instils confidence in global economic recovery."