Lucid waters, lush mountains bringing riches to villagers
Share - WeChat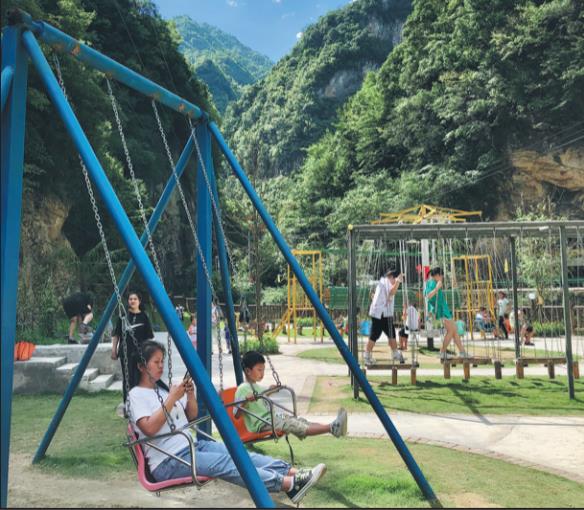 Forest Homestay
In the past, the large mountains brought only poverty and pain to local people.
Xingtian village of Dongan town, one of the most underdeveloped villages in Chongqing, did not have a paved road until 2010. Most villagers planted potato and corn for a living.
Around that time, about 40 percent of locals lived below the poverty line and many had abandoned the place.
"The village used to have 639 residents. In 2007, only some 200 stayed behind, living in ramshackle adobe houses," said Xie Guozhou, the Party chief of Dongan.
As transport infrastructure improved, the local government planned the development of rural tourism to help lift the villagers out of poverty.
The village enjoyed an outstanding natural environment with little damage from human activities, including nearly 92 percent of forest coverage, clean water, mild temperatures and fresh air.
In 2011, Chengkou county launched the Forest Homestay project and started to build Kanggu Valley Park, featuring a wonderful limestone landscape, traditional lifestyle and rich folk culture.
Villagers could renovate their houses into a homestay running under the brand and service standards.
The county offered a series of favorable policies and free training programs to encourage locals to run homestays, including subsidies of up to 200,000 yuan ($29,300) for each one.
Xingtian village was the first to follow. So far, 123 out of the total 206 families have started homestay businesses, including 17 households that used to live below the poverty line.
Zhao Youlan and her husband were disabled in separate accidents a few years ago. It led to extreme poverty in their family of five, including Zhao's mother and two children.
In 2014, encouraged by village officials and the success of fellow villagers, Zhao applied for 300,000 yuan subsidized loan to build a new homestay with eight rooms and a large dining hall.
Each guest pays 80 yuan a day for a shared twin-bed room and three meals. Last year, Zhao's family earned 110,000 yuan from the business.
"I knew nothing about running a hotel before and I was a terrible cook, too," Zhao recollected.
After attending the free hotel management training and cooking classes, her homestay has become a popular place in the village.
Zhou Jinglin, 60, has been a regular visitor to the homestay since it opened in 2015. She and her friends will stay for one month during the summer.
"When I first came here, I found the air is so fresh and the climate is so pleasant. And the people are so warmhearted and simple. It's like going back to the good old days."
As the rural tourism market is booming, city dwellers are looking for more upmarket travel experiences than the Forest Homestays.