Two decades of tree planting revives home village
Share - WeChat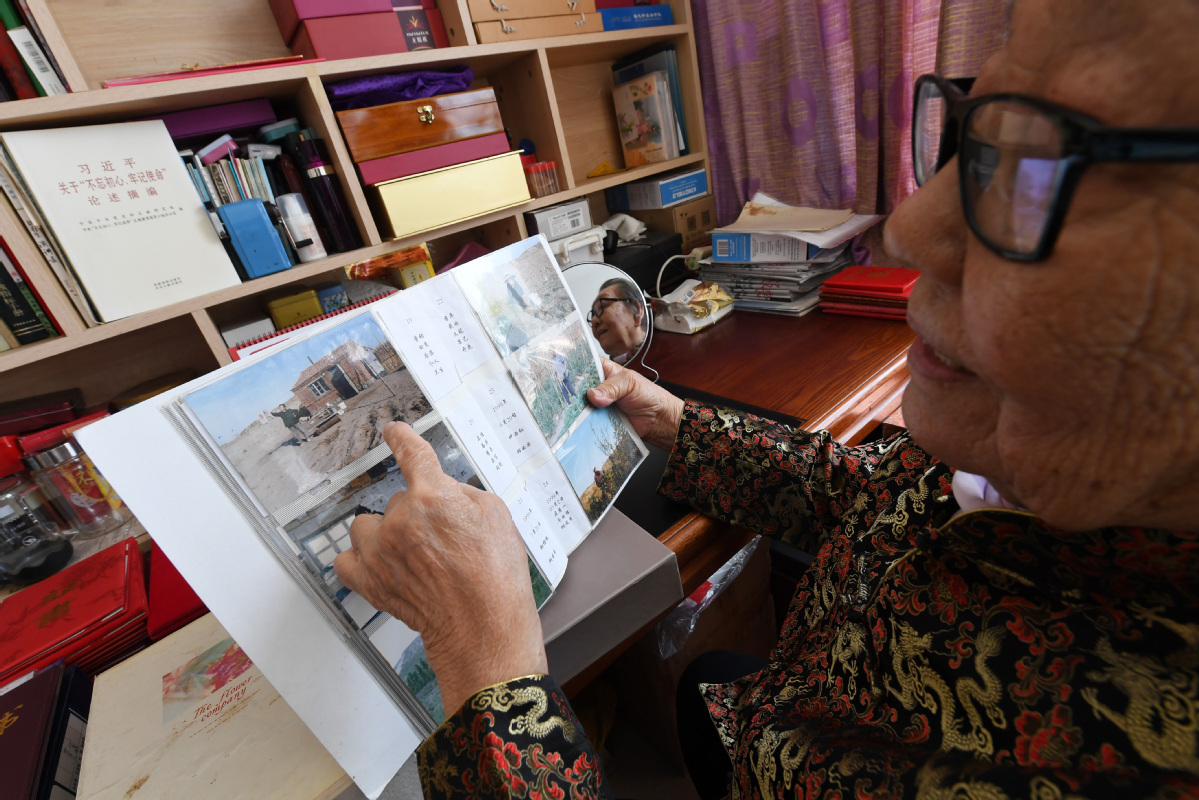 Leafing through her family photo albums, memories of her early days planting trees, more than 20 years ago, started flooding back to 86-year-old Gerel.
In 1998, Gerel, who goes by one name, returned to visit her small home village in Horqin Left Wing Rear Banner, in the city of Tongliao in the Inner Mongolia autonomous region.
She said it was "almost unrecognizable" from the village she remembered from her youth, and farmers and herdsmen were plagued by violent sandstorms.
The horses and livestock that had roamed the grass meadows were gone, replaced by barren sandy plains that threatened to bury villagers' farms and houses. Gerel, who had retired as deputy head of the Tongliao branch of the People's Bank of China, made up her mind to turn her hometown into an oasis.
In August 1998, she signed an agreement with the village to plant trees on 17 hectares of sandy land free of charge for 20 years. At the end of that time she would return the land to the village.
Even though her children and her mother opposed her plan, she moved from Tongliao to the village with her husband, Undes, then 72, in the spring of 1999 to begin her quest.
"Nobody believed that trees could grow on the sand dunes and my mother told me if I really wanted to help my hometown, I could just donate money to people in need," Gerel said. "However, donating money can only solve short-term problems. Only by improving the environment can villagers start to make a living again."
At first, the couple lived at her sister's house in the village. They would get up at 3 am, travel to the planting area and spend the whole day planting trees. They returned to the house at 7 pm, she said.
They dug holes in the sand hills and put saplings and seeds into the holes and watered them.
However, their painstaking efforts and dedication were frustrated by frequent sandstorms. Although they managed to plant around 10,000 trees in the first year, most of the saplings did not survive in the harsh environment.
Moved by the couple's determination, villagers helped them build an 18-square-meter house near the planting area so they did not need to travel every day.
"I am a very stubborn person and I do not give up easily," Gerel said.
After the first planting season the couple returned to their home in Tongliao for the winter and went back to the village in spring.
In 2002, while carrying a bundle of saplings, Gerel fell and broke her left wrist. She did not tell anyone and was treated by a local bonesetter. She continued to plant trees, but has been left with permanent injuries and is unable to carry heavy objects.
Uul, Gerel's son, said no one in the family supported his parents' mission to grow trees because they were worried about their health.
"However, as they would not give up, the only thing we could do was visit them as frequently as possible," he said.
The couple's children and grandchildren traveled to the village almost every weekend and during holidays to help them plant and tend to the trees, he said.
Through experiments with different seeds and saplings and planting methods, the survival rate of the trees increased, Gerel said.
Year after year, the couple returned to the village in March and spent seven months planting trees. In October, when it became too cold, they returned to the house in Tongliao.
"Growing trees on the sand dunes is not easier than raising children, which requires lots of care and attention," Gerel said.
In the first decade of planting they watered the trees themselves, but after that, rainfall was sufficient to take care of them.
Even after Undes died in 2011, Gerel did not give up on her mission and continued planting with the help of her daughter and other family members.
After 20 years of hard work and more than 300,000 yuan ($44,400) of investment, greenery now covers around 17 hectares of what was once sandy land. The fields of green include more than 200,000 poplars, elms and fruit-bearing trees that have formed windbreaks.
In accordance with the agreement, Gerel returned what is now a park to the village last year and went home to Tongliao.
Her achievement has inspired other villagers to join the cause to make barren areas green. After two decades of effort, the village once again resembles the beautiful verdant landscape of Gerel's childhood.