5G set to amplify industrial upgrade
Share - WeChat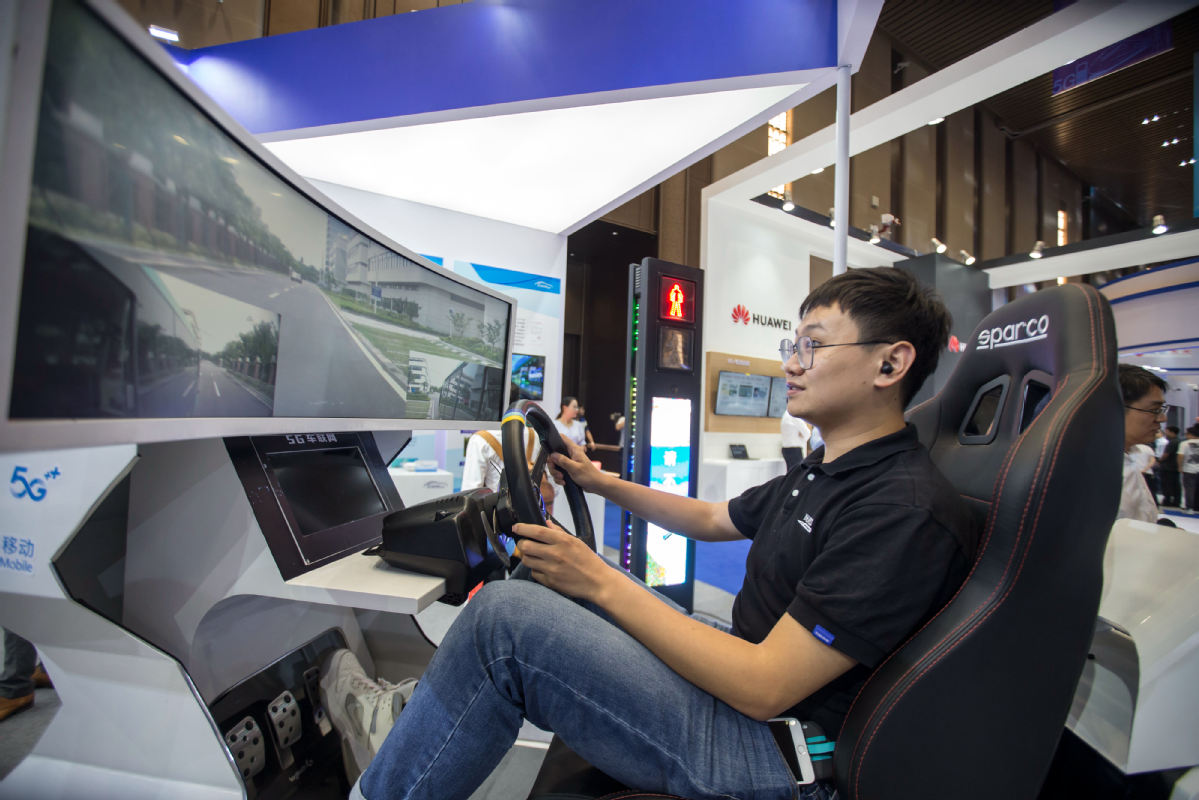 Technology will play new role in spurring country's burgeoning digital economy
In the control room of a steel company in Xiangtan, Hunan province, four technicians are operating joysticks to remotely control bridge cranes in a neighboring high-temperature plant.
Via a big screen which showcases real-time video of the factory, the employees monitor the processes and all the equipment is moving in an orderly fashion.
"Previously, the control center had to be placed within a steel plant to allow it to control the process without a time delay. We had to work in an environment featuring high temperatures, noise and dust. But all of this has changed due to the 5G network," said Liu Jiwen, who is in charge of Hunan Valin Xiangtan Iron and Steel's 5-meter-wide thick plate production facility.
According to Liu, 5G's low latency and big bandwidth mean the control center can now be located in a cozy room outside of the mill and one employee can remotely operate multiple bridge cranes simultaneously, significantly boosting efficiency.
That marks a stark contrast to the image of workers toiling away in steel mills with sweat pouring down their faces.
The typical labor-intensive iron and steel industry is undergoing new transformations thanks to the commercialization of 5G and other cutting-edge technologies.
The steel plant also offers a glimpse of how Chinese tech companies are scrambling to partner with a wide range of traditional sectors to promote the industrial use of 5G and unleash the full potential of the most advanced communications technology so far.
Since the start of last year, Valin Xiangtan Iron and Steel has been partnering with China Mobile, the nation's largest telecom operator, and Huawei Technologies, a major telecom equipment maker, to explore 5G's role in empowering employees to work in a green and smart environment, away from occupational and health hazards.
"We have now achieved a string of application scenarios, such as centralized remote control of steel scrap cranes, unmanned cranes in certain areas, remote control of robotic arms and automatic surveillance of hazardous areas in the plant, said Liu Yangbo, a 5G technical expert at China Mobile's Hunan branch.
Experts said 5G can enable automated, unmanned operations in manufacturing plants in a way that traditional fiber networks and Wi-Fi technologies cannot. Traditional fiber networks, after all, are far more difficult and expensive to deploy, while Wi-Fi is prone to interference and lacks both stability and capacity.
As Chinese telecom operators make steady progress in rolling out the 5G network across the nation, more traditional industries have embraced the technology to upgrade their operations, just like the Xiangtan steel plant.
From conducting arguably the world's first 5G-powered remote surgery on a human brain, to enabling a 5G-connected automatic electric locomotive in a 500-meter-deep mine, to piloting the operation of self-driving buses and automobiles in many cities, Chinese companies are pioneering a string of new industrial uses of the superfast wireless technology, experts and company executives said.
Wen Ku, spokesman for the Ministry of Industry and Information Technology, the nation's top industry regulator, said, "4G has already changed our lives, and 5G will change our societies."
According to Wen, 5G delivers larger bandwidth, lower time lag, better reliability, broader connectivity and ubiquitous networks, which will inject new vitality into many traditional sectors.
"Only 20 percent of 5G's applications will be consumer-oriented ones, and 80 percent of its commercial potential lies in its use in traditional sectors. As a result, the combination of 5G and other sectors will be of great importance to the nation's industrial upgrade," he said.
The latest data from MIIT show that China had built over 500,000 5G base stations by the middle of August. Also, more than 100 million devices have been connected to the 5G network as part of the nation's broader push to accelerate 5G deployment.
At a forum on Sept 18, Han Xia, director of the telecom department at MIIT, said China is expected to have more than 600,000 5G base stations by the end of the year, covering all cities at prefecture level and above.