Ford to apply China's EV know-how in US
Share - WeChat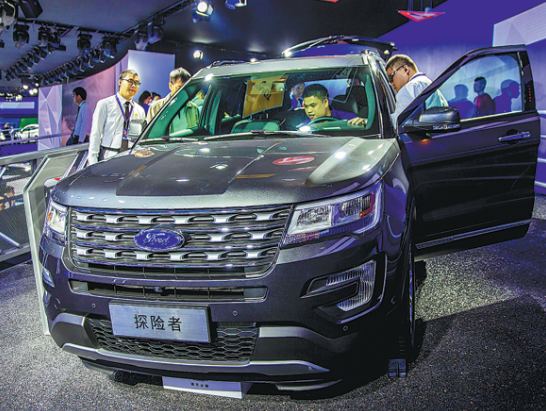 Ford, the second largest carmaker in the United States, said it would like to use its experience gained from China on electric cars and onboard digitalized functions around the globe, especially its home market of North America.
"We see China's customers as the most advanced in terms of the digital consumer experience," said Ford's incoming CEO Jim Farley in an interview with China Daily. "For us to be successful among those companies, this is the know-how we can apply around the world, especially in our home market of America. This is especially true for brands like (Ford's premium arm) Lincoln."
China has been the largest market for new energy vehicles since 2015. More than 1.2 million electric cars and plug-in hybrids were sold last year, accounting for around 4.5 percent of total vehicle sales in the country, according to the China Association of Automobile Manufacturers.
The vast market potential and the government's support for the sector have attracted both startups and established carmakers to vie for customers through the latest devices and functions available, ranging from touch screens and natural voice command to battery-swap services and automatic parking.
Farley said China's successful electrification shift in the automotive industry is allowing international companies like Ford to create new business models that are more efficient for customers and investors.
He said this is another reason why success in China is crucial to Ford's global operations as the carmaker is investing more than $11 billion in electrified models.
Ford is launching its first global electric vehicle, the Mach-E, at the Beijing auto show starting on Saturday.
The model will have a range of over 600 kilometers and features autonomous driving functions that Farley said are better than Tesla's vehicles.
"The design and the DNA of the model is from the America icon of Mustang," Farley said. "It will be an example of electrified vehicles from Ford in China."
He said Ford's China team will be given more autonomy in terms of electrification. They will set up a team to develop electric vehicles. They will also be tasked with making Ford a leader in digitalized experiences, Farley said.
Ford deepened its localization campaign in China about two years ago, elevating the market's position to that of North America and hiring Chinese auto veteran Chen Anning as the top executive of its China operations.
"The localized models are growing Ford after so many years, and the losses are shrinking. The team is making necessary changes for China to be a growing and profitable business for Ford globally," Farley said.
Ford's vehicle sales in China from April to June totaled 158,589 units, up 3 percent compared to the same period last year. This represented Ford's first quarterly sales rise in the world's biggest auto market in almost three years.
Ford has sought to recover from a slump in China sales unprecedented for a major global automaker. Its sales in China sunk 26 percent last year after a 37 percent drop in 2018.