Jiangxi's crayfish companies serve delicious profits
Share - WeChat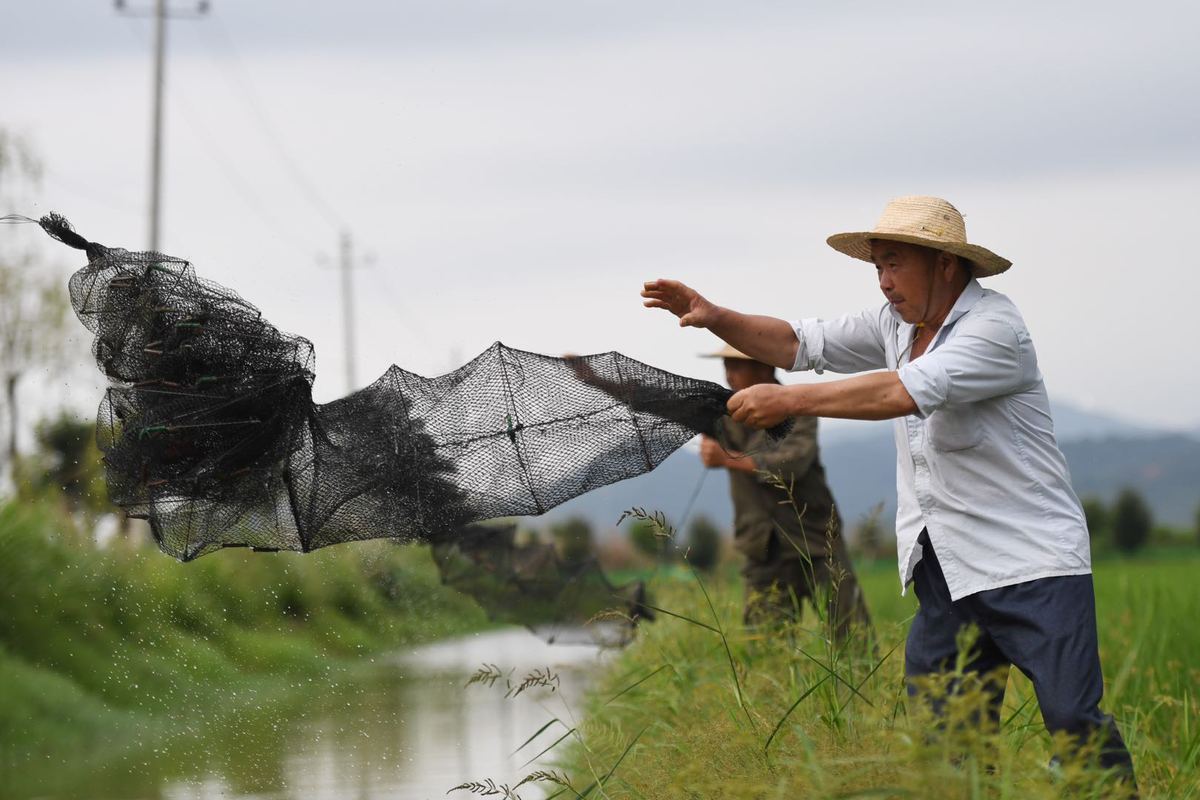 Once shunned as an invasive species, crayfish are now a popular delicacy and a major source of revenue for farmers in Pengze county, Jiangxi province, home to 380,000 residents.
Fu Hailin, 34, a local painter-turned-farmer, started breeding crayfish in 2016, after learning that some villagers hit pay dirt in this business. After quitting his wall-painting job in Wenzhou, Zhejiang province, Fu leased around 5 hectares of land in Pengze and started up.
Fu made over 200,000 yuan ($29,072) in the first year of his new business. Crayfish breeding in his hometown earned him double that of his away-from-home painting job, on the back of lower expenses.
Fu said: "Besides, I get to take care of my children and parents. Life is much easier and happier now. I didn't expect crayfish breeding to bring such a change in my life. I rebuilt our house in 2017, bought a car in 2019, and started side businesses like 'agritainment'-it is a portmanteau of agriculture and entertainment-dining, and homestay services as the growing crayfish industry in the (Pengze) county is attracting food lovers from nearby cities."
It has also attracted investors from across the country.
Qian Guangrong and his son relocated from Anhui province to Pengze in 2010 and rented nearly 5 hectares for crayfish breeding. In 2017, they expanded their breeding base to about 33 hectares.
"The environment, including pond and related infrastructure, weather and water (in Pengze) are ideal for crayfish breeding. We also bred crayfish in Anhui but the business there wasn't that successful," Qian said.
Last year, Qian and his son earned over 1.2 million yuan from breeding crayfish in Pengze. They also helped lift over 10 local families out of poverty by teaching them how to breed and sell crayfish.
Both Fu and Qian sell their crayfish to a local food processing zone set up in 2019 by Jiujiang Kairui Ecology and Farming Development Co Ltd with an initial investment of 460 million yuan. It started full-scale operations in May, and expects an annual output worth 720 million yuan.
Buoyed by growing demand for crayfish in winter, Pengze Kaichen Agriculture Technology Co Ltd is harnessing its technology to breed crayfish. Li Yunfeng, head of Kaichen, said: "We are supplying crayfish to some major restaurant chains in cities in North China in winter. The market there is very big.
"We buy crayfish in summer at a relatively low cost and sell them to restaurants at a much higher price in winter. Most companies in this business freeze crayfish to guarantee their health and freshness. But we developed a technology that can make crayfish hibernate until winter. The crayfish industry cluster in Pengze is conducive to our company's development. We are betting big on a bright future for the industry."
The cluster represents an ecosystem of sorts, covering areas like breeding, processing, cooking, selling and tourism. Pengze is now Jiangxi's largest producer of crayfish and crabs. Last year, its crayfish breeding area reached 8,000 hectares and output was 15,000 metric tons valued at 600 million yuan. The county aims to expand its crayfish breeding area to nearly 10,666 hectares by the end of this year.
The local government has also rolled out supportive measures in the form of cooperation agreements with institutes and universities like Nanchang University and e-commerce giants such as Taobao and JD.
Besides, it has set up Jiangxi Pengze Crayfish and Crabs Technology Yard, which invited top experts in aquatic products and their teams of graduate students for technological research. They focus on crayfish-themed areas like food, agriculture, medicine and cosmetic products. The goal is to make full use of crayfish and create more added-value to move up the value chain nationwide.