Crawfish love drives chefs' salaries high
Share - WeChat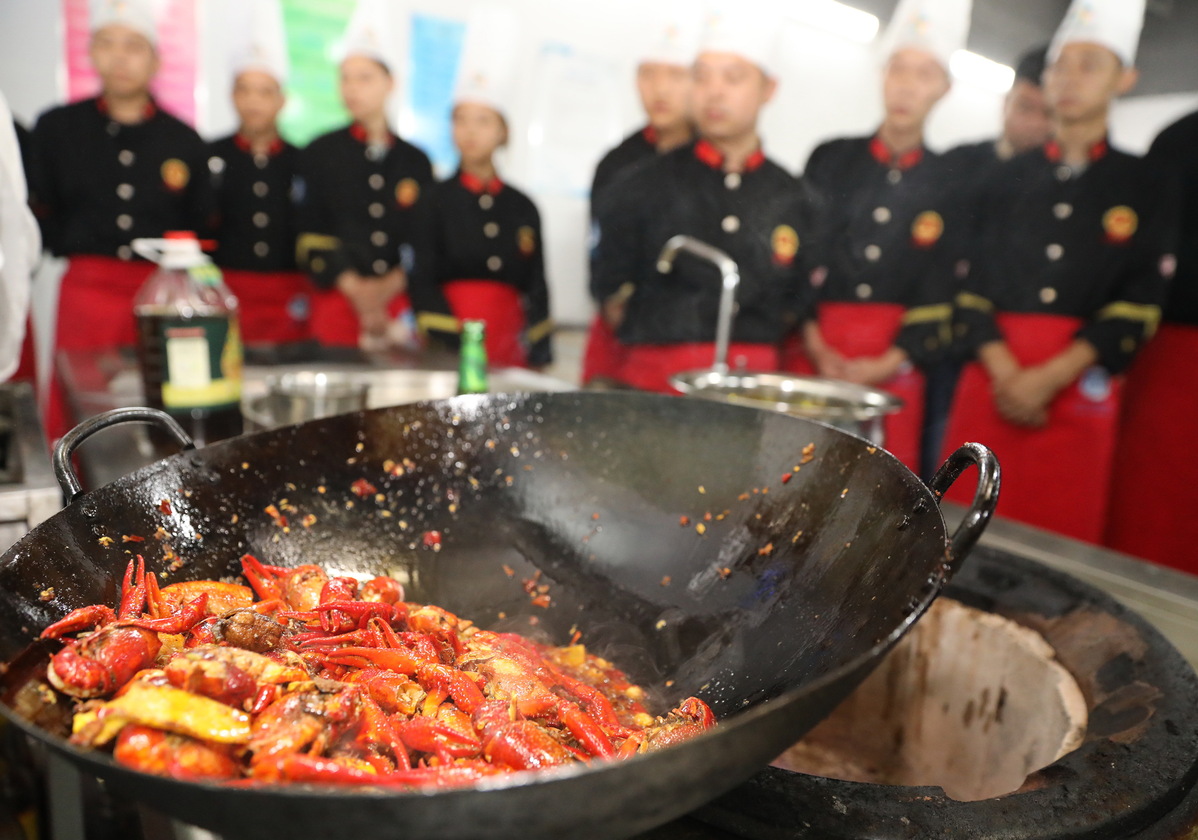 Graduates trained in cooking the crustaceans earn double the average
Almost China's national snack, people's strong love for crawfish has meant graduates who specialize in the dish can earn twice as much as others with college degrees.
Thirty-five graduates who studied how to cook crawfish-also called crayfish-for two years, obtained vocational degrees from Qianjiang Crayfish School in Hubei province recently.
Twenty-nine of them have already secured jobs with average monthly salaries of more than 10,000 yuan ($1,457) due to the large demand for crawfish chefs, said Wang Zhongqiu, a teacher at the vocational college. He added that the other six graduates decided to open their own crawfish restaurant.
According to a report by Mycos, an educational research company, the average monthly salary for college graduates in China was 4,624 yuan in 2018.
It is quite common for crawfish chefs with more than three years' experience to earn 30,000-50,000 yuan a month and the school plans to enroll another 200 students in crawfish-related majors this year, Wang said.
The school first introduced three majors related to the cooking, marketing and management of crawfish in 2017 and became the first and only college nurturing talent for the crawfish industry, he said.
"Apart from the three majors, it plans to open a new major in crawfish breeding. From raising baby crawfish, transporting them to the restaurant and finally bring the dishes to the table, we want to cultivate talent in all crawfish-related areas."
Despite the good pay, the work is onerous. Chefs have to work overtime and some have to cook hundreds of kilograms of crawfish each day, Wang said.
The peak season for crawfish is from March to November, so they will earn much less during the slow season, he added.
Huang Yu, 21, is a graduate from the crawfish school. He has opened a crawfish restaurant with his family in Yichang, Hubei province, his hometown.
His restaurant can accommodate several hundred people. He has hired several crawfish chefs, who can earn more than 12,000 yuan per month.
"Although catering is a highly competitive industry, I am optimistic about the restaurant's prospects," he said.
Yu Dashuang, another graduate from the school, found a job at a crawfish restaurant chain in Beijing in April. When he was interning at the restaurant, he could make 8,000 yuan a month. After he received his diploma, his monthly salary increased to around 15,000 yuan, he said.
China is the world's largest producer of crawfish, with annual production of around 1.13 million metric tons in 2017, according to a report by the bureau of fisheries under the Ministry of Agriculture and Rural Affairs.
Crawfish was the most popular dish ordered on consumer app Meituan-Dianping in 2017. Meituan reports that the crawfish market was worth more than $14 billion that year, which is about 4 percent of the total Chinese food service market.
"Eating crawfish is not only about its spicy and hot flavor. When friends gather at sidewalk snack booths in summer, it becomes communal eating with a fun atmosphere," said Wang Hao, a frequent crawfish eater in Changsha, Hunan province.