State Grid to further efforts in smart charging network for EV drivers
Share - WeChat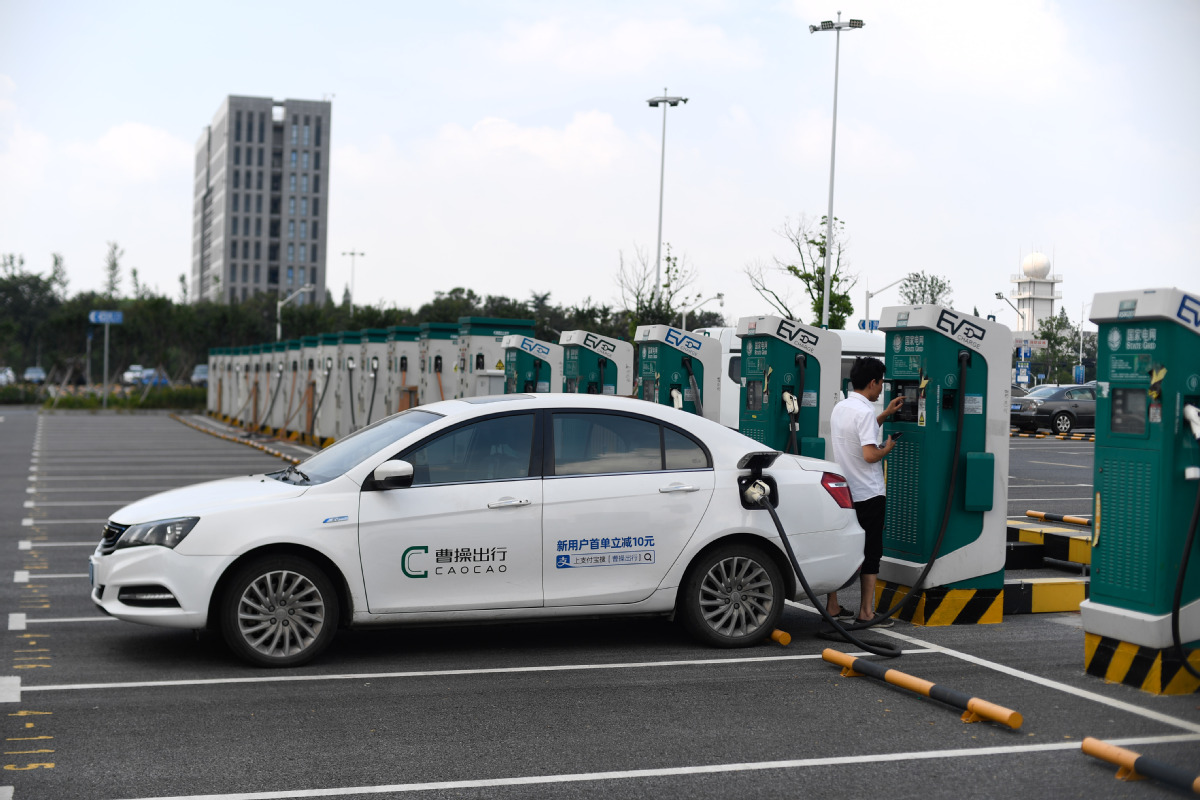 The smart charging network launched by State Grid Corporation of China, which aims to promote data-sharing between various charging companies, has covered as many as 756,000 charging piles by the end of August, with a market share exceeding 88 percent, said the company, the largest power utility player in China.
The open platform aims to connect charging pile companies and facilitate electric vehicles. It has attracted more than 100 charging pile companies to the corporation's charging network, which already covers 26 provinces and autonomous regions.
It has become the world's biggest charging pile platform in terms of numbers, and will see one million charging piles connected to the platform by the end of this year to further facilitate the electric vehicle users in the country, said Shen Jianxin, general manager of State Grid Electric Vehicle Service Co, a subsidiary of State Grid Corporation of China.
"The company will step up investment in the charging facilities as the EV charging market is expected to expand thanks to the government's favorable policies in 'new infrastructure,'" Shen said during the China Electric Vehicle Life Festival held in Beijing on Monday.
The central government released its "new infrastructure" construction plan in March. EV charging piles were included in the plan, making it a key sector for national infrastructure construction.
A report released by Beijing-based think tank EO Intelligence said the number of electric vehicle charging piles in China is estimated to reach 1.66 million by the end of this year and 11.2 million in 2025.The ratio of EVs to charging piles is expected to continue declining.
The country's EV charging piles surged by 56.9 percent year-on-year to 1.22 million, it said.
Sun Huifeng, president of CCID Consulting, believes the development of the charging pile sector is expected to speed up to develop a 1 trillion yuan ($144 billion) market in the country.
Kou Nannan, head of China research with BloombergNEF's advanced transport sector, said he is optimistic about the future charging market in China as the EV fleet has been growing rapidly and the country's charging pile sector will rise faster in the second half as the impact of COVID-19 on new energy vehicles in China gradually diminishes.
State Grid Corp of China had said it plans to invest up to 2.7 billion yuan this year to add 78,000 charging piles. Together with China's largest charging infrastructure providers, Qingdao TGOOD Electric Co Ltd, Star Charge and China Southern Power Grid, State Grid has also set up a company called Uniev that is focused on EV-related services and covers information about pile locations, availability, prices and user ratings.
According to Shen, the country, being the world's largest auto market, has witnessed rapid development of the new energy auto market. The number of new energy vehicles stood at 4.17 million during the first six months this year, making it the biggest new energy auto market in scale worldwide.
Shen said the company will further cooperate with auto companies including BYD, BMW and Nio to come up with more products to facilitate electric vehicle owners.
It has earlier forged an agreement with carmaker BAIC Group for further cooperation on electric vehicle support facilities, including building EV charging piles and battery-replacement stations, EV sales, battery energy packs, green energy transactions and smart energy, company officials said.
As many as 7,834 new public chargers were added in July in China, with production and sales surging 15.6 percent and 19.3 percent year-on-year respectively, figures released by the China Association of Automobile Manufacturers showed.
The number of electric vehicle chargers for public use in China stood at around 566,000 at the end of July, the China Electric Vehicle Charging Infrastructure Promotion Alliance said.