Shenzhen leads in innovation, automation
Share - WeChat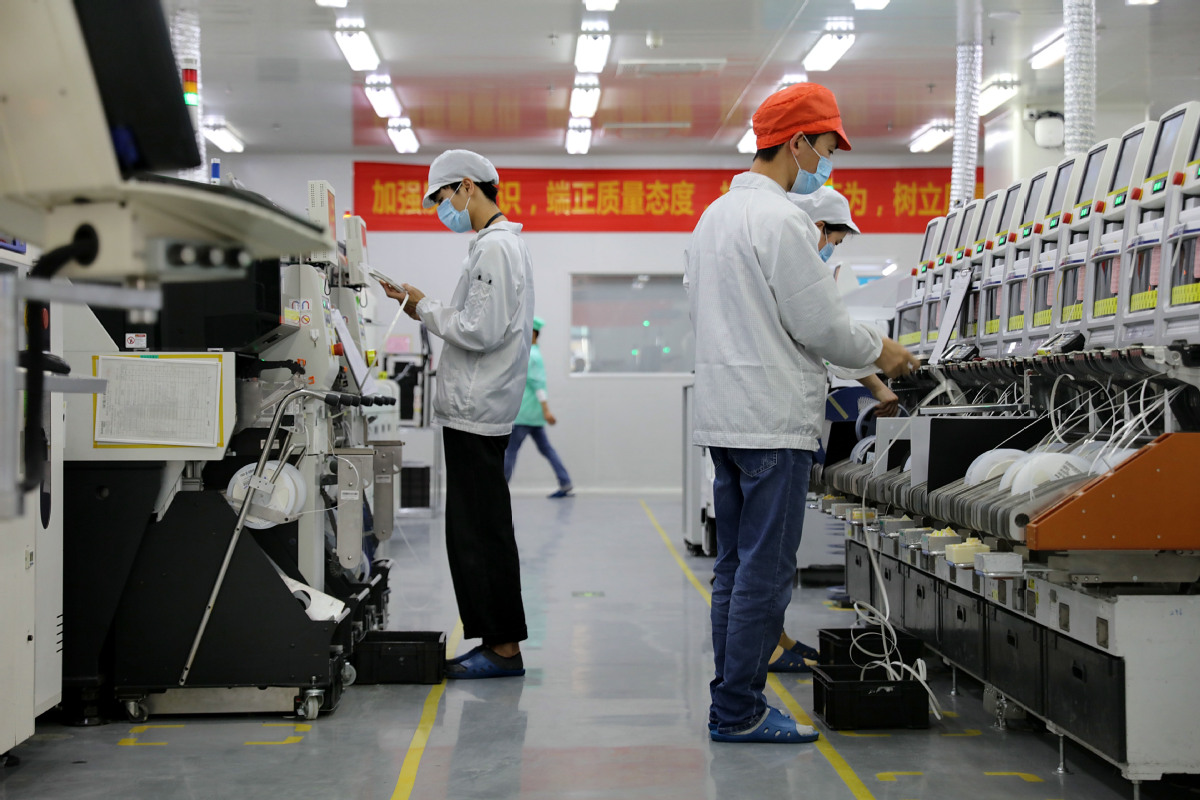 Electronic powerhouse in South China shifts focus to high value-added industries such as IT, biotechnology
Producing a Redmi smartphone requires hundreds of steps but it takes just a brief moment for its circuit board to be glued, soldered and packaged at Shenzhen Zowee Technology Co Ltd, a major electronics manufacturer for smartphone vendors including Xiaomi Corp, Huawei Technologies Co and Oppo.
By applying its own cutting-edge robotics and technology, over 50 percent of the manufacturing process for Redmi's handsets is now performed without human participation.
Despite the COVID-19 pandemic still affecting supply chains for all industries worldwide, more than 50,000 Redmi smartphones are being produced on average each day in a single workshop at Zowee.
Zowee is not alone as several companies in the information technology sector have striven to quickly resume production and managed to leverage technological innovation into a fresh growth engine.
"Despite challenges brought by the COVID-19 outbreak, China had gained sound momentum in the electronic information industry in the second quarter. With both upstream and downstream industries resuming normal operations, the IT industry has shown a strong recovery," said Qiao Yueshan, head of the electronic information department at the Ministry of Industry and Information Technology.
In the first half, the IT manufacturing industry earned an income of 5.14 trillion yuan ($739 billion), the ministry said.
For AAC Technologies, a world leading solutions provider of smart devices and a major manufacturer of miniaturized components used in Apple's iPhones, iPads and watches, its business enjoyed strong growth during the period.
While the pandemic greatly affected the IT industry in the first quarter, the company recorded a first quarter revenue of 3.56 billion yuan.
Jiang Nan, senior vice-president of AAC Technologies, said the company and its supply chains managed to resume work immediately since the outbreak of the contagion. The firm has poured 5 million yuan into providing staff and workers free nucleic acid tests.
"The negative impact of the pandemic on the domestic IT industry is mainly due to a diminished labor force, interrupted delivery of raw materials, delayed processing of terminal products and weakened market demand," said Wen Xiaojun, head of electronic information at CCID Wise, a think tank.
With the gradual control of the contagion domestically and the coordinated resumption of work and production in the IT industry chain, Wen said that the self-sufficiency of the market will gradually recover, and market demand for consumer electronics suppressed by the outbreak will gradually bounce back.
Research firm CINNO said demand for Apple iPhones has soared in China, with a 225 percent sequential growth in sales volume in the second quarter.
"Therefore, the negative impact of the outbreak on the domestic IT industry is expected to be concentrated in the first and second quarters, and related production, investment, and consumption will gradually recover in the second half," Wen said.
In order to weather the storm, Jiang from AAC Technologies said that the company, as a high-end electronics manufacturing firm, has been investing significantly in innovation.
Jiang said the company poured more than 1.7 billion yuan into R&D last year, which accounted for over 10 percent of its total global sales revenue.
At present, six of the top 10 smartphone brands in the world in terms of sales are using AAC products. Its Micro-Electro-Mechanical Systems chips for handset sound systems allow better signal-to-noise ratios and help reduce costs by over 50 percent.
"As a globally focused and internationally diverse company, AAC is leveraging global resources wherever talent and expertise can be leveraged to improve competitiveness," Jiang said.
The Shenzhen-based company has set up 19 R&D centers in the United States, Finland, Denmark, the United Kingdom, Singapore and other regions, with 4,177 R&D personnel worldwide.