Infrastructure projects in epidemic areas get Chinese helping hand
By ZHANG XIAOMIN in Dalian, Liaoning and ZHONG NAN in Beijing | China Daily | Updated: 2020-08-21 09:56




Share - WeChat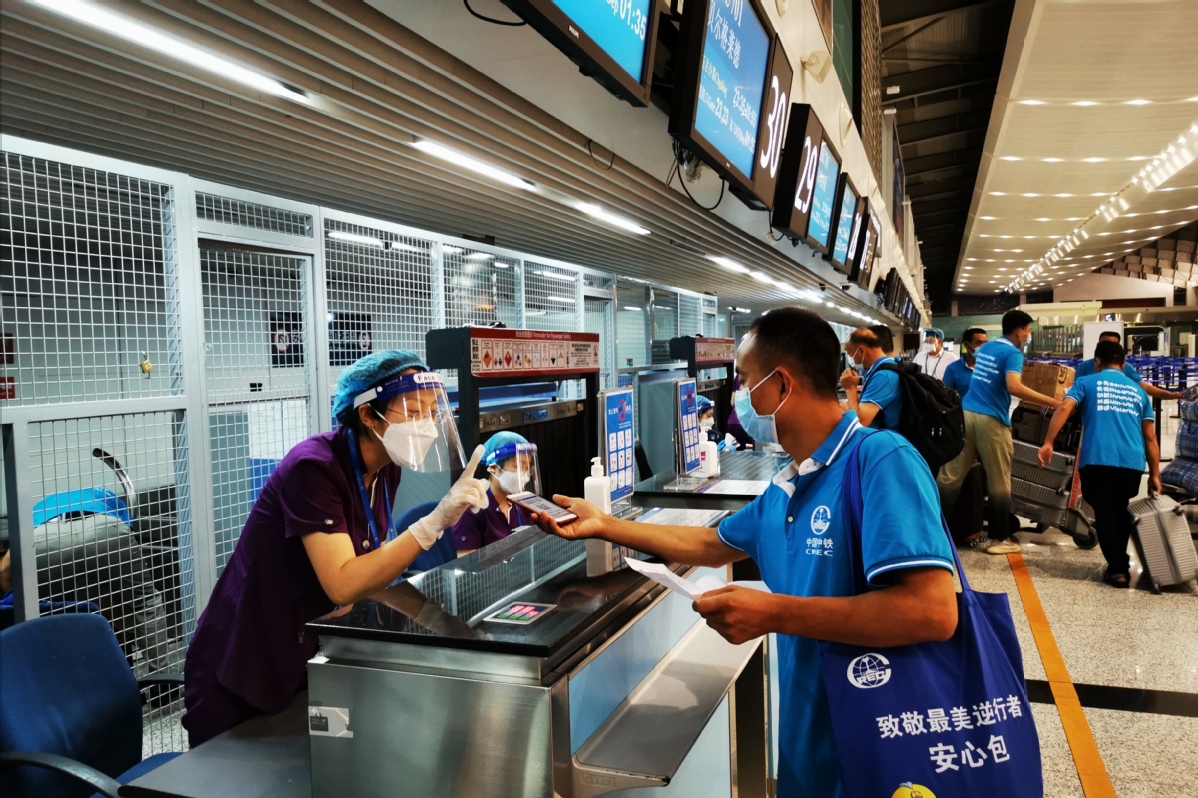 With many countries making notable progress in containing the spread of the COVID-19 pandemic, China's State-owned enterprises have begun to organize chartered flights to ship experts and workers abroad to support local infrastructure and economic development.
The Dalian branch of China Railway No 9 Group Co Ltd, a subsidiary of China Railway Group Ltd, flew 88 of its employees to Belgrade, Serbia, last week.
Carried by a Hainan Airlines charter flight, they will be quarantined for 14 days after arriving in the Balkan nation, after which they will participate in the technical upgrading of a copper mine, said Meng Qingyi, head of the company's Dalian branch.
Meng said the firm has made full preparations for the chartered flight. All employees have undergone nucleic acid tests and received professional training in production safety and epidemic prevention.
"We also sent health kits, medical treatment and food supplies to the Serbian project," he said.
Following the tangible growth of the Belt and Road Initiative, the company has been developing markets in Europe, Asia, Africa and South America. It won the bid for engineering work of two copper mines in Serbia last year, marking the first time the company entered the Serbian market.
However, construction progress was seriously delayed due to the contagion and limited flight availability.
Hainan Airlines immediately formulated a service plan, said Li Quan, general manager of Hainan Airlines' Dalian branch.
Through close communication with Dalian International Airport, Customs, border inspection and port offices, Hainan Airlines helped guarantee smooth departure of the chartered flight amid strict epidemic prevention measures.
"We will continue to actively provide chartered flights for companies needing to resume production abroad," Li said.
In addition to sending more than 50 technicians and workers to continue construction of Pakistan's Karot hydropower project late last month, Power Construction Corporation of China (Power-China) shipped 57 staff to Bosnia and Herzegovina to support power projects there last week.
As the whole world is facing an economic downturn, maintaining market share overseas has become a critical mission for SOEs, especially during the pandemic era, said Yao Qiang, the company's vice-president.
Building sound infrastructure projects such as roads, power stations and ports will also help host countries create jobs and commercial opportunities while also improving people's living standards and boosting trade flows, Yao said.
The Beijing-based group also delivered an 18.5-kilometer highway project to a client in the nation of Georgia last month.
Since the project started construction in March 2016, PowerChina's team has successively overcome several technical issues on the geologically challenging project.
After 52 months of construction, the new two-way, four-lane highway project shortened local travel time by between 20 and 30 percent, greatly improving existing traffic efficiency and driving regional economic development, Yao said.
He said the company's subsidiaries-including Sinohydro Group-started building a hotel and apartment project in Saudi Arabia last month.
The owner of the project is a unit of Dhahran Techno Valley Holding Co, a wholly-owned subsidiary of the King Fahd University of Petroleum and Minerals in Saudi Arabia.
Located in Dhahran, Saudi Arabia, the project covers a total construction area of about 55,000 square meters.
It will see the development of a 10-floor four-star hotel and apartment complex, including 216 hotel rooms and 118 apartments, as well as a restaurant, gym, swimming pool, meeting room, stadium and underground parking lot.
The press office of Beijing-based China Communications Construction Co Ltd, another centrally administrated SOE, also announced that it recently sent 139 workers and experts via chartered flight to Kyrgyzstan to support two local road projects.