Freight trains play crucial role in sustaining global recovery
Share - WeChat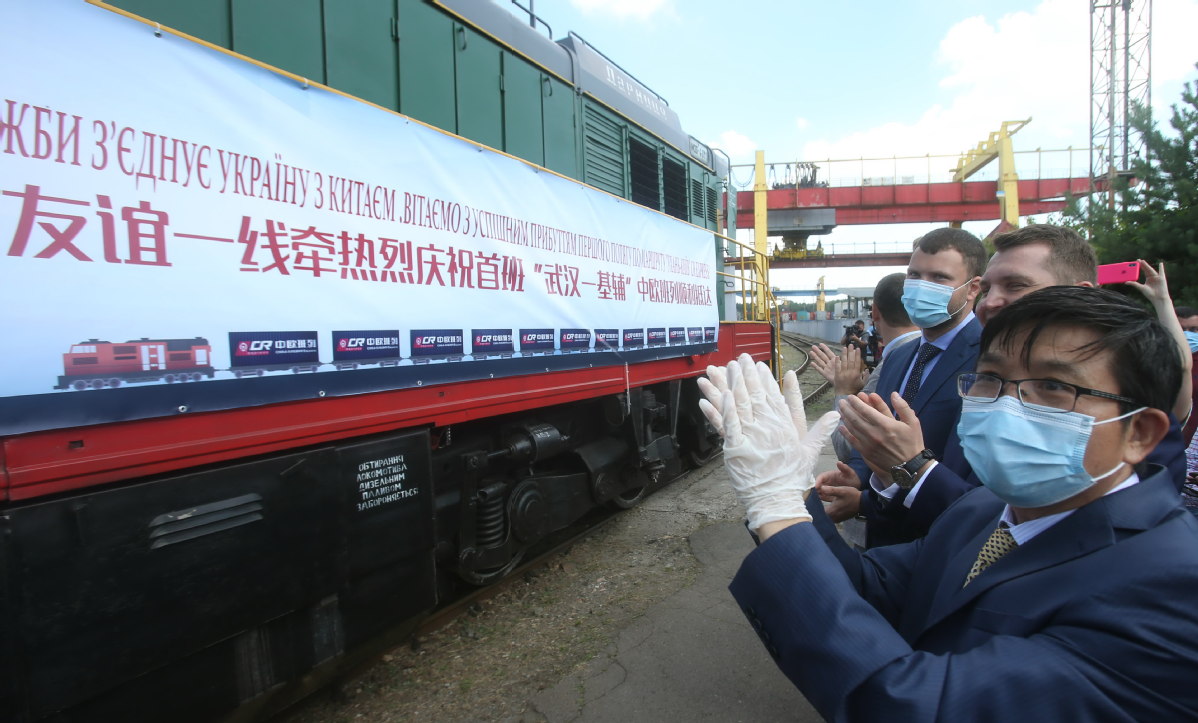 Rapid growth seen in China-Europe transport services
After years of being a supplemental transport option for China's trade with the European Union and the Eurasian Economic Union, as well as non-EU member states, rail transport-due in part to the COVID-19 pandemic-is on the rise, with the China-Europe freight train service having become a vital trading channel in support of the world's economic recovery this year, said officials and industry experts.
Despite the contagion's destructive impact on the global economy, the pandemic has created opportunities for railway transport, regional economic restructuring and innovative activities in certain parts of the world, said Li Muyuan, secretary-general of the Beijing-based China Container Industry Association.
As many ports in Italy, the Netherlands, Spain and Portugal have temporarily shut or face severe curbs on the movement of people and vessels, container availability had dwindled sharply at major European ports such as Hamburg, Rotterdam and Antwerp in the second quarter. This caused shipping issues for traders in China and Europe alike, said the China Chamber of International Commerce.
Li said freight train services between China and Europe are becoming increasingly popular with importers and exporters on both sides, as commercial activities of shipping companies and airlines remain suspended or restricted due to the pandemic.
The number of journeys made by China-Europe freight trains amounted to 5,122 in the first half, up 36 percent on a yearly basis, breaking the monthly record several times over, according to China State Railway Group Co Ltd, the nation's railway operator.
The China-Europe freight train service was initiated in 2011 and is considered to be a significant part of the Belt and Road Initiative to stimulate trade between China and economies related to the initiative.
Bai Ming, a senior researcher at the China Academy of International Trade and Economic Cooperation in Beijing, said that as the pandemic has caused a global recession-especially for the world's three major economic regions of East Asia, Europe and North America-the China-Europe freight train service to a certain extent has made up for the precipitous drop in maritime and air transport capability between East Asia and Europe so far this year.
Senior officials from China and the European Commission reached common consensus in areas including cooperation in COVID-19 responses and the security of industrial and supply chains.
Negotiations regarding the bilateral Comprehensive Agreement on Investment were held during the eighth China-EU High-Level Trade and Economic Dialogue in late July, and Bai said an early signing of the CAI will further benefit cargo train service between China and Europe during the post-pandemic era.
Moreover, China, Japan and South Korea's push for accelerating negotiations on the China-Japan-South Korea Free Trade Agreement will also see more industrial goods made by China's two neighbors on trains to Europe to support the multilateral trading system and regional trade, said Wei Xiaoquan, a researcher specializing in regional economic development at the University of International Business and Economics in Beijing.
Wei said as these countries are major manufacturing powerhouses and outbound direct investors in Asia, taking advantage of the China-Europe freight train service, bilateral and trilateral FTAs will not only upgrade the level of trade liberalization for cargo, services and investment between them over the long run, but also offer Japanese and South Korean companies more choices on how to ship products.
Because there isn't much capacity for Chinese companies to lease belly-hold cargo space in the passenger aircraft of domestic and European airlines since the outbreak, China Post Group Corp launched regular freight train service to a number of European cities from Southwest China's Chongqing municipality and Yiwu, Zhejiang province, in March and April, respectively.
The centrally administrated State-owned enterprise had operated 22 such transcontinental cargo train trips to Lithuania and Poland as of Aug 2. Some 8,481 metric tons of mail and goods were shipped via 1,303 rail containers in both directions.
Liu Aili, chairman of China Post, said rail lines connecting China and Europe are able to ship a large amount of goods and medical supplies within 10 or 15 days in both directions after a number of countries tightened control of-or closed-their ports and airports, causing delays in the distribution of goods.