Tongrentang cafe to target young consumers
Share - WeChat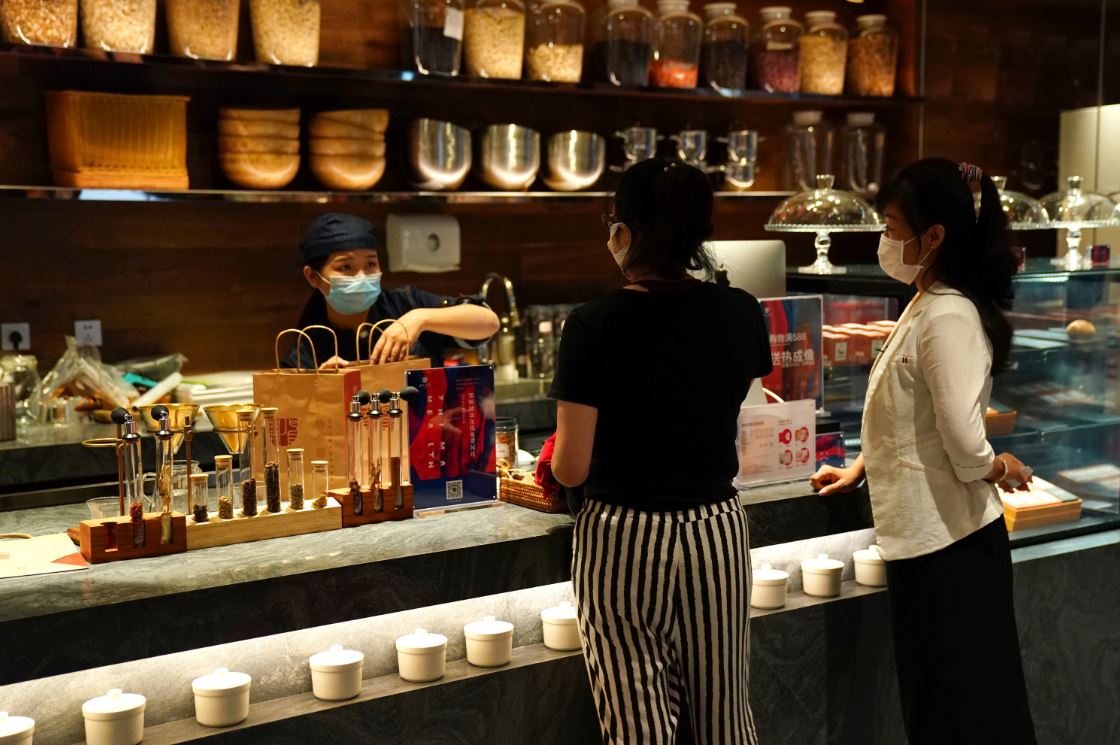 Tongrentang Group, a renowned traditional Chinese medicine pharmacy, has opened two fusion cafes that offer drinks and healthcare services in Beijing, and the shops have been quite popular among consumers, especially the young people.
The time-honored Tongrentang, which was founded in 1669 and used to mainly target middle-aged and elderly consumers, has gone viral online for its recent move to sell coffee and milk tea.
The cafe provides different kinds of coffee drinks that are infused with herbs such as licorice, monk fruit and cinnamon. It also offers various teas that are mixed with Chinese wolfberry and grapefruit.
The cafe also has an area where shoppers can buy featured products such as honey, Chinese wolfberry, cubilose and ginseng.
Tongrentang plans to open 50 flagship stores in major cities nationwide in the next five years to offer comprehensive healthcare consulting services. On top of that, it will open more than 3,000 landmark cafes in major commercial areas, the company said.
With stylish interior designs such as boxes holding herbs inlaid in the ceiling, the fusion cafes are positioned to serve as a more fashionable healthcare center targeting at young consumers, it said.
"We need to keep pace with the changing times. Our herbal drinks have been highly recognized by young consumers," said He Junshuai, director of brand management of healthcare services at Tongrentang Group Co Ltd.
"Tongrentang aims to meet the springing demand for healthcare services of young consumers and therefore it established the innovative cafe. By exploring the young consumer market, we hope to remedy the shortcomings of a traditional pharmacy," He said.
Currently there are two such cafes in Beijing with one in Daxing district, and the other one a two-story complex in the Shuangjing area of Chaoyang district.
More than 500 people visited the Shuangjing cafe daily on average in the past three months. The number can be higher than 3,000 on weekends.
The Shuangjing cafe's sales revenue in June hit 1.62 million yuan ($230,000), surging 305 percent over the level in May. The annual sales revenue target is 30 million yuan, the company said.
"Simple offline retail scenarios will no longer satisfy the increasingly diversified demand of consumers. A traditional pharmacy's entry into new retail is a result of the development of the internet and digitalization," said Neil Wang, president of consultancy Frost &Sullivan in China.
"Chinese consumers have shown growing awareness of their health conditions since the outbreak of COVID-19 earlier this year, and they have indicated a higher recognition of TCM. Besides, the government is increasing its support of the TCM segment ahead of the country's Healthy China 2030 initiative," he said.
On the day of 24 solar terms that marks 24 divisions in the traditional Chinese calendar, Tongrentang cafe will introduce several new drinks that will cater to specific seasons.
They were developed by its beverage R&D team, which has nutritionists and TCM physicians. The prices of the drinks are cheaper than those provided at coffee chains like Starbucks or Chinese milk tea chain Heytea.
At Tongrentang's cafe in Shuangjing, its diagnosis and treatment area on the second floor offers consulting services about sub-health diseases and options of food therapies that young consumers like.
Tongrentang said it has seen a considerable number of young people asking for TCM at the fusion cafe and consulting services.
"Now, many young people have sub-health problems such as insomnia, shoulder and neck discomforts, and anxiety. They can seek help from TCM experts and take related tests and conditioning," He said.
To attract more potential consumers, Tongrentang said its TCM physicians and baristas at the cafe are required to post some short videos on social media platforms such as Douyin and Kuaishou to promote the brand.
With the empowerment of digital technology, the healthcare services industry in China will see a lot of opportunities for business growth. The Tongrentang cafe will help provide more convenient services for consumers.
Innovations on the basis of traditions though will face challenges from other competitors, said Wang of Frost & Sullivan.