TCM can aid in agriculture development
Share - WeChat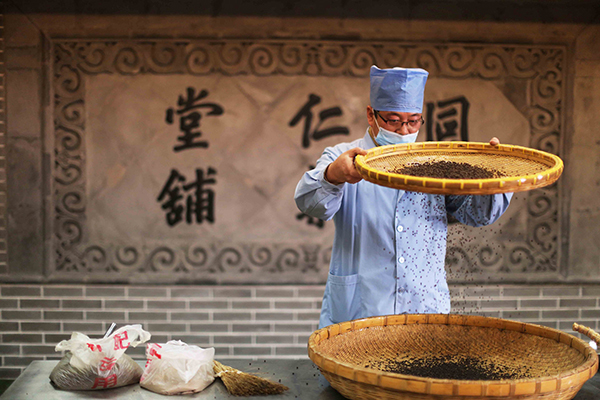 Traditional Chinese medicine helpful for safety and quality of farm products

Traditional Chinese medicine could be a solution to the green and sustainable development of agriculture and contribute to an improved environment in China's rural areas, a top agricultural scientist said.
"Application of TCM principles and techniques in agriculture is progressing rapidly across China, and rich theories, practical experiences and successes have been made," said Zhang Lijian, deputy director of the National Expert Committee for Agricultural Products Quality and Safety Risk Evaluation, under the Ministry of Agriculture and Rural Affairs.
TCM, which uses natural ingredients such as herbs and substances derived from animals, has been practiced in China for thousands of years to cure patients and provide health care.
In addition to aiding humans, TCM can also be used to promote the healthy growth of animals and plants and for water, soil and air pollution control in areas of agricultural production to improve the natural environment and contribute to the safety and quality of agricultural products, said Zhang, also former vice-president of the Chinese Academy of Agricultural Sciences.
Research has proved that biological substances derived from many herbs can serve as nutrients for many plants and help them with effective pest control and prevention. Therefore, they can replace synthetic fertilizers and pesticides in agricultural production and help improve the environment in areas of production, Zhang said.
Such substances have been used in the production of many kinds of agricultural products in China, including rice, wheat, corn, vegetables, fruits and tea, which have effectively improved production in both quantity and quality, he said.
For example, "99-zhibao", a fertilizer produced with substances derived from traditional Chinese herbs, resulted in an increase of as much as three times the yields of dozens of crops, vegetables and fruits in 8,000 hectares in 24 provincial regions last year.
In addition, the TCM-based product greatly increased the sugar content in fruits and enhanced the texture of vegetables, he said.
As no synthetic fertilizers and pesticides were used in these lands, the cost of production also decreased, he added.
"TCM pesticides originate from natural organisms, which have formed their own self-defense systems after millions of years of evolution," Zhang said. "Therefore, such pesticides contain complex substances that work in multiple methods, which do not easily cause drug-resistance for pests, and promote the ability of animals and plants to resist diseases."
In addition to pesticides and fertilizers, feeds produced with different TCM herbs have been developed in recent years for animals.
With extensive promotion of such techniques, the use of drugs in livestock and poultry raising can be reduced, which lowers environmental pollution and improves food safety, he said.
China has intensified efforts to promote the green development of agriculture by trying to reduce the use of synthetic fertilizers and pesticides in recent years.
Extensive use of fertilizers and pesticides have caused food safety and environmental concerns.
The use of fertilizers and pesticides is expected to continue to decline this year in China through intensified efforts, including promoting the use of organic fertilizers in the growth of fruits, vegetables and tea, according to a notice released by the Ministry of Agriculture and Rural Affairs in March.
Yang Yongkun, deputy director of the general office at the Chinese Academy of Agricultural Sciences, said with the rapid development of green agriculture, TCM agriculture has been developing quickly in China. Of all 3.8 million agriculture businesses in the country, about one-third are engaged in the integration of TCM and agriculture, he said.
However, Zhang said many challenges remain for such development and further efforts are required from various authorities.
TCM agriculture can contribute greatly to food safety and sustainable development of agriculture, and more supporting policies should be formulated to promote its development, including special subsidies for its research, development and application, he said.
Zhang said more efforts should be made to greatly increase the supply of TCM herbs and promote the use of TCM-based pesticides and fertilizers to replace synthetic ones to reduce pollution, he said.
Meanwhile, authorities should accelerate formulating regulations and standards for TCM agriculture, and set up special institutions to supervise the production, distribution, processing, sales and testing of such products. A unified platform for certification and tracing of such products should be established so all products can be traceable, he said.
wangxiaodong@chinadaily.com.cn