Unconscious compassion
Share - WeChat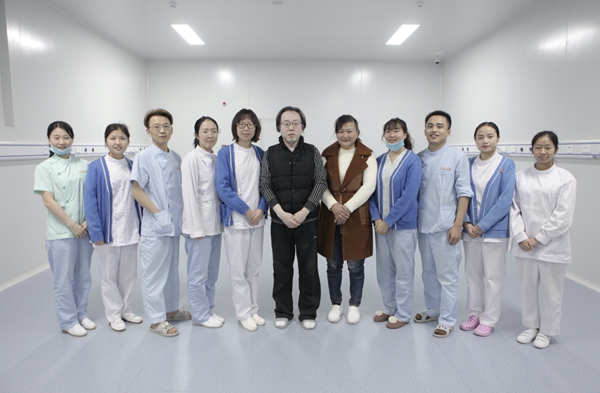 Difficult start
When the center opened in 2015, there was only one patient, Zhang Xiaocong (pseudonym), who was introduced to Xiang by a friend and fellow doctor. Xiang didn't know that he would end up caring for just a single patient for more than a year.
During the period, Xiang and seven nurses took shifts to take care of Zhang, who was also the mother of a daughter and a son. After suffering a brain injury in a car accident in her 30s, she had lain in a PVS for two-and-a-half years before entering the center.
In medical terms, a vegetative state is declared permanent when trauma lasts for more than one year or a non-traumatic cause lasts more than three months.
Xiang still has fresh memories of the first meeting with Zhang and her husband.
"A cook before the accident, her husband looked quite thin. He told me that he had not had a hot meal or a good sleep during the two-and-a-half years he spent by Zhang's side in hospital," Xiang remembers.
The husband prepared a meal for the medics and himself that day at the center and enjoyed his first decent meal since the accident.
Installing a 24-hour camera to stay connected, he left the center and restarted his life, finding a job in South China.
Within three months, Zhang's situation had worsened. She vomited anything fed by a tube through her nose. While consulting with an experienced gastroenterologist through live video chat, Xiang followed the doctor's instructions to feed the patient less food, but more frequently. Zhang's condition finally stabilized.
She survived for more than two years at the center before eventually succumbing to a pulmonary embolism.
Zhang's case made Xiang realize how hard a career he had chosen.
"I'm a neurosurgeon, rather than a general practitioner, but in the center, I am the only doctor available to deal with various emergencies," Xiang says, adding that it took him at least two years to explore and regulate the procedure for the routine of comfort and care that is carried out by the nurses.
"In the first year, I spent more than 700,000 yuan in the center, while only getting more than 100,000 yuan from the only patient," Xiang says, adding that he didn't expect to make money from the business.
In 2016, the center welcomed its second patient. In 2017, six patients entered. In 2018, 13 patients received supportive care. To date, 44 patients who have been cared for at the center have passed away.
To meet the increasing demand from patients across the country, Xiang invested another 3 million yuan, which came from the mortgage on his house, to move the center to its larger, current premises in Miyun, more than 70 kilometers from downtown Beijing.
Spending a further 2 million yuan on a reconstruction, the 500-square-meter bungalow was divided into three areas and each can accommodate 11 patients with six nurses in charge. In order to keep things under budget, Xiang also acts as the center's cook, cleaner and handyman. He still says the center struggles to make ends meet, despite the demand for its services.
With 32 patients already laying silently at the center, an increasing number of people have contacted Xiang about their PVS relatives after reading his stories online. Another 10 patients are waiting for beds and Xiang is planning to make space for another patient area, which can accommodate these patients. However, his plan to hire six more nurses is on hold due to the novel coronavirus outbreak.
Most Popular