Essilor partners with Tencent to combat myopia
Share - WeChat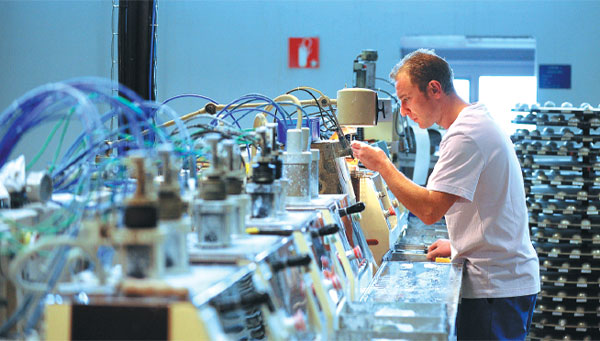 Essilor Group signed a strategic partnership agreement with Chinese internet giant Tencent this week in Shenzhen, as the French ophthalmic optics company moves to strengthen its presence in the Chinese market and push forward with digital transformation in the country.
Under the agreement, the two companies will leverage their industry insights and innovation advantages to increase public awareness of visual health, provide innovative digital solutions and offer more professional and efficient vision care services to Chinese people.
China is one of the world's largest ophthalmic markets. The country has nearly 700 million people with myopia. According to a 2019 report by the World Health Organization, about 67 percent of Chinese adolescents living in cities suffer from myopia, up from 53.6 percent in 2018.
The number of Chinese people suffering from other ophthalmic diseases such as glaucoma, cataracts and xerophthalmia is also increasing at a high rate.
"Essilor and Tencent share the same dedication to improving the current state of vision health in China through public education and innovation," said Arnaud Ribadeau Dumas, president of Essilor Greater China and the Global Instruments Division.
"We aim to eliminate poor vision from the world in one generation. And we can only achieve this goal by working with partners like Tencent to achieve greater reach and awareness."
Dowson Tong, senior executive vice-president and president of the Cloud & Smart Industries Group at Tencent, said healthcare has been a main focus area for the company.
"We hope to play the role of 'digital assistant' and use Tencent's consumer-to-business advantages to help partners serve their consumers and patients better. Essilor has been working in China for decades and has accumulated valuable experiences and insights. We look forward to combining our strengths to benefit all players in the industry," Tong said.
While Essilor is actively promoting digital transformation, especially with regard to leveraging digital assets and exploring new market trends, cooperation with Tencent will help the company accelerate its pace of digitalization in China, said Honest Huang, Chief Digital Officer of Essilor China.