Deepened reform heralds extended uptrend
Share - WeChat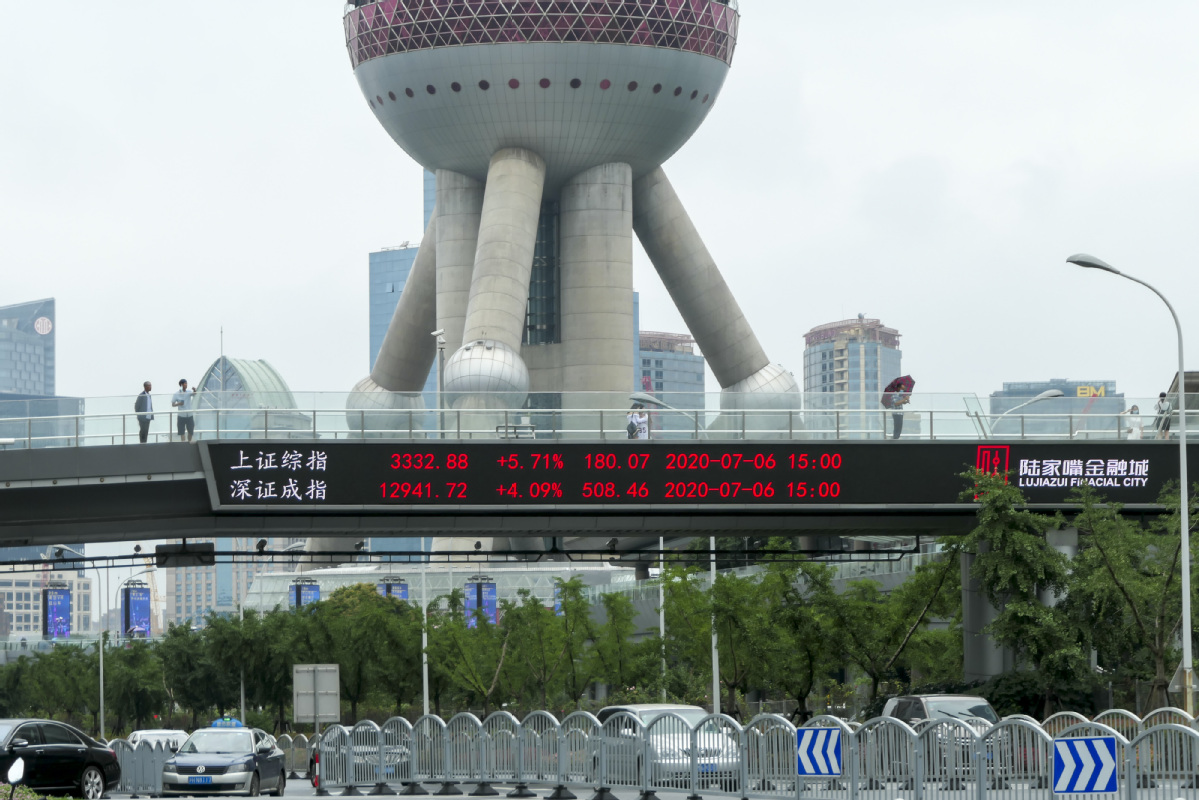 Investors' direct equity funding promises liquidity, helps in economic restructuring
Bulls will continue to run in the A-share market but at a slower pace from now on as focus shifts to China's deepened reform of the capital market where direct financing will play a bigger role-that is the consensus view emerging among experts following better-than-expected second-quarter GDP growth.
The nuanced view is based on the benchmark Shanghai Composite Index's spike of nearly 15 percent in seven trading days since June 30.
Total trading volume recorded on the Shanghai and Shenzhen stock exchanges exceeded 1 trillion yuan ($143 billion) on July 9, and stayed in the stratosphere for six consecutive trading days, a feat not seen in the last five years.
There was more upbeat news. Since July 2, net inflows of foreign capital into the A-share market exceeded 10 billion yuan for four trading days in a row. Automobile, electronic equipment, cyclical stocks such as non-ferrous metals, and a section of the pharmaceutical companies attracted most of the foreign capital.
Over the first six months of the year, the net inflow of foreign capital via the stock connect program between Shanghai, Shenzhen and Hong Kong approached 120 billion yuan, a figure second only to the 160 billion yuan recorded in the first half of 2018.
Analysts from Shanghai-based financial service provider Noah Holdings Ltd wrote in a report that the inflow of overseas capital has been the major driver of the bounce in the A-share market, especially the undervalued sectors. Foreign investors' continued interest in the A-share market has generated a multiplier effect by attracting other capital into the market, said the Noah analysts.
Small wonder, foreign institutions continue to hold a positive outlook.
Laura Wang, chief China equity strategist at Morgan Stanley, wrote in a report released on July 7 that the CSI-300, a key index of Chinese stocks, will climb to 5360 points in the next 12 months, which indicates at least 11-percent growth compared to the position earlier this month. Investors should thus increase or at least hold their A-share investment positions, she said.
Likewise, UBS Wealth Management said in a report released on July 9 that the A-share indexes will further tick up in the next three to six months given the adequate liquidity, relaxed monetary policy and the fiscal stimulus policies. On July 7, Goldman Sachs also advised investors in a report to increase the investment in A shares over the next 12 months, given the strong recovery of the Chinese economy and the contained risk of an epidemic recurrence.
The A-share market is charging ahead on improving macroeconomic indicators that have boosted market confidence. China's second-quarter GDP grew 3.2 percent year-on-year, beating market consensus expectation of 2.4-percent growth-and a sharp contrast to the 6.8-percent contraction in the first quarter.