Passengers can buy extra seats to enjoy more space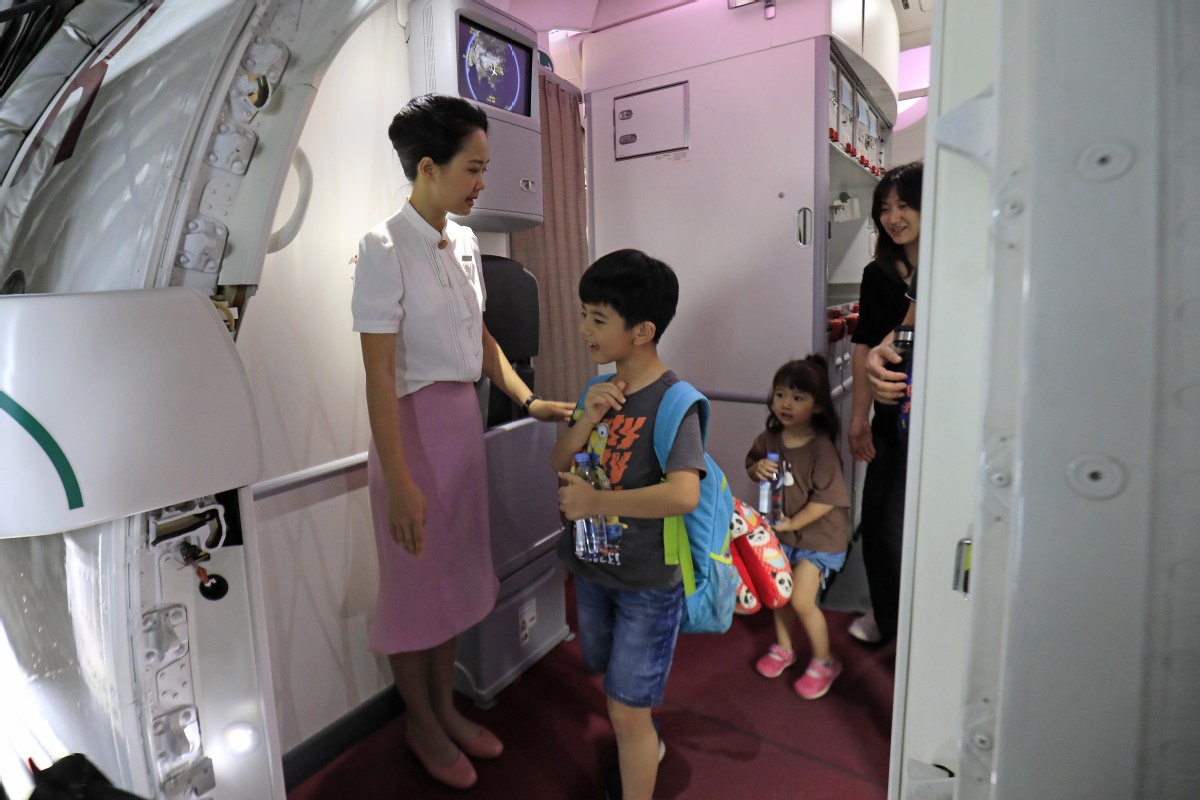 Since the outbreak of COVID-19, travelers have been keen to keep their distance from others when flying. A number of Chinese carriers are now providing contagion-wary passengers the option of reserving nearby seats to ensure they remain empty for the duration of the flight.
Passengers can purchase adjacent seats at check-in and sales counters on the day of departure if they are still available. However, reserving extra seats won't come with extra checked and carry-on baggage allowances, or extra meals.
Juneyao Airlines, a Shanghai-based private carrier, launched its extra seats option in late June. For domestic flights that depart from Shanghai, economy class passengers will be able to purchase one or two additional seats beside them to enjoy more space, comfort and security.
Purchasing up to two additional seats allows passengers to be the only occupant in their block of three seats. For each extra seat, it costs a minimum of 200 yuan ($28).
"So far, sales of extra seats are stable, and we have seen applications for extra seats on basically every flight," said Yu Chengji, vice-president of Juneyao Airlines.
"Chinese passengers are showing demand in conditions of travel and related services. They increasingly pay attention to privacy and hope not to be disturbed by others, and such demand is stronger in this special period," Yu said.
"The option to purchase extra seats caters to diversified demand by Chinese passengers, and it fits with the idea of developing experiential services for Juneyao Airlines. Next, we may extend the availability of these products to flights departing from other domestic cities and international flights," he said.
In addition, Juneyao conducted an online survey regarding the innovative new option. One passenger said when considering the idea, it would provide much more comfort as it can help avoid physical contact with and proximity to others. Another said by reserving extra seats, there would be no worries about waking up neighbors when visiting the restroom.
Such demand is particularly evident now as passengers are willing to pay for social distancing to ease safety concerns. Demand for the new option is expected to continue to grow though it will slow after the pandemic is over, said Lin Zhijie, an aviation industry analyst.
"Currently, passenger load factors on most flights are not high. This is an innovative value-added product. Passengers will feel more comfortable and carriers can increase revenue by selling extra seats to the same passenger," said Lin, who is also a columnist at Carnoc.com, one of China's biggest civil aviation websites.
"Still, airlines need to consider two situations. When there are not many passengers, it would be unnecessary to buy extra seats, and when the flight is fully occupied, passengers won't be able to purchase extra seats," he said.
In addition to the purpose of increasing physical separation, some passengers simply feel uncomfortable with just one seat. At other times, some parents wish to take care of their children more conveniently, some would like to work quietly and others may need to transport their musical instruments that are unable to be checked or placed in the overhead luggage compartments.
Air Changan, an affiliate of HNA Group, said for those passengers who want more social distance from others, they are allowed to purchase a maximum of eight extra seats. They include the two seats next to the passenger, three seats in front and three behind. Such an option is only available for flights departing from Xi'an, Shaanxi province, the base of Air Changan, and the program will be available until the end of this year, depending on epidemiological conditions.
Meanwhile, other carriers-including China Eastern Airlines, Xiamen Airlines, Fuzhou Airlines and West Air-have launched similar extra seat options in the past few months, and provided options for passengers to increase separation so as to maintain social distancing.