CIMC ramps up overseas efforts for more growth
Share - WeChat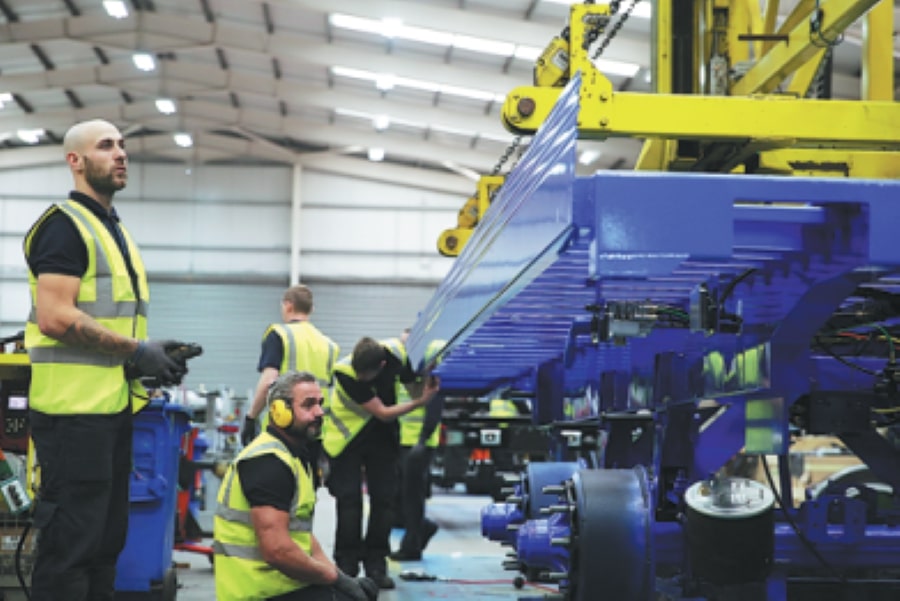 China International Marine Containers (Group) Co, the State-owned transportation equipment manufacturer, aims to build more prefabricated module-themed building and public utility projects across the world to drive growth and diversify its product categories, its executives said.
In addition to supplying high-end modular products to Brazil to help the country rebuild its research station in the South Pole, and providing prefabricated modules for the Ras Abu Aboud Stadium in Qatar to build a greener stadium for the Qatar World Cup 2022 venue, the Shenzhen, Guangdong province-based CIMC announced this month that it completed a steel structure modular hotel in Iceland for its client, the Courtyard brand of premiere hotel chain Marriott International.
Constructed by its subsidiary CIMC-MBS Construction Investment Co Ltd, the hotel is the company's first project of its kind in Iceland, marking a breakthrough for the company in its entry into the Nordic market.
The hotel project close to Reykjavik Airport is an L-shaped four-storey building. Guests can observe the takeoff and landing of planes outside their insulated windows, said Zhu Weidong, general manager of CIMC-MBS.
The ground floor contains a traditional steel structure hotel lobby, restaurant, parking lot and other public areas. There are 26 modules on each floor from the second to the fourth floors, using a total of 78 modules. The whole hotel has 150 guest rooms and six functional rooms.
Iceland is located in the middle of the North Atlantic, close to the Arctic Circle. It is near the low pressure center in the area, causing changeable weather due to its high-altitude location.
Wang Wenda, project manager of CIMC's Yangzhou manufacturing base, said the extreme weather in Iceland brought tough challenges to site construction and building quality and safety. Only between five and six months of the year are suitable for outdoor operations.
Under such circumstances, he said the hotel has higher requirements for steel, fire prevention, sound insulation, lighting and other materials. The quality of the entire hotel project must meet both local standards and the quality standards of Marriott International.
Boosted by surging overseas demand, CIMC also shipped 130 prefabricated modules to Norway earlier this month to build a 12-storey residential building. After three months of construction, the building will have 104 rooms and is scheduled to be used in October this year.
Apart from CIMC's other businesses including the production of containers, airport facilities, vehicles, energy, chemical and food equipment, the company to date has exported and installed over 50,000 prefabricated hotel rooms and apartments for its clients in the United States, the United Kingdom, Japan, Australia and other countries.
It has also seen notable demand growth from markets related to the Belt and Road Initiative over the past five years.
Following these encouraging moves, industry experts said it is urgent for China's SOEs to take a strategic and portfolio view of all the business units within their groups to identify strategic options to create shareholder value because it will help them divest and exit non-core and non-performing businesses.
This will enable them to enter high growth areas by taking a hard look at their own competitive advantages and channel more resources and support the more promising market segments.
Lin Wei, partner of Global Strategy Group at KPMG China, said as China aims to build a group of world-class, role-model SOEs that lead in high quality development, it would be economically beneficial for more China's SOEs to take part in the mixed-ownership reform to bring private capitals into those SOEs.
"The reform can not only create more commercial vitalities and expand SOEs' sale channels abroad, but also introduce a market-oriented remuneration system to better reward outstanding performance and incentivize innovation," he said, adding involved parties should also consider ownership structure, digital and technology adoption, and how to create shareholder value.
China's SOEs should accelerate the pace of their market-oriented reform to support the government's efforts to steer the economy toward innovation and technology-driven high-quality growth, he said.