CRCC task force to look after its employees in Nigeria
Share - WeChat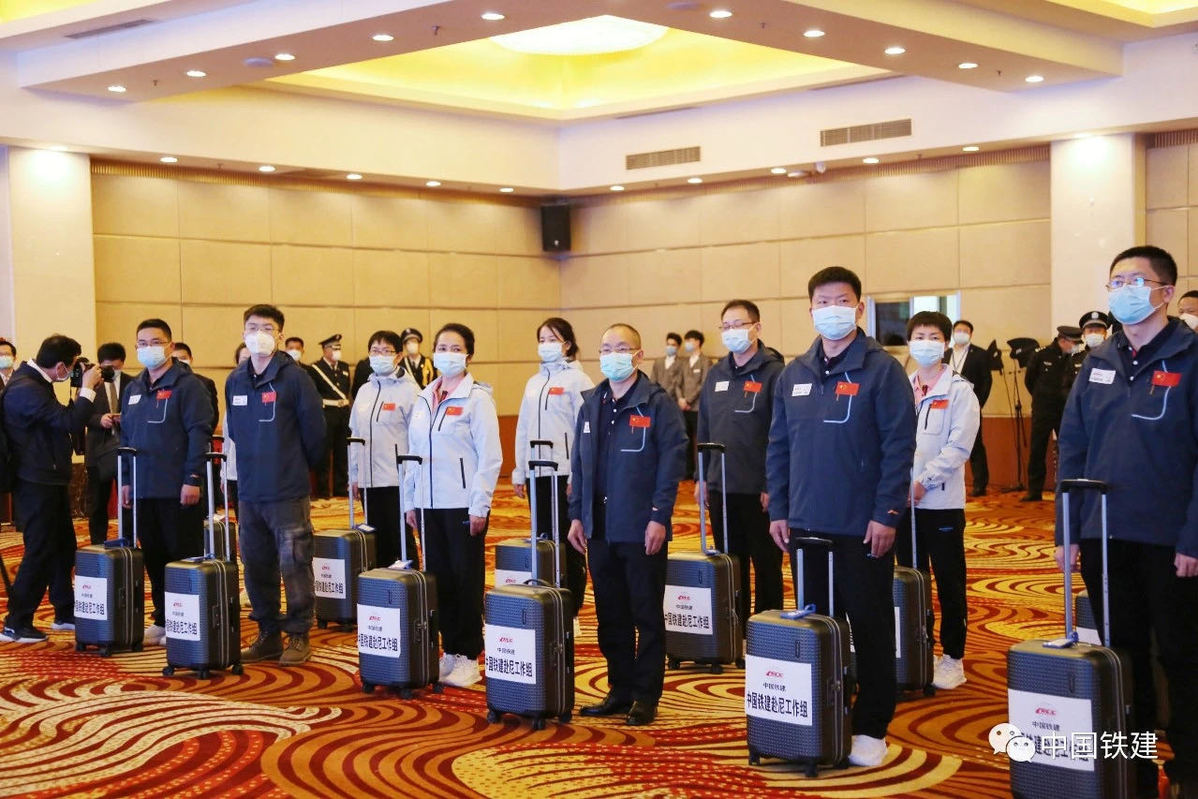 China Railway Construction Corp, the Beijing-based State-owned rail construction contractor, sent the first working team with experiences in fighting the COVID-19 outbreak to its branch in Nigeria on Wednesday to look after its on-duty staff.
The team of 15 members were selected from the group's affiliated hospitals. They are scheduled to work in Nigeria for 30 days and will provide necessary medical aid, guidance for outbreak prevention and control to CRCC's Chinese and Nigerian employees in the West African country.
The Chinese doctors who specialize in such areas as infectious disease prevention, pulmonary and critical care medicine, will also share their practical medical experiences with others in Nigeria. The nation had urged its citizens to remain indoors in Lagos, Abuja and Ogun state for 14 days starting from last Monday.
CRCC Chairman Chen Fenjian said the group is willing to share its experience and expertise in epidemic control and prevention with Nigeria and other African nations.
The company has already provided assistance in various forms to countries in need across Africa and other parts of the world, such as Algeria, Angola, Laos and Trinidad and Tobago.
CRCC's medical team will travel with a chartered airplane operated by Nigeria's Air Peace airlines. They will be going with ventilators, medical masks, test kits, sterilizing machines, oxygen generators and other core equipment.
Nigeria is one of the CRCC's core country markets in Africa, with more than 140 projects under construction with a total contract value of $16.6 billion.
At this time, there are 1,600 Chinese workers and 12,763 Nigerian employees who are building railroads, subways, bridges and other infrastructure and service facilities in the country.
With 46 countries in Africa having confirmed novel coronavirus cases by the end of March, CRCC and its subsidiaries, including China Civil Engineering Construction Corp and China Railway 17th Bureau Group Co, found that the work of contagion prevention and control, as well as production and operation, are under increasing pressure in Nigeria.
Chen said all its projects are closely monitored in Nigeria, and a string of measures have been taken to minimize the outbreak's impact. Strict epidemic case checks and reporting are required among staff working overseas to prevent the spread of the contagion.
In addition to building two mobile hospitals in Nigeria, the central State-owned enterprises have also helped the country purchase medical supplies. They include ventilators, medical masks, protective gowns, test kits and infrared thermometers from China. The equipment and goods were shipped to local hospitals selected by Nigeria's Federal Ministry of Health.
The COVID-19 outbreak has laid bare the significant challenges facing all members of the global community, including those in governance, economy and healthcare management, said Wang Yong, director of the Center for International Political Economy at Peking University.
"Responding to the outbreak and controlling the virus requires international cooperation. The most important thing is to share experiences, remove prejudice and adopt a scientific approach suitable for each country's condition," Wang added.