Popular tourist city in SW China sees recovery of pillar industry
Share - WeChat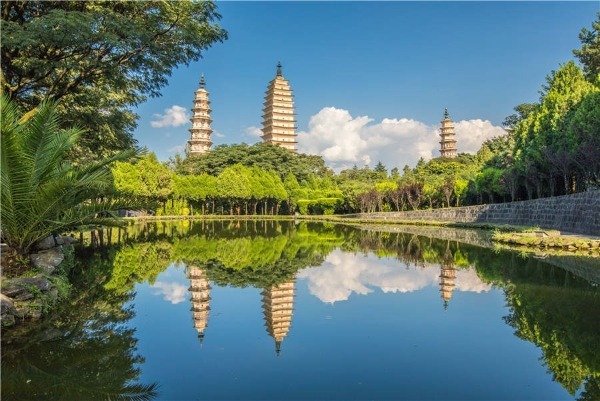 After scanning a health QR code to register her personal information, Zeng Qingliang and her husband had their temperatures taken and hands disinfected before entering the Chongsheng Temple and Three Pagodas Scenic Area in the city of Dali, Southwest China's Yunnan province.
"We have been stranded at home for over a month due to the novel coronavirus outbreak," said Zeng, from Southwest China's Chongqing municipality. "Now that some of Dali's scenic spots have reopened, we couldn't wait to come here for the beautiful scenery and fresh air."
The scenic area, which reopened to tourists from low-risk regions on March 19, receives a daily average of about 400 visitors, most of whom hail from other parts of Yunnan or the neighboring provinces, said Yang Yanxia, deputy general manager of the scenic spot.
"The number of visitors has been steadily rising since the reopening, despite a sharp decline compared to normal years," Yang added.
The Chongsheng Temple Scenic Area is among a growing number of tourist attractions in Dali that have resumed operations as the COVID-19 epidemic is leveling off across China. The city's hard-hit tourism industry is showing signs of a rebound with the rising influx of visitors.
In the old town of Dali, a major tourist draw dating back more than 600 years, nearly one-third of its stores have resumed business.
Tourists are flocking here to buy silverware and other traditional handicrafts, take a bite of local specialties such as rose cakes and rice noodles, as well as appreciate the imposing Cangshan Mountain and rippling Erhai Lake that sandwich the historic town.
As of March 21, more than 6,900 tourists visited the old town since its reopening on March 10, and the figure is expected to grow steadily as the weather turns balmy and the epidemic subdues nationwide, according to the town's protection administration bureau.
The owner of a rice noodle shop in the old town told Xinhua reporters that her shop has been receiving more and more customers in the past few days and "the old town's bustling scenes are coming back."
However, for Dali's many homestay owners, the post-epidemic recovery has been far from easy. Having lost all their reservations during the peak travel period of the Chinese Spring Festival holiday, the owners are now further troubled by the lack of long-distance travelers and high operational costs.
Liu Yuting, general manager of a bed and breakfast in the old town, said only two out of the 16 rooms in the hotel were booked a day on average over the past few weeks.
But Liu remains optimistic about the recovery of Dali's homestay industry. "The tourists are now coming back and their demand for homestays will rebound," she said.
For Liu Jianqiao, owner of another homestay sitting by Erhai Lake, things have turned around more quickly. "Nearly half of our guest rooms have been booked since we resumed operations in early March, which is on par with the number before the epidemic," she said.
She attributed such a speedy rebound to the livestreaming business she started during the closing of her homestay.
"We have livestreamed our rooms, food and the nice scenery around the hotel, which has helped attract new customers," she said. "Besides, we did a good job maintaining our rooms and training our staff online. That's probably why we are back on track in such a short time."
In a bid to speed up the recovery of the tourism industry, local authorities in Dali are cooperating with financial institutions to issue low-interest loans to tourism companies affected by the epidemic, according to the Dali municipal culture and tourism bureau.