Aesthetic masks made from medical dressing products turn popular
Share - WeChat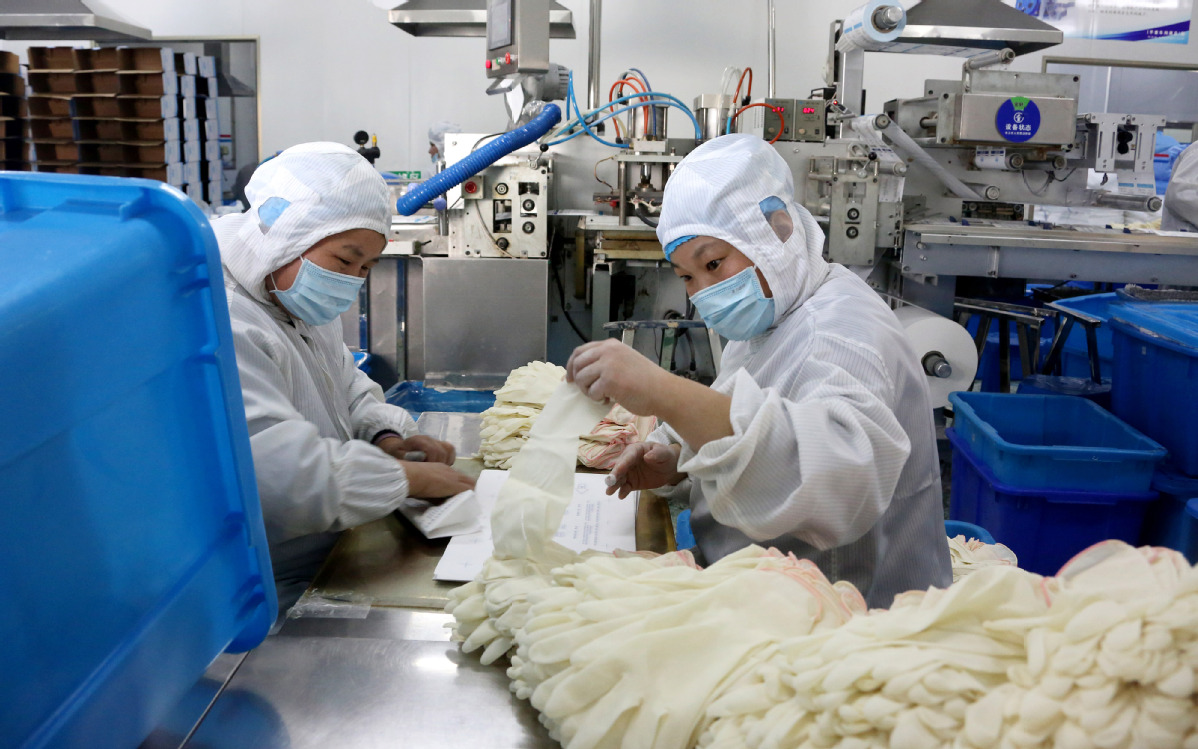 On receiving a call from a deliveryman in her neighborhood, Yu Shasha, a 27-year-old office clerk in Beijing, went out to fetch her delivery. Inside the box were six packages of masks she bought-but not the kind of masks most people are talking about these days.
The superficial wound masks, also known as medical aesthetic masks, are made of medical dressings and touted as a superior skin quality preservation and rejuvenation product than traditional skin care masks. Produced by pharmaceutical enterprises or other medically qualified companies, they are fast-becoming beauty-conscious Chinese consumers' new favorite health and wellness product.
With rising living standards and enhanced healthcare awareness, the global dressing sector has been constantly growing. The medical dressings, originally used to cover sores, wounds or other skin imperfections, now have a broader range of use, including skin care.
BMI Research, a Fitch Group company, predicted that the global medical dressing market will reach $13.3 billion this year, a 6.4 percent year-on-year increase, with China having become a major driving force.
From 2014 to 2018, the market size rose from $11.1 billion to $12.2 billion, with annual growth rates on the rise, according to BMI Research.
However, medical dressing-made aesthetic masks are just one example of the integration of pharmaceuticals and daily consumer goods.
The Ministry of Commerce said that in 2019, China's total retail sales of consumer goods reached 41.2 trillion yuan ($5.8 trillion), up 8 percent on a yearly basis. The consumption sector contributed 57.8 percent to economic growth, serving as the strongest driving force for six consecutive years.
Jin Hongbo, a healthcare analyst at Beijing-based think tank EqualOcean, said the consumption sector experienced continuous growth as consumer purchasing power rose. As a result, high-end consumer goods, including commodities based on medical models, are gradually coming into favor.
"Consumer goods that are produced by enterprises with a medical background are gaining popularity as they give consumers an impression of hygiene, health and professionalism. Pharmaceutical companies' own medical attributes naturally give the companies a halo, and consumers are more likely to have a nice impression of their products," Jin said.
Sensing an opportunity out of the trend, medical companies are taking action. Zhuhai, Guangdong province-based Winner Medical Co Ltd, launched a sub-brand-PurCotton. The brand features 100-percent cotton products, supported by the parent company's medical background.
The cross-sector convergence turned out to be a success. During the Double Eleven shopping spree on Nov 11, 2018, the company's Singles Day turnover of mother and infant products on its official flagship store website ranked second among the entire network. Its tissue products ranked fifth among the top 10 tissue list released by CBNData.
"The satisfying 'school report' proved that consumers were buying Winner Medical's integration of medical and consumer goods, demonstrating a successful transformation," she said.
The cross-sector integration continued to bring growth points for the company. In recent years, the sales ratio of the healthy consumer goods category among all Winner Medical products continuously grew, reaching 64.3 percent by June.
In contrast, some less popular medical products ended up being less profitable, and the company is undergoing transition from a "manufacturer of medical consumables" to a "provider of healthy consumer goods".
As promising as the converging products sector may look, problems still remain. Due to the inadequate legal system in various emerging commercial areas, some companies not medically qualified are also attempting to throw their hat in the ring.
"As profits in the sector climb, those unqualified companies are treading a fine line. Some of them may manufacture products that don't meet medical standards and sell the products using the medical tag. Others may bring certain medical products that are originally designed for wounded patients only to the consumer goods market, claiming that their products boast health benefits and are suggested for long-term use," said Lai Yang, former director of the Association of China Commercial Enterprise Management.
To rectify industry chaos and promote the development of the sector, a more complete legal and regulatory system is needed, Lai said.