Home appliance industry to see rebound
Share - WeChat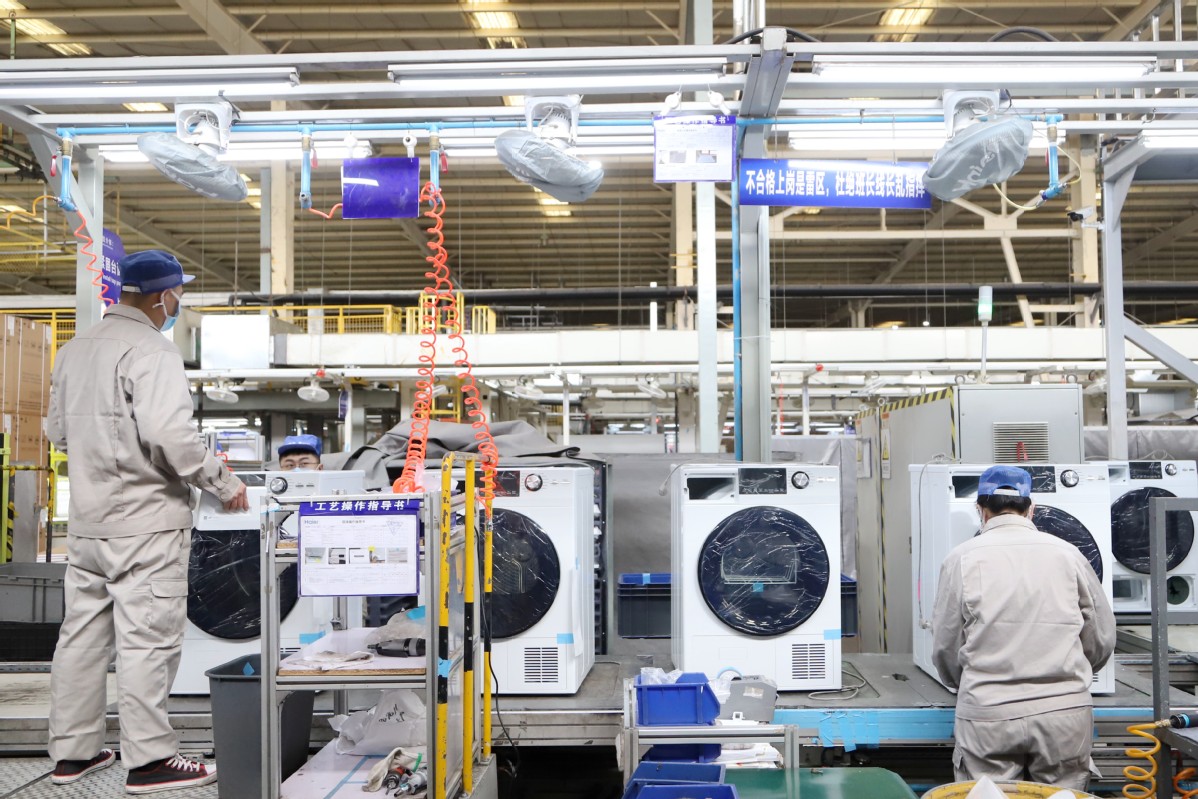 Leading companies accelerating transformation toward automated production in face of fierce market competition
China's home appliance industry is likely to see pressure in the short term as the novel coronavirus outbreak will influence the supply of raw materials and the sales of brick-and-mortar stores.
But the impact should be temporary and this segment will see a big rebound once the outbreak ends, industry insiders said.
A report issued by Beijing-based consultancy All View Cloud said the sector will be affected by the delayed resumption of production and the shortage of raw materials. The whole home appliance industry will face a temporary period of insufficient production capacity in the first half of this year.
The online retail channels are expected to contribute more than 70 percent to overall revenues in the first quarter as people tend to stay at home to quarantine themselves. The brick-and-mortar stores have witnessed a sharp decline in the number of customers and sales revenue, along with rising pressure from operation costs, the AVC report said.
"The emerging products such as automatic hand-washing machines, sterilizing steam mops and dishwashers have seen a surge in demand. Traditional sterilizing washing machines, disinfection cabinets and air purifiers are also favored by consumers," said Guo Meide, president of AVC.
Guo noted the demand for household appliances that need to be installed by workers, such as kitchen ventilators, water heaters and air conditioners declined dramatically, adding the impact of the outbreak on the home appliance industry depends on efforts to control the epidemic.
He predicted the consumption of home appliance products will see a "retaliatory" rebound at the end of the second quarter due to the June 18 shopping carnival, which is expected to unleash large-scale purchases.
"The epidemic will also speed up the revolution in retail channels," he added, while noting that there will be a new wave which would reshuffle traditional offline channels, as the distinction between online and offline shopping will become increasingly obsolete.
Statistics from the China Household Electric Appliances Research Institute showed the revenue of China's home appliance sector reached 803.2 billion yuan ($115.5 billion) last year, a decline of 2.2 percent year-on-year. Sales from online channels reached 310.8 billion yuan, accounting for 38.7 percent of the market share.
AVC said the sales of air conditioners, refrigerators and washing machines would fall 35.2 percent, 28.3 percent and 25.1 percent respectively on a year-on-year basis in the first quarter.
Xu Dong, vice-chairman of China Household Electrical Appliances Association, said the home appliance industry constitutes part of the real economy. It has a strong ability to resist risks, and consumers have a rigid demand for household appliance products.
"The intelligent manufacturing in the nation's home appliance industry has made strides in recent years, and the automatic production level of enterprises is relatively high, so the negative impact on production is limited," Xu said.
Once normal production has been restored, enterprises have the ability to make up for the limits in the previous production capacity, Xu added. The epidemic will force the leading companies to accelerate their transformation toward industrial automation to better adapt to competition in the future.
He underlined that the implementation of prevention and control measures will effectively help put the epidemic under control.
"Under the various favorable policies introduced by local governments to support the small and medium-sized enterprises, home appliance makers should seek new business opportunities from the crisis and promote the recovery of the market."
Haier Group, China's largest home appliance manufacturer, said its production capability of refrigerators, washing machines, air conditioners, water heaters and kitchen appliances had been restored to 70 percent of normal level as of Feb 20.
Its export orders reached design capacity on Feb 25, and more than 90 percent of orders from abroad could be guaranteed, Haier said.
In terms of its supply chain, about 85 percent of suppliers had resumed production for Haier as of Feb 17. In addition, these suppliers had a certain amount of stock before the Spring Festival holiday (Jan 24-Feb 2), which helped reduce the pressure on the supply of goods.
TCL Technology Group Corp said it had restored normal business operations and production on Feb 10. The Shenzhen and Huizhou plants of China Star Optoelectronics Technology Co Ltd or CSOT, a leading TV panel supplier and a subsidiary of TCL, has not been affected directly by the epidemic, the company said.
Its factory in Wuhan, capital of Hubei province, which produces small and medium-sized display panels for smartphones, maintained normal operations during the Spring Festival holiday.
"The production process of semiconductor display devices is special, and the production line needs to run continuously throughout the year," it noted.
CSOT has taken a string of measures to guarantee the effectiveness of front-line staff in Wuhan. Apart from giving overtime pay or paid leave, it also provided allowances and subsidies.
"We have given top priority to the health and safety of our staff since the outbreak of the novel coronavirus," said Li Dongsheng, TCL founder and chairman.
The company said its current raw material inventory can meet its production needs, but the supply of some materials may be delayed for a short period of time due to the delayed resumption of work by suppliers and logistics blockages.
It has actively coordinated with logistics channels and negotiated with strategic suppliers to ensure the supply of materials. It also will adjust its production and operation strategies given market fluctuations and in accordance with developments during the epidemic.
TCL Industrial Holdings has overseas plants in Mexico, Brazil, Vietnam, Poland and India. Their total annual production capacity reached around 15 million units.
It is noteworthy that the internet television industry will see robust growth as radio and television companies have strengthened cooperation with local educational authorities and online education companies to offer students livestreaming courses following the postponement of school semesters.
The National Radio and Television Administration has issued guidelines for audiovisual platforms to provide students with online learning resources during the epidemic. This has boosted the sales of large-sized screens.
Beijing Gehua CATV Network has cooperated with the Beijing Municipal Education Commission to roll out high-quality teaching resources and courses.
AVC said sales of 65-inch and above TVs grew rapidly during the Lunar New Year holiday, with the online retail channel contributing a 20.8 percent share, 7 percentage points higher than the same period of last year.
Li Xin, deputy general manager of AVC unit Beijing All View Technology, said people tend to stay at home as a way to curb the spread of the epidemic, and their willingness to switch on TV sets is on the rise.
"The demand for online educational services is also seeing explosive growth. Many parents choose large-sized TVs as a tool for children who study at home instead of smartphones and computers that are more harmful to the eyes," Li said, underlining the big screen has been the family's entertainment center.
Li is bullish on the prospects of the internet TV sector, estimating the revenue from internet TV hardware sales and value-added services such as advertisements, gaming, education and e-commerce will surpass 20 billion yuan in 2020.
In February, TV manufacturers unveiled a string of smart TV products that offer interactive scenarios and connect with various smart home devices.
The social TVs developed by Hisense Group provide users with interactive experiences, including games, six-party video chat, cinema sharing, 3D karaoke, AI-powered visual recognition and fitness, and multi-screen communication.
Skyworth Group launched an upgraded version of Q80 TV that is empowered by an AIoT ecosystem named Swaiot on Feb 18.
It enables users to view, control and manage all their smart home devices from their TVs. Customers can also experience some social interaction functions such as taking photos, making video calls and doing physical exercises through the TV.
Students can study online free of charge as its internet TV brand Coocaa provides various learning sources in cooperation with educational institutions such as NetEase Cloud Class and TAL Education Group, Skyworth said.