Regions tailor approach to local situation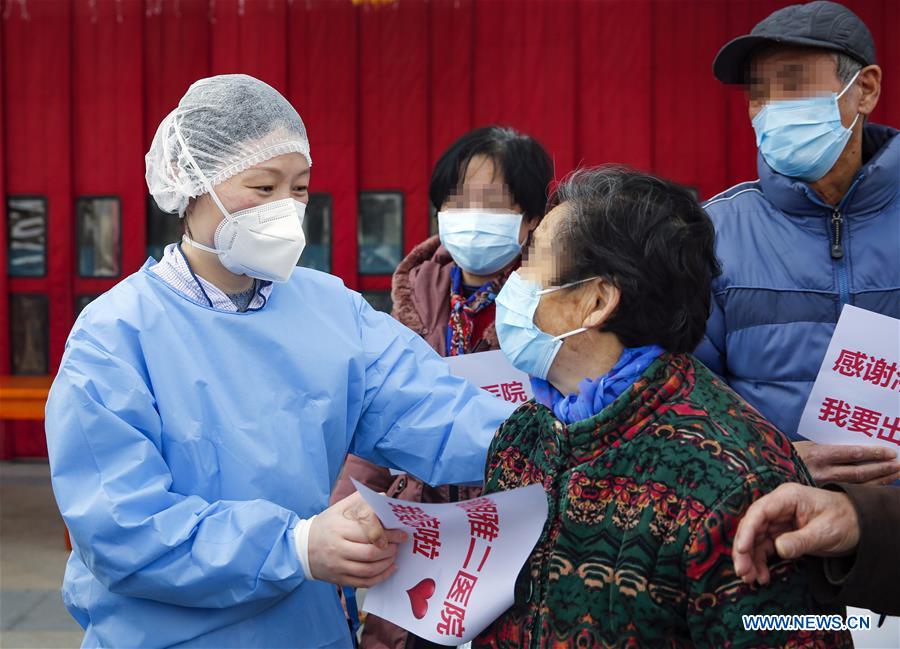 Declining fatality rate in Wuhan points to further advances in medical care
With the pace of new cases of novel coronavirus pneumonia slowing nationwide, many regions have downgraded their emergency response levels, which is regarded by experts as an opportune and phased adjustment to disease control work.
Meanwhile, the declining death rates in Wuhan, the hardest-hit city, which has been under lockdown since late January, reflect substantial improvements in medical care and greater confidence in the battle against the outbreak, according to health experts and officials.
The National Health Commission registered 406 new cases on the Chinese mainland on Tuesday, only five of them outside Hubei province. That brought the total number of infections nationwide to 78,064.
The commission also added 52 fatalities on Tuesday, all occurring in Hubei. The total death toll stood at 2,715 as of Tuesday.
As the spread of the virus has slowed and appears to have stalled in parts of China, more than a dozen provincial-level regions have lowered their emergency response levels one or two notches from the highest level of the four-tier system. This means decision-making on disease-control strategies returns to those respective areas.
All 31 provincial-level regions on the Chinese mainland had activated the highest level of alert to tackle the outbreak as of Jan 29, placing the central government in command of disease control strategies.
Response levels
Renowned respiratory expert Zhong Nanshan said the noticeable slowdown in new infections and increased awareness about prevention and control measures had created the opportunity for regional governments to dial down response levels.
"It is an appropriate shift, by tightening control in areas at the highest risk and to grant some leeway to regions at lower risk," he said during an interview with China Central Television this week.
However, he said, the public and governments must constantly remain alert to human-to-human transmission of the virus.
"We have managed to curb new cases by adopting very advanced and tight containment measures. Once we loosen the grip, it is possible that infections will rebound. That's why I believe that we are still at the most strenuous stage of the battle," he said.
Among a series of measures, such as dispersing crowds and keeping drains unclogged, it is significant to enforce timely monitoring and quarantine measures, Zhong said.
Sporadic cases of novel coronavirus might continue to appear, but the chances of the virus causing annual outbreaks on a par with seasonal flu are slim, he said, adding that the understanding of the virus is very "preliminary", and calling for more long-term studies into the coronavirus family.
Improved medical treatment
Though a number of questions about the virus remain unanswered, it is recognized that medical treatment targeting novel coronavirus patients, especially those in serious condition, has significantly improved.
Commission spokesman Mi Feng said on Tuesday that the proportion of seriously ill patients among all confirmed cases in Wuhan had dropped from a high of 31.6 percent on Feb 11 to 22 percent on Feb 24.Nationwide, the proportion had stabilized at around 11 percent since Feb 7.
In Hubei, apart from Wuhan, the proportion had stabilized and fell to 11.8 percent on Monday.
Wuhan added 42 deaths on Wednesday, down from 56 on Tuesday and 131 on Sunday, according to the commission.
Qiu Haibo, vice-president of Zhongda Hospital of Southeast University and a member of the commission's expert panel, said the centralization of serious cases, improved treatment protocols and input from high-level experts had yielded positive results.
Chinese medical workers have also gained a clearer understanding of effective remedies by incorporating anti-viral drugs with respiratory support and immunization therapies. As research has shown that the virus attacks the heart and kidneys in addition to the lungs, doctors are taking a more comprehensive approach to treating patients, according to Qiu.
As of Tuesday, 29,745 patients had recovered and been discharged from hospitals, according to the commission.