Toyota charts ambitious year in China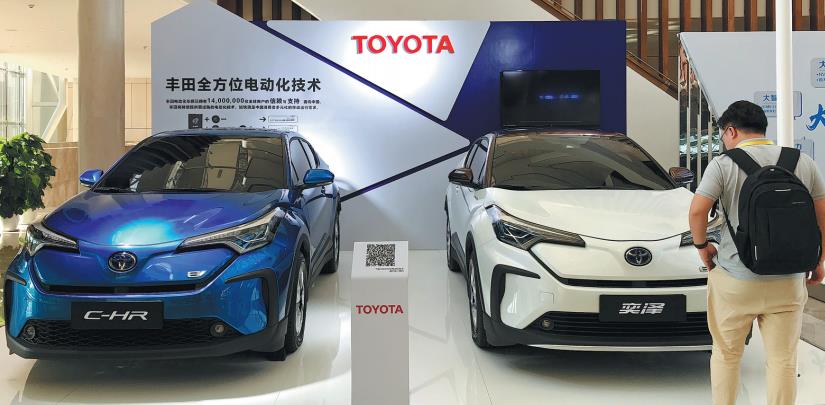 Japanese automaker hopes to build off record numbers in 2019, despite downturn in market
Toyota Motor Corporation expects its China sales to grow further in 2020 after hitting a record high last year. The company's projections come despite the overall downward pressure in the world's largest vehicle market.
The largest carmaker in Japan delivered 1.62 million vehicles in China in 2019, up 9 percent year-on-year. The sales have made China Toyota's second-largest market after the United States.
China's total vehicle sales fell 8.2 percent year-on-year last year to 25.77 million, according to the China Association of Automobile Manufacturers. The organization expects overall vehicle sales to fall by around 2 percent in 2020.
Yet Toyota has set a sales goal of 1.76 million in 2020, up 8.6 percent year-on-year. The company plans to improve its annual production capacity in China to 2 million units by 2020.
Tatsuro Ueda, CEO of Toyota China, said the carmaker had been "sowing seeds" in China last year. He hopes those seeds will begin sprouting in 2020.
Among other measures, the company decided late last year to separate its Chinese businesses from those in the Asia region, which will facilitate decision-making in the fast-changing market.
"China Region and Asia Region have been split in view of the importance of the China market and the Asia markets, respectively," the carmaker said in a statement in December.
Also in late 2019, Toyota appointed more Chinese executives, including Dong Changzheng and Li Hui, to be responsible for business operations in China.
It also transferred senior research and development professionals to the country to speed up its electrification and fuel cell vehicle campaigns.
Toyota is billing 2020 as the start of its electrification campaign in China, with three electric vehicles to be introduced into the Chinese market: Toyota C-HR and IZOA as well as Lexus UX.
The vehicles will be late-comers as local Chinese carmakers and some international brands have already introduced similar models, but Toyota claims theirs have better performance. For example, the Toyota vehicles' batteries retain 80 percent of their original capacities after 10 years of use, which is best in the industry.
Dong, senior executive vice-president of Toyota China, said: "I don't think Toyota lags behind in electrification. It just wants to offer something different."
Toyota plans to launch 10 pure electric vehicles by 2025 in China and gradually launch them globally. It expects sales of electrified vehicles, including pure electric ones, to reach 5.5 million by that year, and China will be the most important market.
In July, Toyota announced new partnerships with China power battery producers CATL and BYD to focus on battery research and development.
In November, the company announced its plan to set up a 50-50 joint venture in China with BYD to design and develop electric cars.
The models will include sedans and SUVs and will be sold under the Toyota brand before 2025.