Retail venture has partners seeing eye to eye
Share - WeChat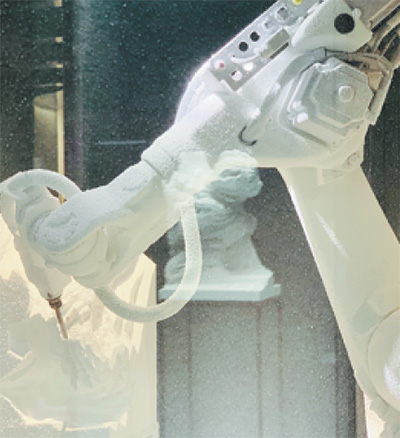 You might expect eyewear brands to stick to what they do best, but South Korea's Gentle Monster is breaking the mold in a bid to widen its customer base with a range of new products featuring space-age designs.
To celebrate the launch of the new south tower at the SKP mall in Beijing, Gentle Monster presented a large-scale artwork designed by the innovative brand recently.
Under the theme of a "Digital-Simulative Future", the canvas depicts a futuristic image of humans living on Mars thanks to the development of technology.
On the first floor of the new tower, SKP South, mechanical sheep flock to the Future Farm installation, while images of the landscapes of Mars adorn the second and third floors.
The eyewear brand grabbed the opportunity to launch its new store at the mall-their second retail space in Beijing, and the tenth one to open in China.
The design of the new store features an futuristic tableau of people traveling between Mars and Earth via wormholes. Quirky sculptures pepper the retail space, with some staring out from the entrance to greet passing shoppers.
Gentle Monster's diverse new approach was marked by the opening of a new artisan dessert shop named Nudake next to its eyewear shop, presenting quirky sweet treats in the shape of mushrooms and ducks.
Running for eight years, Gentle Monster now has 22 flagship stores worldwide and more than 200 offline distribution points, as well as 10 online platforms.
"Even though Gentle Monster is an eyewear brand, our core DNA is creative thinking, so together with SKP, we started planning an alternative vision of traditional luxury department store," says founder and CEO of the eyewear brand, Kim Hankook.
Vice-general manager of SKP, Xie Dan, says, "Some consider technology to be something that they can use every day, like a smartphone, while others consider art as something locked in the white cube. We want to blend technology with art to bring it into people's daily lives by offering them an exciting consumer experience."
Fashion bloggers, including Xu Fengli and Fli Xiaobai, speak highly of its environment.
"I've shopped all over the world, but I'm still very proud of our local SKP South. Shopping is more than making purchases, it's also about the experience," says Fli.
"All the details presented, the materials applied, the lighting arrangements, and the mechanical components and artistic installations on display help to create an otherworldly image of the universe," Xu says.
The brand entered the Chinese market in May of 2016. In the past three years, it has opened over ten flagship stores in seven different cities, including Beijing, Shanghai and Hong Kong.
Kim's aim is to expand his brand's reach to other second and third tier cities in China this year, and double the number of their stores around the world in three to four years.
Most Popular