Classic Blue: A calming vision of hope and optimism
Share - WeChat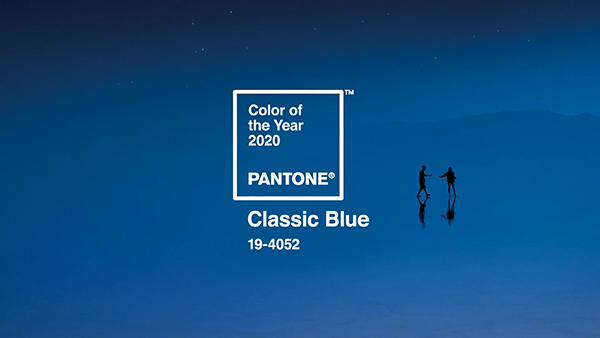 Pantone's choice of Classic Blue as its 2020 Color of the Year is a calming vision of hope and optimism for the new decade.
The color blue is everywhere around us: in the sky we look up to each morning and in the seas we travel across. It's also the current buzzword of the beauty, wellness automotive and tech industries.
Fitting, then, that to start the new decade, US trend-forecasting company Pantone has revealead its 2020 Color of the Year: Classic Blue, a hue it has described as being a "universal favorite". (The 2019 selection was the "life-affirming" Living Coral, which was said to highlight the need for real-world experiences versus social media.)
Pantone noted Classic Blue's ability to instil calm and confidence, and its way of offering a dependable and stable foundation on which to build "as we cross the threshold into a new era".
"We are living in a time that requires trust and faith. It is this kind of constancy and confidence that is expressed by Pantone 19-4052 [Classic Blue]," remarks Leatrice Eiseman, executive director of the Pantone Color Institute. "A boundless blue, evocative of the vast and infinite evening sky, Classic Blue encourages us to look beyond the obvious to expand our thinking – challenging us to think more deeply, increase our perspective and open the flow of our communication."
Interestingly, blue is also not a color associated with its traditional traits of sadness, despite centuries of artistic and literary minds using the hue to represent melancholy, including jazz music (such as Miles Davis's Kind of Blue) and the genre of blues itself. "People don't associate blue with sadness anymore," says Eiseman. "I think that's kind of an older-generation reaction."
For 20 years, Pantone's Color of the Year has influenced product development and purchasing decisions in numerous industries, including fashion, home furnishings, and industrial design, as well as product packaging and graphic design. Interestingly, its first-ever color pick in 2000 was for Cerulean Blue.