Idea-logical future
Share - WeChat Multimedia artist and designer Elaine Yan-ling Ng shares her innate inspirations.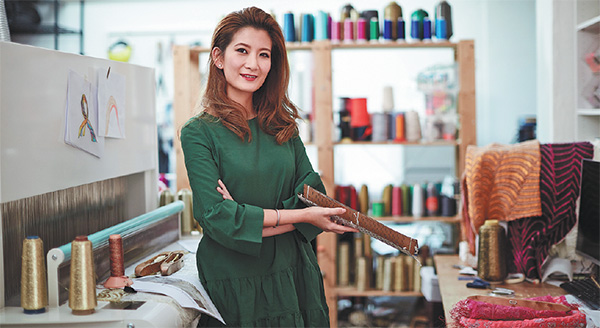 British-Chinese designer Elaine Yan-ling Ng founded The Fabrick Lab in 2013. A graduate of Central Saint Martins in London, where she earned her MA with distinction in textile futures, her unique practice brings together textiles, electronics, biomimicry and installations. Ng's work has been exhibited at the V&A and the Science Museum in London. She has worked with international companies such as Nissan Design Europe, Nokia Design Beijing and Swarovski, and she also collaborated with UBS Evidence Lab on Nexus, an interactive sculpture that explores global air quality.
For those who saw your collaboration with Swarovksi at Art Central three years ago, and the Nexus air-quality project with UBS for Art Basel in Hong Kong last year, how much has your design mindset changed?
People who saw both of them were quite surprised at how different they seemed. But when you look at the Swarovski work, which was about collecting sound, that still requires the collection of data, as does the project with UBS. So, it's just a different way of having data function, whether that's numerical, analogue or physical in the way that it's being performed. The UBS project was different in the sense that I wanted to create layers between notions of how humans/art and artificial intelligence can be combined for how we will live in the future.
How do you intend to exploit the immediate future?
I'd like to make a sculpture with textiles on a larger scale-something really big that people can walk through and under, so that it becomes part of an environment. A piece like Nexus could be incorporated into a more social setting whereby people could monitor air-quality changes. It would become a part of their natural life and they could become more aware. These projects could become like air-quality index machines in public. I'd love to see one put in the middle of a roundabout, for example. It would be fun to find out how Ferraris or Lamborghinis change the reading on the index.
What's the best advice any designer has given you?
Thomas Heatherwick gave me some good advice last year about the best materials to use outdoors. He was so spot-on in terms of what does and doesn't work, and it was encouraging to get his feedback. Ross Lovegrove saw me in London and passed on his advice, too. For any young designer, it's really important to have those opportunities to meet experienced designers. Neri& Hu gave me really good insight on how they work with heritage and create a narrative within their scope of work.
What are your immediate plans?
This year I'm turning 35-I feel I've not done enough and time goes by so quickly, so I want to do something special for myself. I was trained as a weaver and I want to pursue more ideas related to that. I have invested in new machinery from Norway, and took my staff there to train with me and put up a loom in a traditional jacquard room. I'm really passionate about textiles and create them in a different way-by working with emotions and how we react with interactive textile designs. That's where my heart is set. Or we can weave with different types of material. We've worked with carbon fiber and industrial-performance materials, so we are really trying to strengthen the material consultancy side of the business.
Is there anything you'd like to design that you haven't yet?
My next project would be cars. In the project with UBS, we developed the console and the dashboard, and I think it's interesting how a car is like a mobile home or office. So I do have ambitions that way, but I don't know how far I can take them.
Do you already know your schedule for the next 12 months?
I've been working with Lane Crawford and Links of London, and I'm getting a pop-up store soon at The Mills, which focuses on their heritage products. I'm also having an exhibition with Chow Tai Fook Art Foundation at PMQ, designing some jewelry pieces. I have mentored for them, using digital technology with beads based on some traditional patterns. Last year we also created products we can sell-jewelry, evening and daywear, and some items for Kapok. I would like to build an e-commerce platform.
Design is such a mercurial business to be in. At what point did you think you had it cracked?
When I first started, my director would say,"Elaine, give it three years and if it doesn't work, you'll know." My friends were pretty settled at 30. But, if you don't sink, you get to a point where people start to become familiar with your name-let's say you have status. I worked with Ping last year. With their experience of heritage, they can accommodate innovation very quickly. And I like working with people who can accommodate innovation. That's what keeps us moving forward and inspired.