E-commerce platforms eye fresh food expansion
Share - WeChat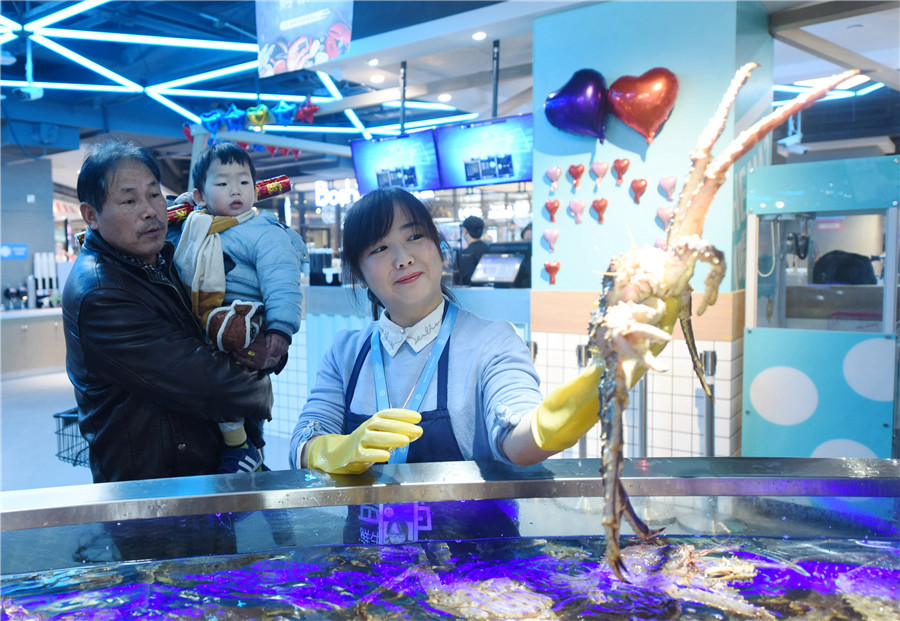 Major online retailers are accelerating steps to expand their presence in the fresh food sector by providing an offline shopping, leisure and entertainment experience that serves as a pioneering model for future brick-and-mortar stores to satisfy the diversified and personalized needs of their consumers.
Industry experts said that although fresh food supermarkets are still at an initial stage, the new model is reshaping China's traditional retail sector. The cold chain logistics and quality control of fresh food is of great significance for e-commerce players, the analysts said.
Chinese e-commerce giant JD opened 7Fresh Life, a new fresh food chain supermarket which is open 24 hours a day, seven days a week, in late December.
It is a combination of a restaurant, fresh food store and convenience store, offering more than 3,000 different items of fresh produce, daily groceries, ready-to-cook and ready-to-eat food, said Sun Xichao, the head of 7Fresh Life who added the store is equipped with an in-store dining area.
The first store covers an area of 300 to 400 square meters and is located in the Huilongguan residential area in northern Beijing. It is also the new retail concept from JD's offline supermarket 7Fresh. Sun said they plan to open 600 to 800 new stores in Beijing and Tianjin in the future.
"7Fresh Life will better serve the diverse and unique needs of Chinese families, serving each person at any time for any need, online or offline," said Wang Jing, the head of 7Fresh.
The store is connected with an app which allows consumers to shop any time and have items delivered to their doorstep in as fast as 30 minutes. It also provides other convenient services such as 24-hour parcel pickup lockers, bill payment and dry cleaning service.
Data from consulting firm iResearch showed China's fresh food e-commerce trading volume exceeded 200 billion yuan ($28.7 billion) in 2018, and the figure is expected to soar to 705.4 billion yuan in 2022, representing a huge market potential.
The rapidly growing number of China's high-income consumers has become a key driver of premium brands and other high-quality food products.
JD has also rolled out the first of its kind Seven Fun lifestyle space in Galaxy SOHO in Beijing. The store is designed specifically to cater to working professionals aged between 26 to 45 in first-tier cities, and provides "not just a space but a lifestyle".
With an area of around 1,000 square meters, Seven Fun provides consumers with a choice of over 3,500 different products such as fresh food, baked goods, fresh flowers and groceries. It also features 12 eateries selling international delicacies, including three bars offering wine, Japanese sake and craft beer.
"The store functions as a gathering place for white-collar professionals, and more stores are expected to open in early 2020," said Wang of 7Fresh, adding the facility provides a combination of dining, drinking and social networking.
Wang added the sustainable development of any retail business is built on accurate insight into user needs and satisfaction of their needs, which actually tests the retailers' ability in the fields of supply chain, technology and scenario construction.
"Only when the online retailers continue to expand and operate a certain number of fresh food supermarkets or stores in communities can we discuss the profitability issue," said Lu Zhenwang, CEO of Shanghai-based Wanqing Consultancy.
Hema Fresh, a fresh food chain invested by Alibaba Group Holding Ltd, is also likely to reshape the landscape of China's retail industry with the opening of the first digitalized shopping mall Hema Li in Shenzhen.
The center is dubbed a "community mall" covering the four categories such as retail, catering, life services and family. The aim is to create a neighborhood that strengthens family relations. About half of the 100,000 commodities sold at the mall could be ordered online through an app and delivered to the doorstep of consumers.
Hou Yi, CEO of Hema Fresh, said consumers come to the mall not just for shopping, but for leisure, entertainment and experience.
Cao Lei, director of China E-Commerce Research Center, noted that online retailers should ramp up efforts in cold chain logistics construction and increase investment in the supply chain to ensure the quality of their products.