Construction of 3G Beidou nears finish
Share - WeChat Space-based navigation network seeks collaboration with US, Russia, EU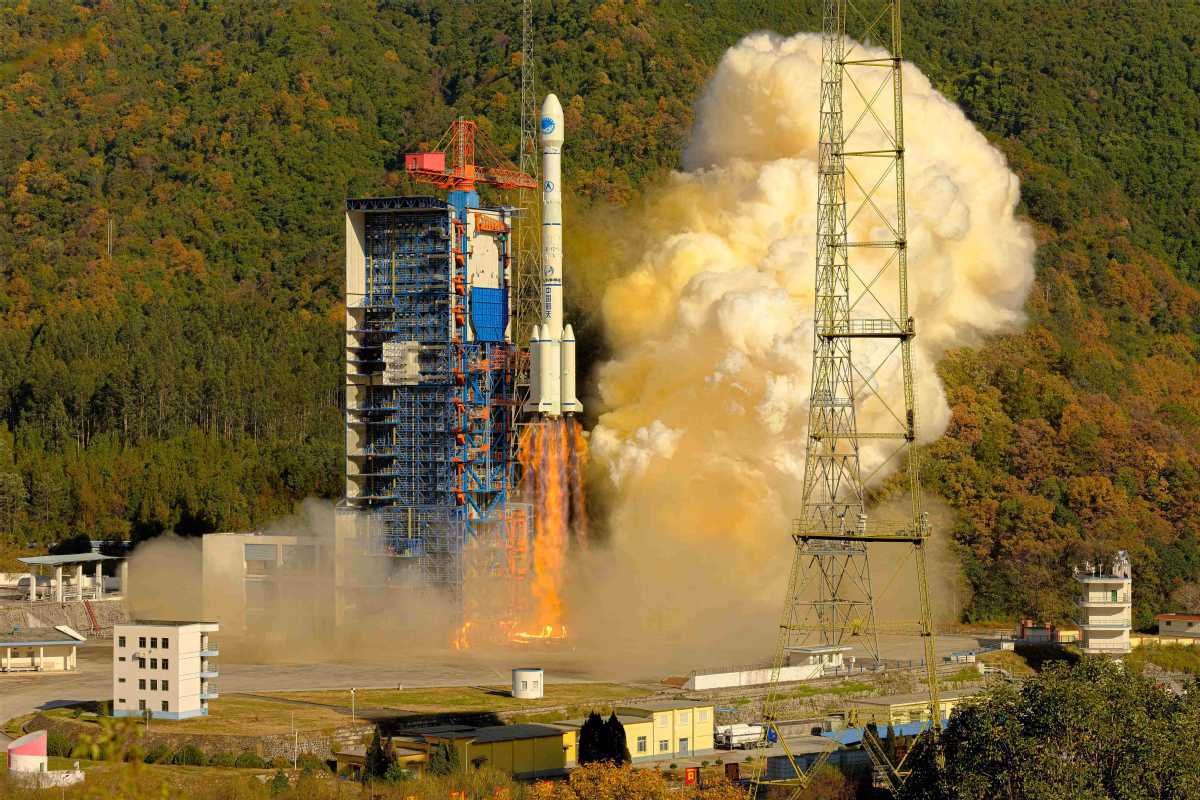 China plans to complete construction of its third-generation Beidou Navigation Satellite System network by June, including the launch of two new satellites into geostationary orbit by that time, the China Satellite Navigation Office said on Friday.
Ran Chengqi, the office's director, said 10 satellites were launched into space this year, resulting in a key 24-satellite constellation being placed in medium Earth orbit, forming the bedrock of the system's ability to provide a variety of services worldwide.
"Though Beidou began providing global services at the end of 2018 based on an 18-satellite constellation, the expanded network has enabled the space-based navigation system to operate more reliably and accurately," Ran said at a news conference held by the State Council Information Office.
As construction draws to a close, the office will increase its stocks of backup satellites and schedule them for liftoff to retire older satellites that have been in service for 10 to 12 years, he said.
Management at ground stations will also be improved to ensure smooth operation.
Chen Jinping, a chief engineer with Beidou, said that in 2019 the maintenance team managed to address nearly 20 satellite problems and nearly 100 issues related to ground-based facilities.
"With the service expansion of the third-generation of Beidou next year, we will strive to rectify issues discovered during risk analysis, improve regulations and enhance training to further boost the reliability of the system," Chen said.
The rapid growth of Beidou has also prompted the homegrown system to seek collaboration with three other celestial navigation networks around the globe, according to the China Satellite Navigation Office. They are the United States' GPS, Russia's GLONASS and the European Union's Galileo.
Ran said a cooperation agreement between the satellite authorities of China and Russia, which took effect recently, will provide organizational and legal support as the two countries join forces to build ground stations. China is also working with the EU to synchronize the frequencies of each other's satellite systems so global users will have access to more than one service provider.
The office has also expedited efforts to incorporate Beidou into international standardization systems. "Beidou is expected to be officially adopted by the standardization system of the International Civil Aviation Organization next year. Meanwhile, preparatory work including drafting documents and running tests is being carried out to facilitate Beidou's incorporation into the global search and rescue network," he said.
Ran added that Beidou is making significant inroads into countries involved in the Belt and Road Initiative.
"A wide array of products and services based on Beidou has been exported to over 120 countries and regions, including many countries taking part in the initiative," he said. "They have played an important role in the fields of agriculture, construction and port management by increasing productivity and bringing plenty of other benefits.
"Neighboring nations as well as countries and regions involved in the BRI are crucial partners in terms of promotion and application of Beidou, and we are looking forward to seeing more useful applications being developed in these regions," Ran added.