Italy's 'Baton for Peace' holds two concerts in China
Share - WeChat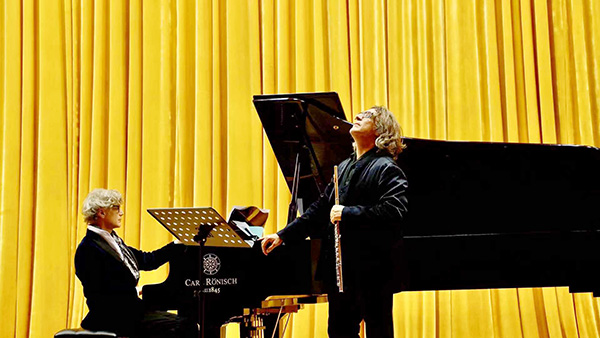 Baton for Peace, a concert series that originated in Italy, recently came to China for two performances in Huangshan, Anhui province, and Beijing.
Founded by Italian flutist Andrea Ceccomori, the concerts aim to promote peace around the globe through music.
According to Ceccomori, the concerts often feature musical exchange with other musicians in the form of a duet, and at the end of each concert an olive baton is conferred as a symbol of peace to the local musicians.
For the concert's China premiere, Ceccomori and Italian pianist Sebastiano Brusco first went to Huangshan University on Nov 13 and then performed at the University of Chinese Academy of Sciences in Beijing on Nov 16.
At Huangshan University, the musicians cooperated with teachers of flute and piano from its School of Arts, and gifted an olive baton to lecturer Zhang Biao. At the University of Chinese Academy of Sciences, the olive baton was conferred to professor Zhu Wei, who participated in planning the concert.
The concerts included classic music pieces by Western classical masters such as Mozart and Beethoven, works composed by the two Italian musicians, and also well-known Chinese pieces such as the Butterfly Lovers.
These are Ceccomori's first performances in China, and Brusco came to China for a one-month tour in six cities earlier this year.
Most Popular