A bridge toward stronger friendship
Share - WeChat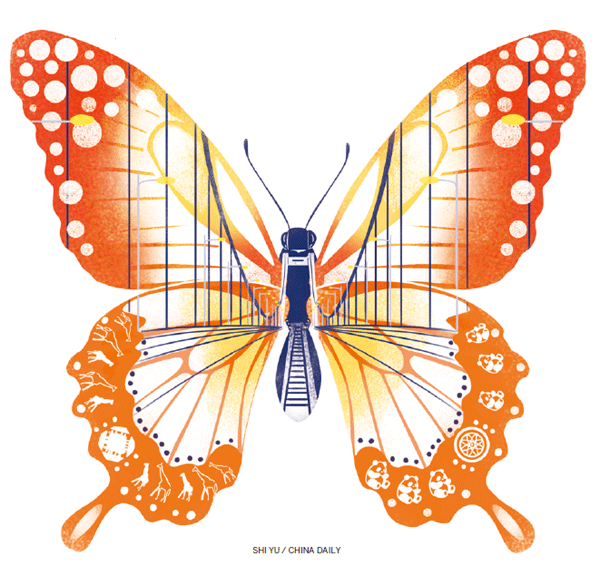 Achievements under the FOCAC framework have laid the foundation for closer Mozambique-China relations
Nov 13, 2018, was a memorable day in Mozambique. It was not a festival, but the mood in the country's capital of Maputo was nothing less than one, as tens of thousands of people sang and danced in joy on the southern bank of the Maputo Bay. Joining them were President Filipe Nyusi, two former presidents, the president of the assembly, the prime minister, heads of various ministries and representatives of various sectors.
They were celebrating the inauguration of the Chinese-built Maputo Bridge, the largest suspension bridge in Africa with the main span being 680 meters long. Completion of the iconic facility means the fulfillment of the dream of several generations living on both sides of the Maputo Bay, and symbolizes the development and progress of the country. The bridge is also a symbol of bilateral exchanges and cooperation between China and Mozambique.
China-Mozambique friendship goes back to more than half a century. The two fought for national liberation, marched hand in hand on the road to development and rejuvenation, supported each other on issues involving core interests, and maintained traditional brotherly friendship.
Since the establishment of the Forum on China-Africa Cooperation in 2000, between the two countries the bilateral cooperations have developed rapidly, leading to the establishment of a comprehensive strategic partnership in 2016. High-level bilateral exchanges have increased, and recent years have seen a surge in the frequency and popularity of visits between leaders of the two countries. Friendly exchanges and cooperation in various fields have deepened and China-Mozambique ties have entered the fast lane of development.
Mozambique has become China's key African partner in global production capacity, and agricultural, energy and mineral resources. The two countries have established a cooperation framework, with the development of natural gas industry chain and processing and manufacturing industries as priority, and infrastructure construction, human resources development and financing support as pillars.
Under the framework, a route has been mapped for upgrading economic and trade cooperation. Thanks to joint efforts, China has become one of Mozambique's largest sources of investment, its main trading partner and an important infrastructure builder.
China has invested more than $7 billion in Mozambique and the results can be seen in the energy, agriculture, infrastructure, communications, processing and manufacturing sectors. Major infrastructure construction projects such as the Maputo Bridge and the National Road No 6 have been completed. And PetroChina's largest overseas investment in an individual project, the offshore liquefied natural gas development project in Area 4 block of the Rovuma Basin, is being steadily implemented.
China's largest rice planting project in Africa, at the Wanbao Mozambique rice farm, facilitated through the China-Africa Development Fund, has yielded satisfying harvest.
These projects are also helping Mozambique turn its geographical and resource advantages into development results, bringing tangible benefits to its people. And cooperation and mutual understanding between the two peoples are also deepening.
In recent years, a "Chinese fever" has struck Mozambique, with Chinese teaching entering Mozambique's higher education system and thousands of people from various sectors learning Chinese every year. China has also become a popular choice for young Mozambican students who want to study abroad. Chinese-language films and TV series are widely welcomed by Mozambican families while Mozambican local artists have introduced their ethnic songs and dances to China.
China is helping 1,000 Mozambican villages to install satellite TVs. When the project is completed, it will become an important medium to promote cultural and people-to-people exchanges between the two countries.
In April, President Nyusi paid a visit to China, the second in less than a year, especially to participate in the Second Belt and Road Forum for International Cooperation. It was also the fourth meeting between the two heads of state in three years.
Mozambique is located at the natural extension of the 21st Century Maritime Silk Road in Africa. That makes it a natural and important partner of the Belt and Road Initiative in Africa. As early as the 15th century, Chinese sailor Zheng He's fleet sailed along the ancient Maritime Silk Road to the Mozambican city of Beira and linked the ancient Maritime Silk Road to East Africa, opening a chapter of friendly exchanges between the Chinese and Mozambican peoples.
In recent years, with continuous regional economic integration and improving interconnectivity in Africa, Mozambique is using its regional advantage to cooperate with China in the implementation of Belt and Road projects, and thus integrating into the global market and realizing rapid economic development.
At the Beijing Summit of FOCAC in 2018, President Nyusi said the Belt and Road Initiative proposed by President Xi Jinping is a historical opportunity that Mozambique should grasp. He also said Mozambique was willing to participate in the initiative. Before the Second Belt and Road Forum for International Cooperation, China and Mozambique signed a memorandum of understanding and a cooperation plan on the initiative, paving the way for the two sides to deepen pragmatic cooperation.
China and Mozambique share solid political mutual trust, their peoples have favorable opinions about each other's country, and have highly complementary economies and integrated development strategies. Their cooperation under the FOCAC framework has laid a solid foundation for the development of bilateral relations. And the extension of Belt and Road to Africa has created more opportunities for the two countries to develop together. We believe that, thanks to the Belt and Road Initiative, China-Mozambique friendship will further strengthen and cooperation will usher in a brighter future.
The author is China's ambassador to Mozambique. The author contributed this article to China Watch, a think tank powered by China Daily. The views do not necessarily reflect those of China Daily.