Local designers try to get a foothold in the market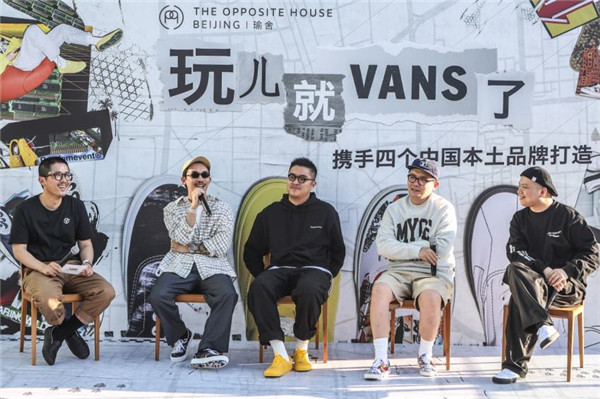 At a recent design launch and seminar in Beijing, some of China's top designers of streetwear fashion pointed out that, while being viewed as 'cool' and promoting self-expression are important, they now aim higher than just creating niche brands.
Vans, an extreme sports fashion brand from the United States, invited four Chinese labels to launch jointly-designed new collections, based on its own classic shoe model - the Era.
The four local brands, all with English names - Attempt, Myge, Randomevent and Roaringwild - were recommended to Vans by Yoho, a leading trends and cultural communication platform in China.
Attempt's founder and chief designer is Liang Dong, who paid homage to Chinese rock music with his design, which is inspired by The Higher Being, a well-known song by Chinese rocker Dou Wei, released in 1994. He applied a white canvas with quilted lines as the main design for the shoe, before adding the Chinese characters for "the higher being" on the heel and sole.
Liang, 38, born in Hubei province, says that he's deeply moved by Dou's lyrics, and wanted to share this with his customers.
"Throughout puberty, most people are relatively lost, including me. We are sensitive to the world, filled with both positive and negative emotions. As we grow up, we find human nature so complex."
Zhao Meng from Hebei province, 36, the founder of Myge, was inspired by Chinese kung fu films, especially the golden era of the Hong Kong film industry.
Various kung fu elements, including hand-painted figures of Bruce Lee, are put together like a poster and applied to an allover print. The outsole print is made up of traditional Chinese calligraphy that forms platitudes such as "glory comes from your own hands".
Zhao, who's been a keen kung fu movie fan since he was young, says: "Vans is a brand for extreme sports, and kung fu is also a sport. Its acrobatic fighting style is straightforward and exciting."
The third brand, Randomevent, introduces shoes in bright yellow, with a pattern of green game disks printed on the sole. Its designer, Hong Yang, 29, from Zhejiang province, was inspired by classic Nintendo video games.
Being a fervent game player, Hong notes: "My memories of gathering with friends at home and playing video games are still so fresh, and I believe many people will share the same feeling."