Success is just desserts for pastry chef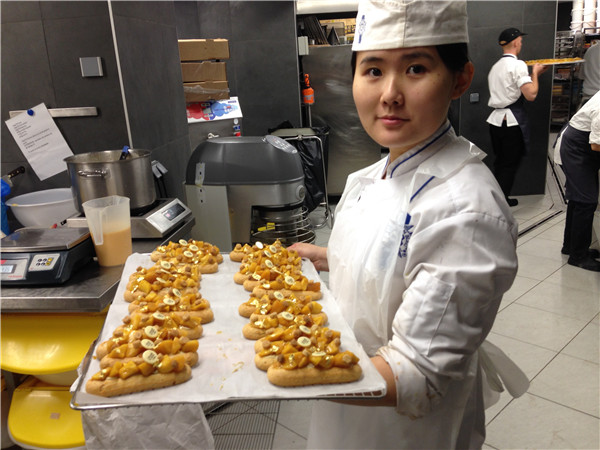 A career based on good taste sees a woman follow her dream to France and back.
Dai Yuan has proven that she has exquisitely good taste. Gastronomy, rather than astronomy, was written in her stars since childhood. Her journey from information management student to a culinary course in France saw her create her own menu of success.
When she opened her own patisserie in her hometown Tianjin last year, she named it Reims Gare de l'Est.
This was an acknowledgment of the countless train journeys she took between Reims and Gare de l'est in Paris when she was mastering the technique of making desserts with a certain je ne sais quoi.
The decor of the shop, highlighting pink and blue, emanates a warm, welcoming and cozy atmosphere, exactly what she had imagined when she was a child with, you could say, sweet dreams.
Dai's mastery has been recognized. She won a medal at the 11th catering professional skills competition in Tianjin in September 2018.
But more than any awards her satisfied customers bear testimony to her skills.
As a child she was always attracted by cakes and desserts. Not just to eat, but how they were made.
Making birthday cakes for her family when she was in high school became routine.
She wanted to travel to France to sample delicacies and open her own dessert shop.
The dream was put aside because learning the craft of making desserts in France seemed impossible.
She chose instead to study information management and information system at the Tianjin University.
After graduation in 2011, she could have worked in the sector but those sweet dreams kept telling her that her future lay in food.
With support from her family, she started to learn French to prepare.
"During the pursuit of my dreams, the most important person was my father, who gave me unqualified support. He was my biggest supporter," the 31-year-old says.
She remembers when she began to take the advanced French course which started at 9 am on weekdays. She had to get out of bed at 5 am, take the train from Tianjin to Beijing and rush to subway Line 2 to get to the classroom on time.
"I still remember there was a long staircase next to the escalator out of Chaoyangmen station on Line 2, but I never had time to wait in line to take the escalator so I had to run up the stairs to save time," Dai recalls.