Medical device maker eyes bigger presence with new clinical training center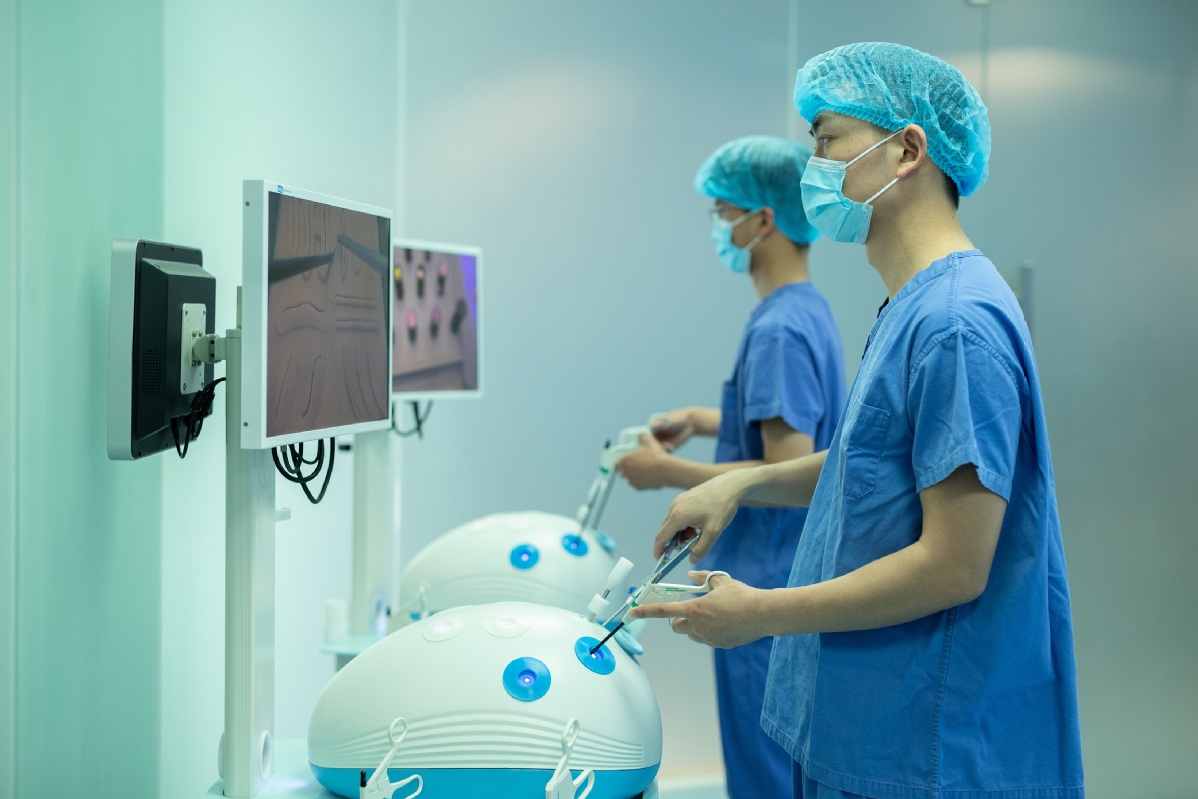 Medtronic Plc is setting up a world-class clinical training center in China next year, as the global medical device maker looks to further tap into the growing Chinese market.
The clinical training center will be in Chengdu, Southwest China's Sichuan province, and will be the company's second in the country after one in Shanghai, which was set up in 2005.
The clinical training center in Chengdu aims to offer a platform for medical technology clinical training and research and development for medical practitioners in Sichuan and other regions in central and western China.
"We are fully aware of the role that grassroots-level doctors have in furthering the popularization and innovation of medical services. Medtronic is looking to support Chinese physicians' capability enhancement, and help them better adapt to medical technology advancement, so that they can serve more patients with stronger professional abilities, and the goal of a healthy society can be achieved sooner," said Omar Ishrak, chairman and chief executive officer of Medtronic.
The clinical training of China's medical professionals had been enhanced in recent years. However, the training is still insufficient in some regions, especially in central and western China. A survey conducted by People's Daily showed that due to training differences, the average maturity period for Chinese doctors is 10 years more than that of the doctors in developed countries.
According to Medtronic, after being put into operation, within five years, the clinical training center in Chengdu will start training 7,000 medical professionals every year. Meanwhile, combining efforts from the company's other training centers worldwide, it will boost academic exchanges and joint innovation among medical institutions and professionals.
Liu Liedong, vice-mayor of Chengdu, said: "Chengdu has been actively incubating medical innovation and building an open and practical innovative environment. We look forward to having more international platforms in Chengdu, to transform clinical applications and technologies into more valuable medical services."
"In the foreseeable future, China is set to become the largest healthcare market in the world. Medtronic is committed to alleviating pain, restoring health and extending lives of people in China. This is also the reason why we have launched the clinical training centers in China," said Alex Gu, Medtronic senior vice-president and president of Medtronic China.
This year marks the 30th anniversary of Medtronic in China. Over the past three decades, the company has introduced more than 500 innovative medical technology products that address the needs of Chinese physicians and patients.
During the recent China International Import Expo in Shanghai, Medtronic launched the world's smallest leadless pacemaker. Less than 10 percent of the size of a conventional cardiac pacemaker and weighing only 2 grams, the device for arrhythmia patients makes it possible for a pacemaker to be implanted directly into the patient's heart via an applicator inserted into the upper leg, and without a chest incision or scars, a blessing for Chinese arrhythmia sufferers.
"China holds the promise to become a primary source of many next-generation medical technologies. Medtronic is determined to capture the opportunity through continued investments in local R&D capabilities and technology partnerships, as we believe technology has greater potential in addressing unmet medical needs - which will therefore drive our business presence," said Gu.
Currently, Medtronic has a Medtronic Innovation Accelerator in Shanghai, which was designed as a platform to help medical technology startups speed up conversion of their innovative ideas to marketable products. Its Medtronic-SJTU Joint Laboratory, the first Medtronic technology partnership with a top Chinese university, was set up in March, aiming at advancing research in medical application of artificial intelligence.
"We are committed to working with our partners to accelerate innovation and expand healthcare access in China, and ultimately help more Chinese patients," Gu said.
Consultancy firm Boston Consulting Group said in a report that the Chinese medtech market, buoyed by the strength of the overall healthcare sector, will post a compound annual growth rate of 14 percent between 2013 and 2020, expanding from $22 billion in annual revenues to $55 billion. Almost all product categories will experience double-digit growth, with some - such as orthopedics and minimally invasive surgical devices - growing even faster.
According to Medtronic's report on the fiscal year of 2019, which ended on April 26, revenue from emerging markets, including China, was $4.7 billion, up 12.7 percent year-on-year.