Digital tech to boost healthcare industry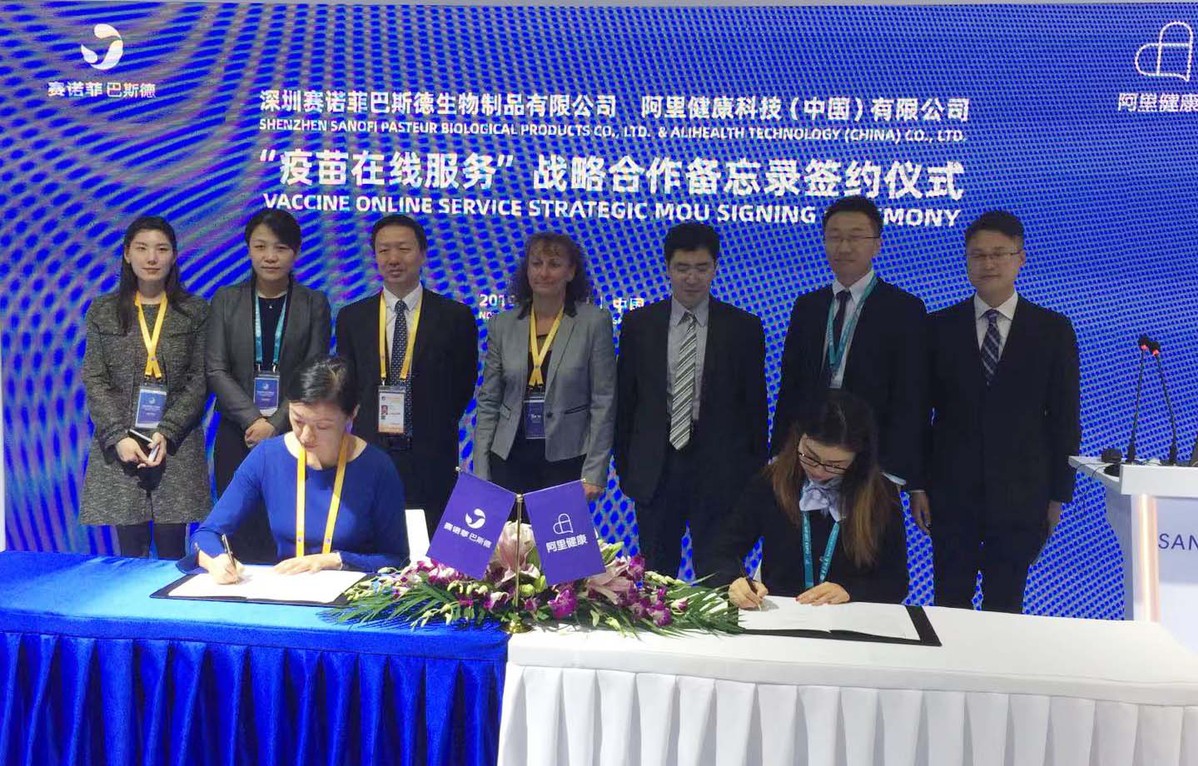 Firms eye cutting-edge solutions to better serve patients and physicians
With every walk of life getting a digital makeover, China's healthcare sector is hastening the pace of technological advances in the hope of serving patients better and empowering physicians in remote parts of the country.
Guided by a so-called Omni-Protection concept, French vaccine maker Sanofi Pasteur unveiled last week a string of smart and standardized vaccination procedures in China to help users access immunization information, track vaccine data, and manage the vaccination process through the internet and big data technologies.
During the second China International Import Expo in Shanghai, Sanofi Pasteur inked a pact to establish cooperation with Chinese internet giant Alibaba Group's healthcare arm to build a vaccination cloud platform, offer related information online and location-based vaccine search services.
It also pledged to develop an intelligent clinic through a tie-up with an affiliated company to the Chinese Academy of Sciences. This was done in the hope of streamlining the entire process and better managing the safety of vaccines. The key functions include online reservation, facial recognition, smart cold chain delivery, and an intelligent observation area.
"The common thread running through the entire vaccination cycle is data, the sharing and smart deployment of which will assist authorities to keep track of disease prevention and data accumulation nationwide," said Mike Zhang, general manager of Sanofi Pasteur China.
Based on an agreement with the Shenzhen municipal government, the company even wants to turn Shenzhen into a hub to explore a new model for accelerating the launch of globally leading vaccines, improve the influenza vaccination rate, employ big data to establish a vaccination evaluation system, and delve more deeply into relevant research.
What digital technology can do is to "create that closed loop so that people can be reminded about their second or third vaccine, and using other digital formats for them to be informed about their health," said Joseph Romanelli, senior vice-president of MSD and president of MSD in China.
The US-based company has joined hands with Ali Health to create a preventive health management system combining healthcare knowledge and technologies so that users get to understand the burden of diseases and where they can get vaccinated.
"The digital platform that we have in China is probably second to none. What's great about China is that all of our customers, whether they are physicians or patients or potential patients, are online," he said.
Physicians also stand to benefit from the digitalization wave.
Siemens Healthineers, the healthcare unit of German conglomerate Siemens, showcased its latest 5G-powered ultrasound solutions during the second CIIE.The locally developed gadget is expected to help physicians in remote areas and county-level clinics better diagnose people with the real-time aid of seasoned doctors thousands of miles away.
"Currently, China heavily lacks physicians especially in entrance-level healthcare institutes, primary hospitals and rural healthcare institutes. In the meantime, the journey for ultrasound physicians to improve their skills is not easy," said Jerry Wang, general manager of Siemens Healthineers China.
"Most 5G applications are in place to help higher-level hospitals to connect with lower-level hospitals. So limited physician resources will be utilized in a much better way," he said.
The company has also rolled out a one-stop stroke solution center, in which it has fast CT scanning and an angiography system in one room.
Digitalization can assist the entire cycle of clinical trial, regulatory compliance, to the commercialization of drugs, said Tal Rosenberg, senior vice-president of IQVIA Global Technology Solutions, a US-based company serving the combined industries of health information technology and clinical research.
"Around 80 percent of clinical trials today are being delayed due to lack of patients. Digital transformation can help expand the reach of patients that are not in proximity, or arriving at the site," he said. "You can contact them, get data on a daily basis, and find even more patients."
The portfolio of life science companies has significantly evolved from primary care to specialty businesses. Therefore, a number of stakeholders other than the physicians needed to be engaged.
That's when holistic digital platforms kick in, as exemplified by IQVIA's latest product called OCE.It connects sales, marketing, medical and related functions in life science companies to transform commercial models.
The company also joined hands with Chinese healthcare marketing firm SocialMED to form a digital medical sales representative operating center in a bid to reach pharmacies, physicians, and patients in a much more efficient way with lower costs.
"Digital addresses the critical issue of how the industry uses data analytics to actually drive efficiencies and deploy resources in a smart way," said Yan Guowei, general manager of SocialMED.