Q: What's in a name? A: Brand's future
Share - WeChat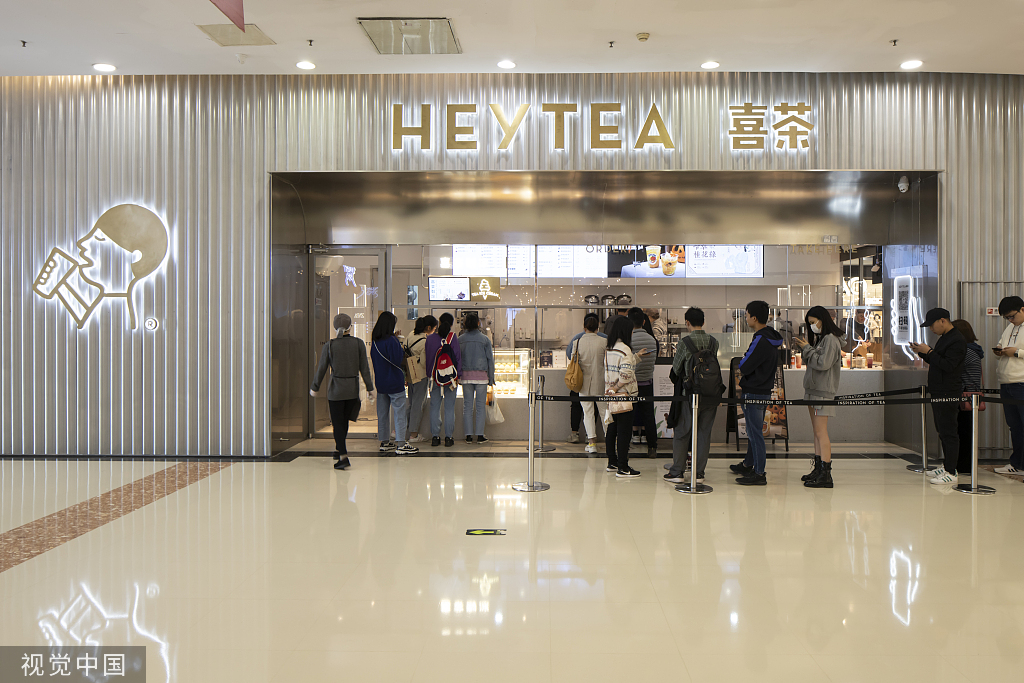 Reusable cups turn into art installations. Used plastic morphs into new bags. Paintings materialize out of paper straws.
I was immediately drawn into this magic at a downtown Shanghai mall as I walked past a pop-up stand of HeyTea, the country's cheese-topping milk tea chain.
Under a campaign dubbed "HeyTea Inspirational Lab", some 1.7 million plastic straws have been saved to fashion 15,000 single-use cups in four months.
The eco-friendly endeavor is a cause championed by the startup, and reflects China's efforts at plastic reduction. It also sates enlightened consumers' new-found craving for environmental protection.
Brands like HeyTea are seeking "green credentials" that they believe would be in line with the value system of their target audience - the younger generation. After all, nearly half of consumers worldwide expect manufacturers to take the lead in battling the use of plastics, according to consultancy Kantar. Positive brand image is conducive to delivering positive business results.
Mention "branding" and several words or phrases that can be used interchangeably surface in the mind: brand, brand identity, brand image, brand equity... While the world's top business schools say you can never overstate the importance of branding, it is just as abstract as it is important.
In essence, branding is an effective way for any organization to gain a competitive edge in an increasingly crowded marketplace, through the unique manner in which a corporation, a company or a business presents itself to the public. The overarching purpose of branding is to tell a company's story in a way that creates awareness, excitement and loyalty.
Paths to achieving effective branding vary. Apart from using creative marketing campaigns, a good branding sometimes starts simply with the name. It is a differentiating, but sometimes ignored, factor in reshaping consumer minds and boosting sales. After all, names can be persuasive and consumers could assume names have literal meanings.
Brands like iPhones are self-explanatory themselves. The lowercase letter "i" indicates internet while phone suggests the category.
Some experts said one common factor barring Chinese companies from a genuine global fame is their names, such as Haier or Xiaomi, even if they are already highly-recognized on a global scale.
I asked several Western friends and they agreed these names are generally difficult to pronounce in countries that use the Latin alphabet. This is a seemingly valid point though people living in China (including me) might take the names for granted.
This is unfortunately backed by facts. According to Kantar's data, while revenue that Chinese brands gain from overseas has increased significantly over the past five years, Western consumers' awareness of, and familiarity with, them remain relatively low. In other words, competition against indigenous brands was not at parity or premium prices.
While a global brand does not necessarily have to be an English word, it has to "sound right" in that language, as in the case of Nokia and Sony. But being easy to pronounce is not the only requirement - having the right connotations is critical too.
According to international marketing guru Al Ries, Snow Beer, the largest-selling Chinese beer brand, is one such example. While it is easy to spell and pronounce, nobody in the English-speaking world wants to drink "snow", which means frozen water.