How a boy's flights of fancy took off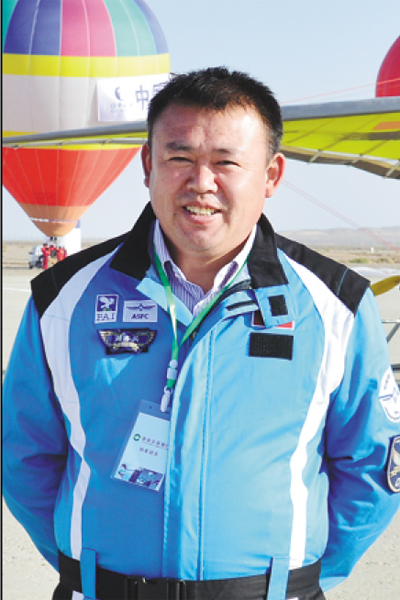 Winging it
In 1995, Liu changed strategy and tried to fly a glider from the top of a small mountain. After being airborne for 30 meters, the glider fell into a shallow pool. Liu injured his knee.
"During that test, I was so nervous that I couldn't control it and fell down," Liu said. "And I was really upset that I had been failing for five years. I had no confidence to persist anymore.
"However, my stepfather behaved like nothing had happened. He took a look around the damaged plane and told me to continue flying after I recovered. I dared not say anything. After all, I had promised him I wouldn't give up halfway."
The same year he managed to buy a 30-horsepower engine from a retired engineer of a shipbuilding company based in Wuxi, Jiangsu province.
He used it to power his sixth plane and made the body from a lighter aluminum alloy instead of steel.
In 1996, he finally succeeded. His sixth plane left the ground of a newly built highway near his home, traveling at a height of about 3 meters for 100 meters.
"Even if it just flew for a short distance I felt extremely excited because a plane made by me could fly. But its lift was still not enough, so I painted the nylon wing skin to make it airtight," he said.
Higher and higher
Liu kept studying plane construction, mainly by reading books on aircraft design.
"I read a book about ultralight aircraft design and wrote a letter to the author, Hu Jizhong, an aeronautics professor at Beihang University. I took a train to visit him in Beijing in 1997 and he gave me a lot of tips, such as the center of gravity of an aircraft," he said.
In October of the same year, Liu converted his one-seat aircraft into a two-seater and took each of his parents for a flight.
In 2001, Liu obtained his license for powered paragliding which utilizes a giant fan-like motor to generate thrust and lift for the pilot. Two years later, he earned a delta-wing aircraft pilot's license.
After gaining enough air hours, he was able to start earning money from his plane. In 2003, he used his deltawing aircraft to take aerial videos for a local television station and earned 6,000 yuan in one week. He also performed in air shows to make money.
In 2009, he won a gold medal at a national ultralight aircraft championship and became a member of the Aero Sports Federation of China.
Since 2010, he has leased 12.4 hectares of land in Helan county, Ningxia and set up his own aero sports club. In 2016, he was licensed as a pilot instructor.
In the future, he plans to improve his club's facilities and educate youngsters about aerospace.
"Many children are interested in aerospace and would like to experience flying or even making planes," he said. "I will build a museum of flight and let more people know about the skies."