Dynamic duo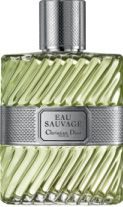 For many decades, in terms of scent, men were restricted to cologne. It wasn't until 1934 that Parisian perfumer Caron created Pour Un Homme, the world's first eau de toilette for men; in 1955, Gabrielle "Coco" Chanel created her famed eau de toilette Pour Monsieur. But scents for men wouldn't emerge from obscurity until the early 1970s, thanks in large part to the launches of Habit Rouge by Jean-Paul Guerlain (1965) and Eau Sauvage by Christian Dior (1966).
In creating Habit Rouge, Guerlain, an aficionado of horse-riding, wanted to pay homage to the equestrian art by naming his essence after the red jacket worn by riders, and to offer a scent that brought out the sense of serenity between man and horse.
Habit Rouge was the male equivalent of the famous Shalimar, created in 1921. Guerlain kept the latter's oriental essences, and added notes of orange, lavender, basil, clove and cinnamon. He also gave the design a leathery appearance to evoke the world of equestrianism.
Considered the first modern perfume for men, Eau Sauvage, for its part, develops woody scents with hints of lemon, rosemary, basil, vetiver and jasmine.
Habit Rouge and Eau Sauvage have been released in numerous incarnations, but the originals still remain classics that have successfully stood the test of time by relying on refined and unique advertising campaigns-equestrian commercials for Habit Rouge and a refined gentleman designed for Eau Sauvage, which changed over the years to ambassadors whose virility and undeniable elegance embody "the man of Eau Sauvage".
No wonder, then, that in 2009 the famed French actor and sex symbol Alain Delon became the scent's most emblematic muse.