Vendors embrace livestreaming
Share - WeChat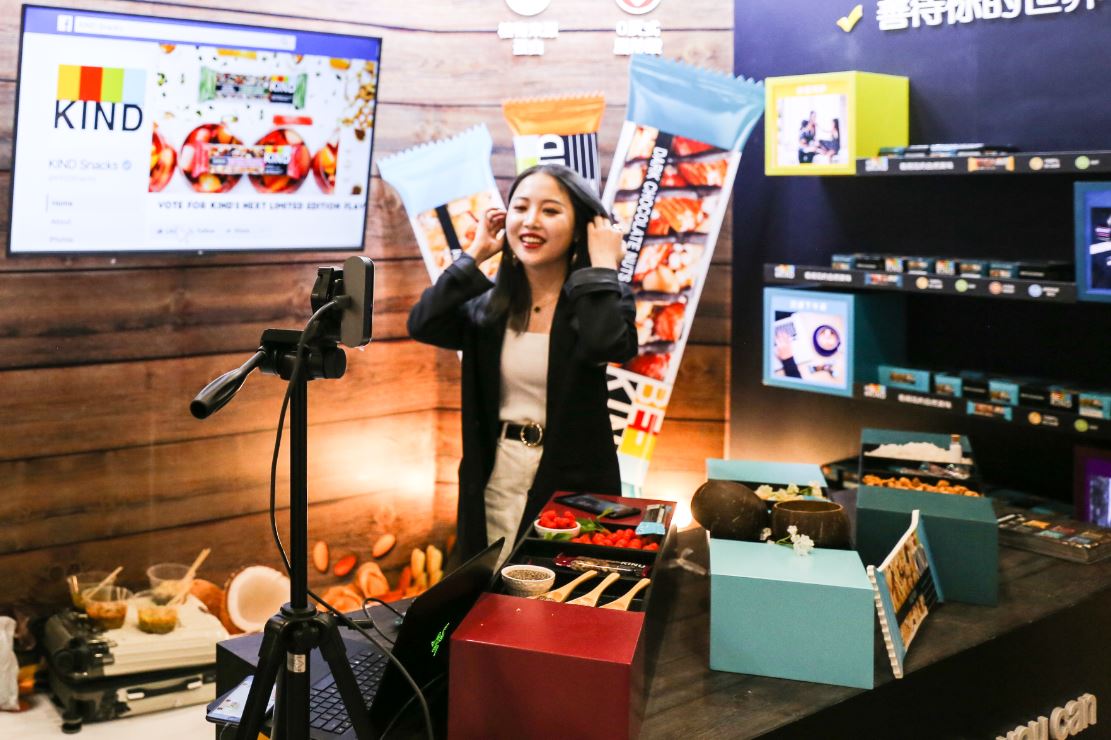 Brands adopt broadcasting for their product promotion during Nov 11 festival pre-sales phase
It is again the time of the year to splurge on the Nov 11 shopping gala, the annual mecca when brands unveil flashy ads and meticulous discount plans to grab people's eyeballs and wallets.
Eleven years into its existence, excitement for the buying spree may eventually begin to wear off. But to keep consumers on an adrenaline rush to shop, merchants and e-commerce sites have crept into new territory by kicking their game up a notch through livestreaming.
While not a rarity in China's thriving social media landscape, livestreaming as a key thrust of sales and marketing in major campaigns like Nov 11 has never been better emphasized like this year.
According to Taobao Live, the social media affiliate of Alibaba Group's Taobao site, some 17,000 brands have adopted broadcasting for product promotion during the pre-sales phase, which began some 20 days ahead of the discount bonanza.
A torrent of brands broke the threshold of netting 100 million yuan ($14.23 million) of pre-sales in just six minutes after livestreaming kicked off, data from Taobao Live showed.
Sectors such as lifestyle and furniture, as well as maternity and baby care, doubled the number of livestreaming rounds, while a striking four times more consumer electronics merchants opted for livestreaming to grab people's attention and potentially their cash.
"Livestreaming is on the radar of many brands to navigate China's fast-changing consumption market," said Zhao Yuanyuan, operating chief of Taobao Live. "It's like re-creating the 'TV Shopping' programs in the mobile internet age."
Early adopters are already taking an initial victory lap. Chinese home appliances maker Midea Group saw monthly online revenue expand roughly by 10 times since it boarded the livestreaming express in February, said Meng Qiang, e-commerce operations manager of Midea.
"It's a noticeable driver to growth and provides much broader outreach for customers compared with conventional methods," said Meng. "We plan to invest more on livestreaming in order to attract new followers and hopefully translate the vast traffic into considerable revenue."
Brands are becoming increasingly sophisticated in the understanding of livestreaming, treating the digital vehicle as more than a sales tool but a window of opportunity for story-telling and brand education, said Coolio Yang, China CEO of Kantar's Media Division, the consultancy's social business intelligence arm.
"They (the brands) don't just do livestreaming for the sake of it, but they are on the hunt for key opinion leaders who have the matching 'tonality' with the brand so that they can properly convey these messages," Yang explained.
Echoing that sentiment is Zhang Quan, head of livestreaming business at Daxidi, an importer and processor of quality meat. She said sales promotion should only be valid if it manages to coalesce into effective brand-building that's going to exert a long-term business impact.
"Currently 80 percent of our sales is generated from recurring customers, which shows brand loyalty is crucial," she said. "But it also means we need to expand our follower base and that's not something you can hastily achieve by just offering discounts and making one-off deals."
To this end, the company launched campaigns like "cooking a meal in five minutes", inviting chefs certified with Le Cordon Bleu - the guardian of French culinary technique - bonding with the audience through authentic experience sharing.
Social media has become the prominent channel for online purchases, with 43 percent of customers in China choosing the likes of WeChat, Weibo or Red as shopping avenues, global consultancy Accenture said in its latest Chinese consumer survey.
There are two prevailing models for brands to conduct livestreaming: working with influencers (or better known as KOLs in China's internet lingo), and grooming indigenous hosts, Zhao from Taobao Live noted.
Agencies like Nice are what the industry insiders dub "multi-channel networks", which specialize in bridging influencers with brands to help engage potential clients and drive online sales.
"Influencers usually have a considerable follower base that sees their opinions and suggestions as credible," said Xiao Xiao, head of Nice, which currently houses nearly 200 KOLs.
But a growing number of brands are taking a hybrid approach. Despite working with KOLs for product endorsement, they equally aspire for a firm grip on original and compelling content.
That's what propelled appliances manufacturer Joyoung to make livestreaming a "business imperative". That means a compulsory eight hours livestreaming per month is assigned to each employee on the marketing function, according to Xu Nan, the company's marketing director.
The National Radio and Television Administration said last week it will strengthen supervision on livestreaming during the Nov 11 campaign period to prevent misleading, exaggerated commercials or other potential cases of misconduct during these live shows.