Tyson bans drug to boost pork exports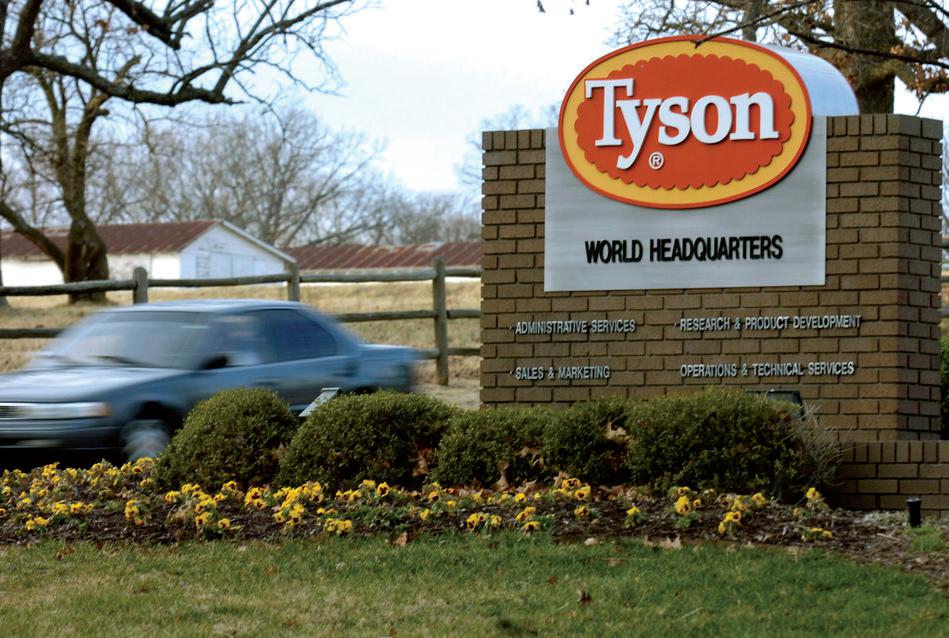 Tyson Foods, the largest American-owned pork processor, said Thursday it will ban the use of a drug that adds weight to hogs so it can expand its market share in China.
Tyson said in February 2020 it will halt the purchase of hogs raised from American farmers raised with the feed additive ractopamine approved by the US Food and Drug Administration (FDA) but banned in China.
"We believe the move to prohibit ractopamine use will allow Tyson Fresh Meats and the farmers who supply us to compete more effectively for export opportunities in even more countries," Steve Stouffer, president of Tyson Fresh Meats, said in a statement posted on the company's website.
China, the world's largest consumer of pork, has had its hog herd devastated by an outbreak of African swine fever discovered more than a year ago. Since August 2018, about 1.17 million hogs have been culled to stop the disease, the United Nations Food and Agriculture Organization reported. That has sent pork prices in China up about 69 percent and increased demand for imports. Beijing has imposed tariffs on US pork as part of its continuing trade dispute with the US.
Tyson said most of the hogs slaughtered at its plants are purchased from about 2,000 independent farmers. Tyson said it notified farmers of the policy change this week and will work with them in the coming months and begin testing to be certain hogs are ractopamine-free.
Tyson also processes chicken. It is traded on the New York Stock Exchange.
Rachel Gantz, director of communications for the National Pork Producers Council, a Washington-based trade group, stood by the use of the feed additive.
"Ractopamine has been determined to be safe by the US Food and Drug Administration, the US's Food and Agriculture Organization and the World Health Organization," she said in a statement to China Daily. "It is approved for use in pork production in 26 countries with 75 additional countries allowing the import of pork from ractopamine-fed hogs, even though it is not used in their domestic herds. Pork producers are committed to food safety and ractopamine is a scientifically proven safe product."
Elanco Animal Health, based in Greenfield, Indiana, is one of several manufacturers of the feed additive and brands it as Paylean.
"We're disappointed in any decision that would take safe, proven technology out of the hands of farmers," Keri McGrath, spokeswoman for Elanco, said in a statement to China Daily.
Tyson generates about $1 billion in pork exports annually. Smithfield, owned by Chinese conglomerate WH group, and JBS USA Holdings, a subsidiary of a JBS SA, Brazilian company, also export American pork to China. Neither Smithfield nor JBS use the feed additive.
The FDA approved ractopamine in 1999 for use in pigs, cattle and turkeys. The feed additive accelerates weight gain by mimicking stress hormones that speed up the conversion of feed to muscle, research showed.
But China, Russia and the European Union have banned use of the feed additive. The Center for Food Safety, a Washington-based advocacy group, said ractopamine "negatively affects meat taste and tenderness, providing an inferior quality food product."
"Ractopamine is associated with major health problems in food-producing animals, such as 'downer' syndrome (lame animals, hyperactivity and sometimes death) and severe cardiovascular stress, and has also been linked to heart problems and even poisoning in humans," the advocacy group said in a report.
The advocacy group didn't cite research to support its claim that humans have been poisoned by the feed additive. However, the World Health Organization in Geneva said a study conducted in 2004 involving six people found those consuming meat containing ractopamine experienced "occasional mild to moderate sensations of increase in heart rate and heart pounding." A Canadian study found that monkeys given the food additive developed a "rapid heartbeat".