J-15s have become navy's 'iron fist'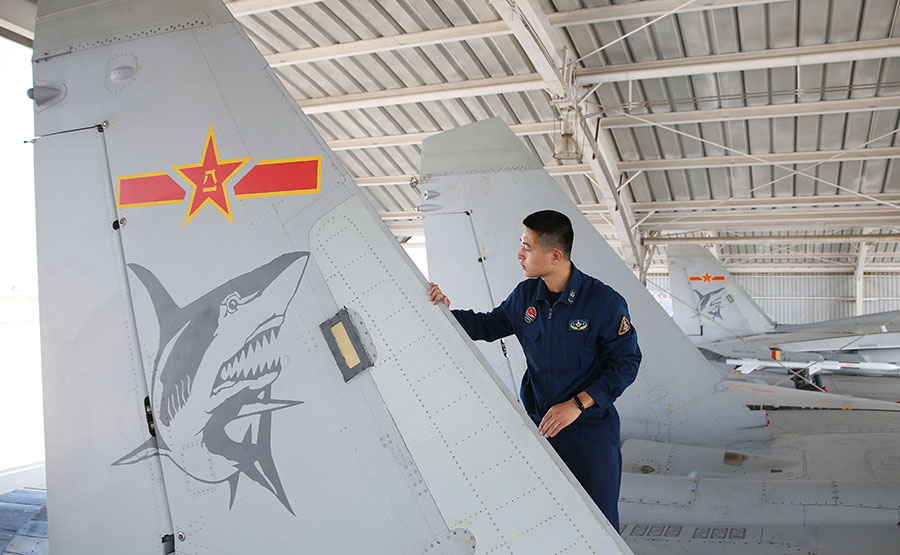 Backstage heroes
While the pilots and their aircraft were undoubtedly the stars of the military parade, it took a monumental effort from personnel behind the scenes - ranging from backup pilots to a maintenance crew - to make the parade a success.
The J-15 squadron for the parade consisted of seven aircraft, but only five flew over Beijing. The two backup fighters returned to their base when they were halfway to the capital, as did the other backup aircraft for the parade.
Jin Tao, the backup lead pilot for the Y-8 maritime patrol aircraft, said he had been a backup for three military parades in the past four years.
"Backup aircraft are only needed when there is a situation, and I hope there won't be any situation," he said.
Backup pilots are held to the same training standards as the pilots in the flyover, and Jin said they play a key role in solving technical issues, testing flight plans and formations, and preparing emergency protocols.
"Being a backup pilot is still a great honor," he said. "After all, you can't have a lead role without someone playing a supporting role."
Xia Fengyi, a maintenance mechanic for the second division of the PLA Naval Air Force, said the air base for the parade aircraft was in a hot and saline environment and wires, plugs and bolts could easily get corroded, leading to malfunctions.
The maintenance crew often worked late into the night to ensure every detail of the aircraft was safe and secure.
"Our clothes are always wet from the sweat," Xia said. "Only by troubleshooting tirelessly and meticulously can we ensure the next day's training will go smoothly."
While mechanics have the luxury of working in a hangar, the training quality control team must bear the full heat of the sun for hours since their job requires them to work in the field to take photos, record data and evaluate each training session.
"It is a very tiring but important job," said Li Huacai, who records the coordinates of training exercises. "Every coordinate has to be perfectly recorded, or the evaluation will be inaccurate and lead to further mistakes."
Liu Chao, the team's photographer, said their skin became darker and rougher due to prolonged exposure to the elements.
"So long as we can contribute to the parade, every hardship is worth it," he said.