J-15s have become navy's 'iron fist'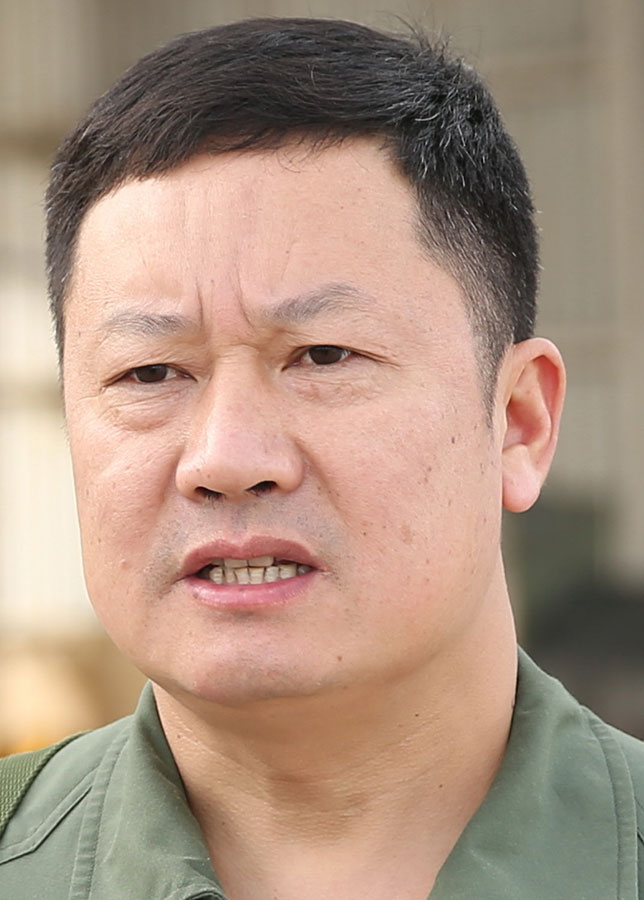 To mitigate risks, all J-15 pilots must practice and master landing on the ground before trying it at sea. But every now and then, something terrible can happen that will put even the most seasoned pilot to the test.
During a training session in July 2017, Yuan Wei accidentally hit a flock of birds while taking off in his J-15. The birds slammed into his jet's left engine and it caught fire - one of the most dangerous scenarios for any pilot because the aircraft can explode at any moment.
"My flight operator told me that there was a huge fireball shooting from my left engine," Yuan said. "My first instinct was to abort and parachute out, but I realized my jet had a full tank and if left uncontrolled, it might keep gliding in the air and crash into a nearby civilian area. I had to bring the jet down."
Lu Chaohui, Yuan's flight controller and a decorated veteran, said people in the control tower were initially stunned because they had never seen anything like it.
"But Yuan is like my brother, I had to bring him back," Lu said.
Within a split second, Lu calmly instructed Yuan to balance his aircraft using the right engine. In the following 11 minutes, he gave out more than 50 crucial commands that helped Yuan safely return to base.
"It was a miracle in every sense of the word," Lu said, adding they had made Chinese aviation history by completing the first extreme low-altitude forced landing with a fully fueled burning jet after a bird collision.
"We got extremely lucky and the appraisal team later concluded our feat was impossible to duplicate, but at least we learned many valuable lessons. After the incident, I am more determined and prepared to get my comrades out of difficult situations."
As for Yuan, he said the event was nerve-wracking, but it gave him a stronger sense of calm, confidence and camaraderie afterward.
"Nothing can phase me now knowing I can return from a burning jet and with my comrades having my back," he said.
Lu and Yuan both flew J-15s during the military parade on Oct 1.
"My role is usually backstage as a controller," Lu said. "But being able to fly with my brothers in unison for the nation's 70th birthday? What an honor."