All you can eat and drink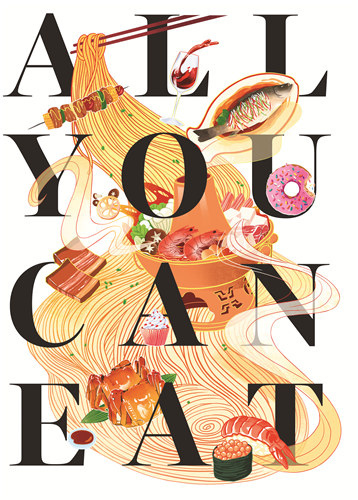 Shanghai is a culinary melting pot worth celebrating for its creativity.
Food is such an intrinsic part of every person's identity that it is impossible to compare and be objective. For me to name a particular city as China's Capital of Gastronomy is to open myself to a tsunami of vitriol.
But if we're talking in terms of the most effervescent international dining scene in China, I reckon most people would agree with me that there's only one clear candidate-Shanghai.
Through the years, this megapolis has been a magnet for a bevy of foreign food establishments and world-renowned culinary maestros. Legendary French chef Joel Rubuchon made his foray into China here in 2016, opening L'Atelier de Joël Robuchon along the Bund. Some of his illustrious neighbors along the iconic waterfront include Jean-Georges Vongerichten, Paul Pairet and Alvin Leung. Shanghai was also the place where the prestigious Michelin food guide made its China debut in 2017.
Michelle Garnaut, who opened one of the first Western restaurants on the Bund in 1999, says that the pace of development of the dining scene in the city has been nothing short of phenomenal.
"When we opened on the Bund 20 years ago, Shanghai was a very different city. The Bund in the 1990s was not the glamorous, glitzy and spectacular strip it is today. The Bund then was shabby. The number of restaurants in the city was roughly 10 percent of today's total," says Garnaut, the CEO & founder of the M Restaurant Group.
"The market has changed beyond recognition. Shanghai is a very international city, and as a result, the restaurant scene is quite interesting. Today, Shanghai enjoys a very diverse dining scene, especially when it comes to Western cuisine. Local diners can find everything from Hawaiian street food to new age molecular cuisine, and special dining events happen regularly throughout the year."
Crystyl Mo, a food expert in China who is also the academy chair for China and Korea for the World's 50 Best Restaurants, shares the same sentiment, noting that the years from 2005 to 2016 could be considered "a golden age" for the city's dining scene.