Poetry in her feet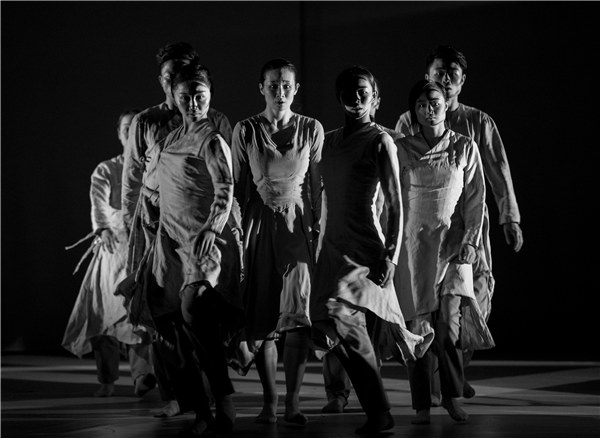 For the past decade, dancer-choreographer Wang Yabin has run a project with her friends to bring together Chinese and international choreographers to create a new dance piece every year.
When dancer-choreographer Wang Yabin was 25 years old, she achieved fame by performing as the dance double for Zhang Ziyi in Chinese film director Zhang Yimou's 2003 film, House of Flying Daggers, and by playing the lead character in the Chinese TV drama, The Love Story of the Village.
However, she withdrew from the screen and founded her own dance studio in 2009. The same year, she launched Yabin and Her Friends, an annual dance production series, which she designed as a platform to bring together Chinese and international choreographers to create a dance piece every year.
"Now, when I look back, it was a crazy idea. There were few independent dance studios in China and contemporary dance was not a mainstream art form," says Wang.
"I didn't know where I was heading with the idea. I just wanted to dance and choreograph by working with people, who share the same passion for dance, and to get inspired."
Early this year, she released the 10th production by Yabin and Her Friends. And it started touring nationwide in March.
The production, consisting of Wang's two choreographic works, Moon Opera and World, will be staged at Tianqiao Performing Arts Centre in Beijing on Sept 25, 26, and 28.
Moon Opera, which premiered at the National Centre for the Performing Arts in Beijing in 2015, is based on a novel of the same title by Chinese author Bi Feiyu. And it tells the story of Peking Opera performer Xiao Yanqiu, who is committed to her role to the point of obsession. The novel has been translated into different languages and was longlisted for the 2008 Independent Foreign Fiction Prize in the United Kingdom.
When Wang read the novel in 2012 during her tour of Europe, she felt that the heroine in the novel resembled her.
In the 75-minute production, Wang presents a new vocabulary of dance by using elements from Chinese classical dance, contemporary dance and Peking Opera.
So far, Moon Opera has been staged over 80 times worldwide, and Wang regards the piece as one of her best choreographies.
As for the other piece, entitled World, which is Wang's latest creation, she wants to communicate with the audience about being a dancer.
Speaking about the piece, she says: "When I toured with my dancers, we were often asked about dancers' lives. People are curious about us. But it's a question that is hard to answer. So, with this piece I want to answer their questions as well as pay tribute to dancers," says Wang, who also dances in the piece.
"In dance, I see glamour and the pain of life. It allows me to be free and creative but at the same time, it causes me physical pain. I am aware of the fact that the career of dancer is short."