The history of Miao bench dance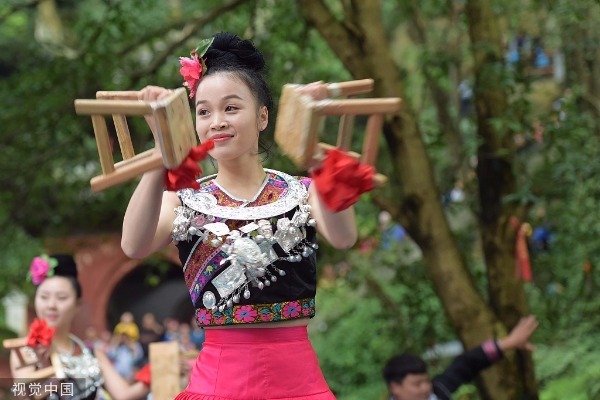 The bench dance of Southwest China's Guizhou province is an improvisational dance performed by women of the Miao ethnic group after drinking. It is mainly popular in Kaili, Huangping, Taijiang, Shibing and other Miao villages in Guizhou.
The dance has a long history. It is said that long ago, the Dragon Prince of Qingshui River was killed by an old man in Wangpo, resulting in a drought that killed herbs and grain.
Local people invited three noble old men to the riverside. They offered 12 eggs, 12 incense sticks and 12 pieces rice cakes to the gods and the Dragon King to make amends for their sins and asked for rain on earth.
People prayed in groups along the riverside. Jiang Yang in the sky heard these prayers and asked for rain from Lei Gong(Thunder God).
But the Thunder God ignored and then scolded Jiang instead. In order to relieve the suffering of the people, Jiang chopped bamboo to play beautiful music.
The Thunder God became very happy after listening to it. He picked up two small benches, danced and jumped happily.