Old airport's role may change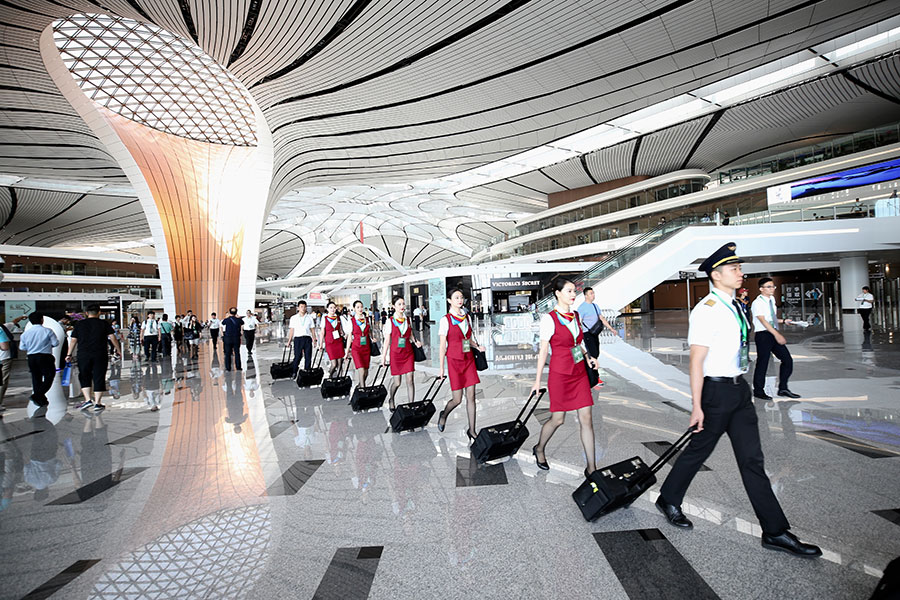 Once serving as an aircraft performance-testing venue, Nanyuan Airport in Beijing's southern suburban district of Fengtai has seen both the glories and the downside of the aviation industry.
As China's first airport, Nanyuan was mainly used by the military and served as a training center for air and ground troops. It will close by the end of this month as a new facility nearby-Daxing International Airport-opens for operations.
Established in 1910, at the end of the Qing Dynasty (1644-1911), the Nanyuan Airport supported a nearby aviation school that had sprung up in 1913, training more than 100 pilots who later became the backbone of China's civil aviation industry.
China United Airlines, a budget airline with its headquarters at Nanyuan Airport, is the only commercial airline using the airport. The company began moving its base to the new Daxing airport in August.
Known for its low prices, China United had been at Nanyuan since 1986. It offered low fares to passengers bound for domestic destinations, especially in remote parts of the country.
Nanyuan's small terminal was expanded in September 2012. As a supplement to Beijing Capital International Airport, it helped ease pressure on its counterpart to the north, processing 6.51 million passengers last year.
In recent years, China United has focused on developing new routes to smaller cities that many major airlines are not interested in-for example, routes to some third-and fourth-tier cities, such as Anshun, Xingyi and Bijie in Guizhou province.
Since parking is limited at the airport, 26 of the company's 49 planes must return to the airport each night. The other 23 planes are scattered among Foshan, Guangdong province, Shijiazhuang, Hebei province, Shanghai and Tianjin.
Peak hours at the old airport are usually in the morning and around noon. Overnight flights usually take off before 9 am daily, forming a morning outbound peak. At noon, some out-of-town planes return and then depart again, creating another peak.
All that will soon be a thing of the past, as China United relocates to the new Daxing International Airport, 35 kilometers to the south.
According to China Economic Weekly, a manager at Nanyuan Airport who asked not to be named expressed hope that the renovated facility would be integrated with Daxing International Airport and allow for passengers to complete check-in and security procedures, as well as baggage checks.